Enhance your Employability in 2019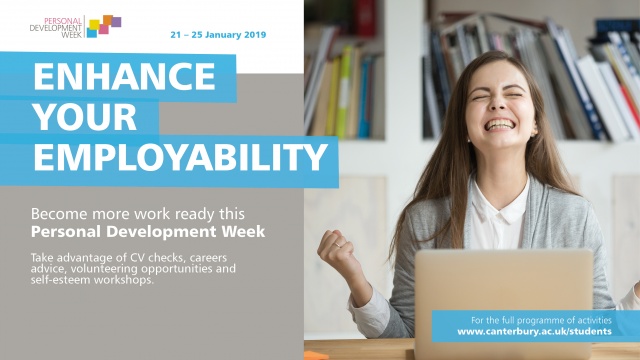 Whether you are in your first year or approaching your final year at University now is a good time to reflect on the experiences you've gained so far and what more you need to do to help you realise your career goals. And Personal Development Week between 21-25 January has a host of events and workshops to support you.
Find out how to make the most of LinkedIn, get the low down on Google, take part in a resilience workshop or get involved in volunteering – there are lots of opportunities for everyone.
Check out the CCCU Summer Internship Programme  – there are workshops to find out more on 22 January in AH 1.21 (11.00  – 12.30) and 23 January in AH 1.21 (14.00 – 15.30)
Employers tell us that they are looking for well-rounded candidates with great qualifications, experience and skills. Use this week to take your Career Pulse, a new online self- assessment tool that helps you build and track your employability skills.
Also remember there is The Core with its new mobile App offering advice on updating your CV or preparing for an interview, the daily Careers drop in service or Unitemps to get that part time job, secure internships and invaluable work experience.
For the full Personal Development Week Programme in Canterbury click here and for Medway click here.