#DiscoverYourLibrary Team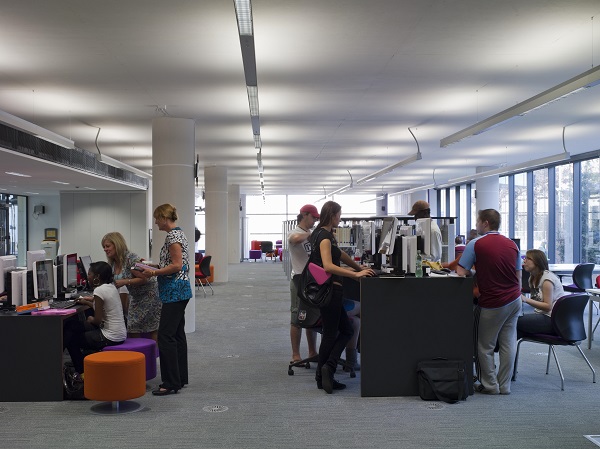 As part of national Libraries Week we thought it was the perfect opportunity to introduce you to our Library and Learning Resources Team.
The User Experience Team
We at the Library User Experience Team have a motto.
It's quite simple… you may have seen it on signs in our libraries.
It's…. Just ASK!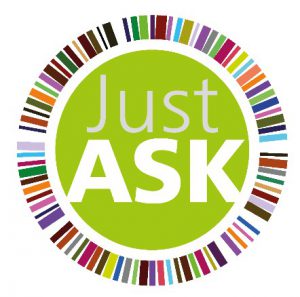 And we really do mean it! We're here to help you.
We're the members of the Library that you'll find at the Library Point in Augustine House, at the Broadstairs Learning Centre and the Salomons Centre Library.  We can help you with borrowing, renewing and returning books. We'll show you how to find items on the shelves or how to place a reservation for an item that's out on loan. We'll help you manage your library account and make a start with electronic resources.
We try our best to help you avoid fines, this summer we introduced automatic renewals on our 4 week and 7 day loans. This means, unless someone else has placed a reservation, you can't be late with these items. If you do accrue fines, we can advise you on how to clear them. We can also explain if you are eligible to appeal against a fine.  We are here to help if you have lost a book, but hopefully this will never happen!
Although helping you at the desk is one of our most important roles, there is much more that goes on behind the scenes. This includes organising inter-site loans between our campus libraries, processing reservations for you to collect and looking for any missing books. We can also help you to access collections held at other libraries outside the University.
We ensure important library information reaches you; from signs, posters, flyers, posting messages on the student news and sending information out via our twitter account @ccculibrary.
So if ever need any help in the library… Just ASK.
The Resources and Digital Discovery Team (RDD)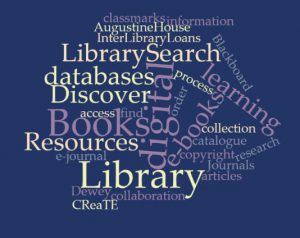 Hello, and welcome to the RDD team. You'll find us working behind the scenes in Augustine House. Our main focus is to make sure we have the right learning resources for the right courses, and that they are discoverable by all library users. This could be physical resources such as books and journals on the shelves or digital resources from e-books to e-journals and databases. We take care of everything from ordering right through to user access.
We order all the resources which have been requested for you to use – so every time you issue a book to yourself, access an e-book or online journal we will have purchased it, processed it and ensured you can find it. Sometimes it's not just books – for all you student teachers, fun things like hand puppets and percussion instruments also make their way to the shelves!
When you see book chapters or journal articles on Blackboard – we do that too! And for resources not held by the Library, we manage the Inter-library loans service and we'll do our best to source print and digital materials to support your studies.
We've also uploaded over 9,000 journal articles, conference papers and more to CReaTE (Canterbury Research and Theses Environment). CReaTE was launched in July 2011 to provide a digital collection of the research output of the University. It's there for you to use, so have a browse to see what our academics and researchers have been up to.
Ultimately, we really want students, academics and researchers to find everything they need and a little bit more too!
The Library Learning & Research Support Team (LRS)
The LRS team are mostly based in Augustine House library, but you might spot us out and about as we work with all staff and students across all the campuses! We are composed of Librarians who support different subject areas and research; Academic Learning Advisors for academic skills; and the Academic English Service.
We work closely with lecturers to support you throughout your studies at CCCU, to help you achieve great results in your assignments and also to develop the skills that you can take into the workplace. How do you find good information for an assignment? How should you structure an academic essay? Any tips about how to do referencing? Want help with research? What digital skills do you need in the world today? English not your first language? We can help you!
You may see us giving lectures, running seminar workshops or in personal tutorials. We also create lots of guides and tutorials which you can discover yourselves on Blackboard.
Please say hello when you see us – and ask for help when you need it!
 Find Out More
Contact Us
Contact our libraries at http://www.canterbury.ac.uk/library/contact-us/contact-us.aspx
Find your own Learning & Research Librarian to contact at: http://www.canterbury.ac.uk/library/contact-us/subject-enquiries/subject-enquiries.aspx
Select the Student Support link at the top of Blackboard to find resources and contact details for Academic Learning Advisors and the Academic English Service.