Please check the University's coronavirus webpages for the most up to date information on the University's response to the virus and advice on what to do. Please read the guidelines on face masks/coverings before visiting our libraries.
The health and wellbeing of our students and staff is our priority. We will keep this page up to date with any changes in our service and our Twitter @ccculibrary will have the latest news.
More information on the support we're providing can be found on the Library website – https://www.canterbury.ac.uk/library/supporting-you-during-covid-19/supporting-you-during-the-COVID-19-crisis.aspx
Phased re-opening of Augustine House
In line with Government advice and University guidance, we are planning how we can best reopen Augustine House Library and what services we can offer while adhering to physical distancing and health and safety guidelines. Key to our plans is ensuring the safety of all our users and our staff. Our strategy is to start small and safe, build confidence, test processes, and expand our services.
On July 20, we started our phased reopening of Augustine House Library Read about the phased reopening on the Library blog.
From the 3 August we entered the second phase of reopening Augustine House which included:
extending the opening hours of Augustine House Library to 10am-5.30pm for book returns via the self-service return machines and book collection via the Click and Collect service. These services are available by appointment only.
launching a Click and Study service. This allows the booking of a study space or computer within Augustine House for essential work, research or study. We currently have 49 PCs, 4 Macs, 27 study spaces and 2 Group study rooms. The Group study rooms have a 2-person occupancy limit; only one of the pair needs to book the room. From the 24 August an additional 47 PCs, 24 study desks, 1 height adjustable PC and 2 group study rooms will be available on the second floor. Spaces in the second floor silent zone are included. Social distancing is in place throughout. Computer desks and study spaces can be booked for morning sessions (10:00 – 13:30) and/or afternoon sessions (14:00 – 17:30). All spaces will be unavailable between 13:30 and 14:00 for cleaning. Read Introducing Click and Study for details of the available study spaces to students.
Drill Hall Library
The Drill Hall Library has been running a Click & Collect service since the 6th July. A limited number of study spaces are also available. See http://campus.medway.ac.uk/Coronavirus.html for details.
Salomons Library
The phased reopening of the Salomons Institute Library will begin on Tuesday 25 August. This will initially be for the return of items and Click and Collect borrowing. All services will be on a bookable basis only. Please read the Phased reopening of Salomons Institute Library for details.
Library enquiries
We want to reassure you that we will still be available to support you. You can get in touch by:
📧 library.canterbury@canterbury.ac.uk (Canterbury);
📧 library.salomons@canterbury.ac.uk (Salomons)
☎️ 01227 782352 (Canterbury); 01227 927126 (Salomons)
We will be monitoring these lines:
9-5pm (weekdays) 11-5pm (weekends) at Canterbury
9-5pm (weekdays) at Salomons

Opening hours are available here –https://www.canterbury.ac.uk/library/opening-hours.aspx
How to contact us-
https://www.canterbury.ac.uk/library/contact-us/contact-us.aspx
We will also monitor all our other mailboxes and we will endeavour to reply within 3 working days.
We will not be able to process new Sconul Access/external memberships.
We are reviewing things on an ongoing basis and we might need to make some changes at short notice; please continue to look out for further updates here and on our social media @ccculibrary
Learning Skills Team one-to-one appointments
One-to-one tutorial appointments will now be delivered online through Microsoft Teams or Collaborate, rather than in person. You should receive an email in advance of your scheduled time slot with details of how to join online. We aim to honour all scheduled tutorials, however some may need to be rearranged. If this is the case, we will endeavour to contact you as early as possible.
Alternative methods of delivering scheduled workshops will differ by programme. For more information on your scheduled workshop, please contact the appropriate Module Lead or your Learning & Research Librarian or Learning Developer directly. You can locate direct contact details via our Blackboard page. You can also email your academic skills questions to learner@canterbury.ac.uk. Questions about finding and using online library material can be emailed to learning.research.support@canterbury.ac.uk
Remember, we have plenty of online guidance available through our Blackboard page, Skills For Study, Sage Research Methods and Cite Them Right Online. You can also find guides for resources specific to your subject on the Library blog: https://blogs.canterbury.ac.uk/library/subject-guides-menu/
Borrowing
Augustine House library provides a 'Click and Collect" service for items available on the shelf at Augustine House and Drill Hall Library. Read our blog Introducing Click and Collect for details.
All loans (including 24-hour loans) will be extended and continue to be extended until the Coronavirus measures are relaxed. So you don't need to worry about fines for late returns. All items are currently extended to the 28 September.
We have removed the ability to reserve items and suspended fines until further notice.
If you have received a request for a book you have on loan, you do not need to return it. These mitigating circumstances will be taken into consideration and fines waived.
Returning
If you will be returning to the University in September, please hold onto any books you currently have out on loan and return them to the Library when you're back on campus. We have further extended the due date of all library items (including Document Delivery) you have on loan. You won't have to return your items until 28 September. So you don't need to worry about fines for late returns.
You are currently able to book a slot to return your books at Augustine House if you need to.
We have also contacted final year students who will not be returning to the University in September with an option to send their books back to us using Freepost. Please email us at library.canterbury@canterbury.ac.uk so we can check eligibility and send the details through to you.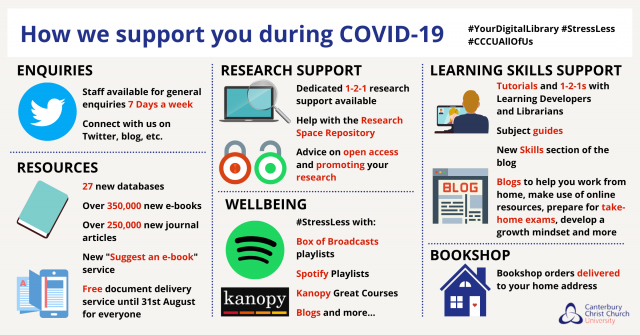 Online Resources
We will be working hard to ensure that you are able to access the resources that you need to support your learning and research.
The library has thousands of e-books which will help you in your studies. Visit our blog post to find out more:
You can also find and make use of a wide range of journal articles online for free, as well as make the most of the university's subscription journals. Visit our blog post to find out more:
That's just the tip of the iceberg on the resources that are available through #YourDigitalLibrary.
For support on referencing you have access to Cite them right online https://www.citethemrightonline.com/. We have a blog about the newest edition here and a blog about how many online citation generators and Microsoft Office applications get referencing wrong! So use Cite them right to get your referencing right!
If you're looking to develop your academic skills, you can access Skills for study. It offers a range of modules to help develop all the skills you need to make your time at University a success. Read our blog post to see the modules you have access to.
For research students SAGE Research Methods is on hand to guide you every step of the way through the Research process. https://methods.sagepub.com/
We have access to over 900 newspaper titles online. We have a .pdf guide here which highlights what is available from which database.
We have access to great video resources too, like Box of Broadcasts, the online off-air TV and radio service provided by the British Universities Film & Video Council. We also have access to the Great Courses range in Kanopy.
If you're looking for a way of discovering journal articles through browsing, we have access to BrowZine. We have a blog post on getting started and another on using My articles and My Bookshelf.
If you've not discovered the LibKey Nomad Google Chrome browser extension, read our blog post on how to download a .pdf file of a journal article we are subscribed to from a reference in Wikipedia or PubMed or hundreds of other Scholarly Publisher Websites.
Keep returning to the Library blog and Twitter feed for more advice on making the most of our online resources.
Scan and Deliver
The Scan and Deliver service makes the print only books and journals, which we only hold in the Augustine House Library, available for essential work, research or study.
You can get:
One article from any one issue of a journal of which we only hold a print subscription
Book chapter or 10% of a work which we only hold in printed form
One article of a UK national newspaper which we only hold in printed form (You can check on LexisLibrary Newspapers UK to see if the article is available online https://www.lexisnexis.com/uk/legal/news/)
The Drill Hall Library is not currently providing this scanning service.
The Salomons Institute Library at Tunbridge Wells is currently closed so you won't be able to request material from that stock.
To make a Scan and Deliver request please use this form.
See Introducing Scan and Deliver for more information.
Document Delivery
If you have a Document Delivery book on loan, the book will be automatically renewed until the 28 September.
We will not be able to accept any new requests for books until further notice. Most of our partner libraries are unable to supply to us at the moment. However, we will continue to try to supply articles for you. The British Library can now provide most of the materials available through On Demand apart from collections held in London. Submit your request through LibrarySearch in the usual way and we will be in touch to let you know if we can get the material to you.
We have removed all charges for document delivery requests until 31 August 2020. The service is now free for you to use but existing limits on the number of requests that can be made each year remain the same. See the document delivery page for more details.
For any enquiries about the Document Delivery service, email library.docdel@canterbury.ac.uk. We will endeavour to reply within 3 working days.
i-borrow loan service
These laptops will now automatically renew at the end of the loan period and the due date will be extended until the current coronavirus measures are relaxed. The due date is currently 28 September.
If you need to return an i-borrow this can be done at Augustine House by prior agreement. Please email library.canterbury@canterbury.ac.uk to make arrangements.
Stressless
#StressLess is back to help you through your end of Semester study, assessments and exams – ensuring you have all you need to reach your full potential, while looking after your mental health and wellbeing. Follow us on @ccculibrary and https://blogs.canterbury.ac.uk/library/ for advice on make the best of your learning resources from home and tips to stay #stressless. View our Supporting your wellbeing webpage.
Need to chat?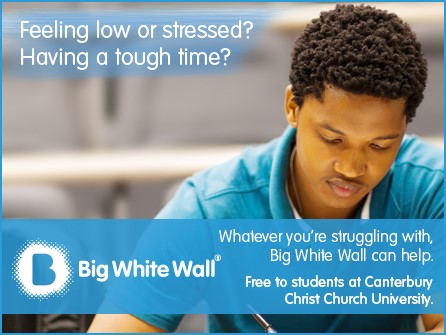 Whether you are looking for study or wellbeing support during this time, there is plenty of support from Peer Mentors to Student Learning Developers, from Student Support and Wellbeing Advisers to the Mental Wellbeing Team. Check out all the support available on www.canterbury.ac.uk/students