Coronavirus Update – all face-to-face teaching will end of today until further notice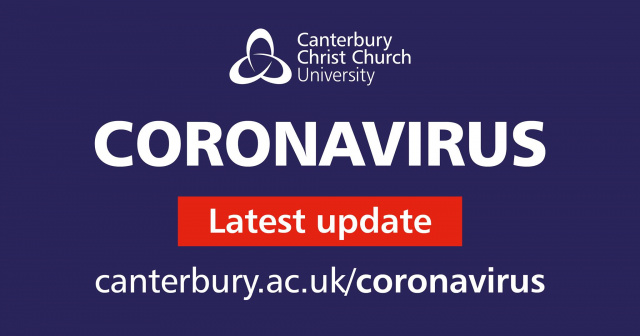 The University's absolute priority remains the health and wellbeing of all our students, staff and visitors and we have taken key decisions following the Government's Cobra meeting yesterday (16/3/2020) afternoon and new advice on social distancing and related measures.
Please remember if you are experiencing any of the symptoms of Covid-19 you should self-isolate and follow Public Health England's advice.
The key decisions we have taken are:
The University will cease all face-to-face teaching at the end of today 19.00 hrs 17/3/2020 until further notice– What this means for 'Learning off campus' will vary from subject-to-subject and your Programme Teams will be in contact with you for what this means to you. If you are a student at a partner college you need to follow the advice and guidelines of your institution.
If you are on a placement, the government advice is to continue with your placement. This is being kept under review, and we will ensure any change is communicated to you quickly. We know many of you are concerned, so the University is working hard to get further clarification and ensure you have the support and information you need.
Examinations and Assessments – based on the current advice it is clear that the current crisis is likely to remain into May and June. Therefore, we are considering alternative options and we will provide further information on this as soon as possible.
International Students – under the circumstances if you would prefer to return to your home country, and are well, please do so. Please do check you are able to fly and where you are travelling to will receive you. Also, please communicate with your Programme Director/Team as it important that this is noted as 'authorised absence' for UK visa and immigration purposes.
Students in Accommodation – should you experience any of the symptoms of Covid-19, you should self-isolate and follow Public Health England's advice for those living in shared accommodation. If you are self isolating in our accommodation please complete this form so we can support you.
Students with underlying health conditions or those in a potentially vulnerable group – Anyone who falls into this category – including those who are pregnant or those who are the main carer for someone who is in a vulnerable group should study from home where this is feasible.
Travel on University business outside the UK – student and staff travel for University business/study outside the UK is not allowed at present.
Support – If you have questions or concerns please contact Student Support, Health and Wellbeing team on 01227 922675 or email studentwellbeing@canterbury.ac.uk. Please note that many support services are likely not to be able to provide face to face support from next week but will be contactable in other ways.
This is an unprecedented and fast-moving global pandemic. We recognise that this is a difficult and anxious time for students, staff and their families home and abroad. We will continue to provide as much clarity as we can as we move through this global crisis and we ask for your patience as we work through the practicalities of some of these decisions. Please be assured that we remain committed to supporting your learning and progression.
Our Coronavirus FAQs website will be the definitive source of advice and will be updated during the day with this latest information and then daily thereafter.