Centenary Celebration of Women in Law Event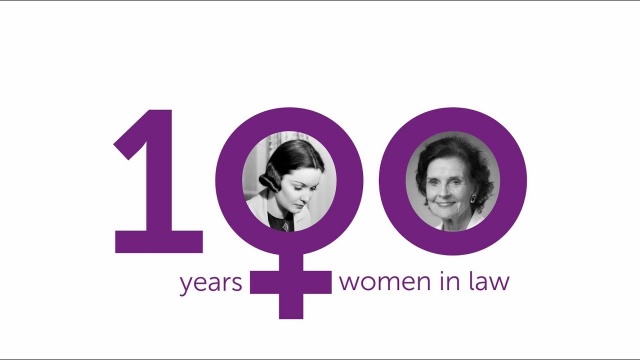 All CCCU students are welcome to come along to our "Inspiring Women in Law" Event on 6 February at 6pm, PG06 to celebrate the centenary of women being able to enter the profession of law.
100 years ago, on 23 December 1919, the enactment of the Sex Disqualification (Removal) Act, enabled women in the UK to enter into professions such as law (as solicitors, barristers, magistrates and jurors), accountancy, higher ranks of civil service and even the opportunity to be awarded with a degree (not allowed in some universities at the time) in a manner you celebrate during graduation ceremonies with your male peers today!
The Sex Disqualification (Removal) Act 1919, Ch.71 states "A person shall not be disqualified by sex or marriage from the exercise of any public function, or from being appointed to or holding any civil or judicial post, or from entering or assuming or carrying on any civil profession or vocation."
While the Act is considered a landmark in the women's struggle for equality, it was not without its limitations. Although the debarring of professions for women were legally recognised consequent to the Act, the equal franchise was not granted to women under this Act, making women wait for further 9 years, until 1928, in order to vote on equal terms as men.
Despite female jurors being allowed consequent to this 1919 Act, it also provided (Proviso B) that the judges could exempt women from jury service that permitted all-male juries by reason of nature of evidence or issues. This resulted in women jurors being extensively excluded from rape and sexual assault cases where their point of view would have been crucial.
Regardless of the limitations of this Act, it is undoubtedly a monumental achievement and a momentous milestone in the long and difficult path to women's equality. The 1919 Act not provided the gateway for subsequent legislation which affected gender equality in matters relating to property inheritance, divorce, equal guardianship of children, equal franchise and wider legal reform in the criminal justice system. Thus, the centenary of this important Act has been celebrated across the country on a multitude of platforms.
Joining in with those celebrations, the School of Law at Canterbury Christ Church University, with the generous and kind support of the Kent Law Society, will be holding an 'Inspiring Women in Law' event on Thursday, 6 February from 6 pm to 8.30 pm in Pg06.    
There will be 4 successful and inspirational women speakers, Stephanie Boyce, Deputy Vice President of The Law Society of England and Wales, Sally Penni, Founder of Women in Law, Prof. Susan Milns, Dean of Graduate College at CCCU and a recent CCCU mature law graduate with honours, Peri Ramadan, to share their thoughts, views and their respective journeys into and through law. From diverse backgrounds, these speakers are expected to provide a holistic and inclusive picture of 'women in law'. There will be a Q&A session giving the opportunity for a further lively discussion.
This event is open to students of CCCU, students of UKC, members of the Kent Law Society, local law firms and the general public as well as sixth form students from local schools thinking of a career in law.
We aim to create a relaxed and informal opportunity to talk and hear from real women who are leading inspiring lives/careers with the emphasis on inspiring the next generation of women lawyers.
R.S.V.P – Emma Palmer – emmapalmer@whitehead-monckton.co.uk
Any queries regarding this event can be directed to Dr Gowri Nanayakkara – Gowri.nanayakkara@canterbury.ac.uk
Spaces are limited so booking is essential.