CCCU's first ever Student and Staff Learning and Teaching Conference.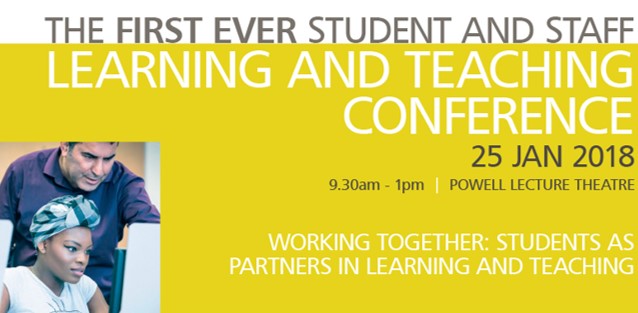 We are delighted to announce the first ever joint student and staff Learning and Teaching Conference on 25 January, 9.30am – 1pm at Powell, as part of Personal Development Week.
The theme of the conference is "Working together as partners in learning and teaching". 
Partners in learning is a key principle of our Learning and Teaching Strategy and the conference will celebrate and share how collaboration is empowering us to build a vibrant learning community at CCCU.
Come along and have your say about what matters to you in relation to your learning and teaching, hear about innovative practice across the University and help shape the future of your own education. There will be keynote speakers, interactive workshops and panel discussions, with joint presentations from students and their tutors, making it a lively and engaging debate about how the University can continue to deliver its commitment to providing an outstanding higher education experience for all its students.
Why should I attend the conference?
There are lots of benefits of attending the conference including:
you can hear from and meet experts and influencers face to face
you can become more informed and connected to important issues (in this case your learning and teaching)
you can engage in debate and discussion (about learning and teaching as a partnership between staff and students)
you can meet new people
you could learn new tools or ideas – be inspired!
If you would like to find out more and book a place please click here.
The timetable has now been finalised and can be downloaded by clicking here.