Students in financial hardship can now access additional funds to ensure that they are able to continue their programme and achieve successful outcomes during this difficult time.
Being a student during this pandemic is challenging for a number of reasons and the Office of Students has recognised this and has provided universities further financial support to help those students who find themselves in financial hardship as a result of the pandemic.
Reasons for accessing the fund
These are some examples of why you may need to access this fund. They are neither exclusive nor exhaustive, if you are unsure then please ask to speak to a Wellbeing Adviser.
I need to pay towards cost of living at home and I am paying for my accommodation at uni: You may have gone home over the Christmas period and have not been able to return to your accommodation that you are still expected to pay for despite not living there…but you are also having to pay rent or towards cost of living at your home/family address.
We know rent is one of your main costs and you may have many reasons why you are struggling to pay your rent.
*If you are living in CCCU student accommodation and have not been able to return please contact them at accommodation@canterbury.ac.uk
I have been furloughed or lost my job: It maybe that you normally hold a student job and you rely on this to supplement your maintenance loan, but student jobs are the most affected by the pandemic and it maybe that you have not worked for quite some time.
I am finding it difficult to find employment: Maybe you have lost your job as a result of the pandemic or you have moved to Kent to study your first year and were planning on getting a job to supplement your maintenance loan.
My parents/partner have lost their jobs due to the pandemic and can no longer support me as they did before: maybe your parents or your partner have lost hours, jobs or have been furloughed and can no longer support you financially at university.
I am struggling to access teaching and learning remotely: you may be finding it difficult to access your learning on an appropriate device or have limited data allowance/broadband access as you were expecting to be able to have access to these resources on campus. Maybe you are missing lessons as your phone just won't connect and you can't download word for your essay that is due in a couple of weeks.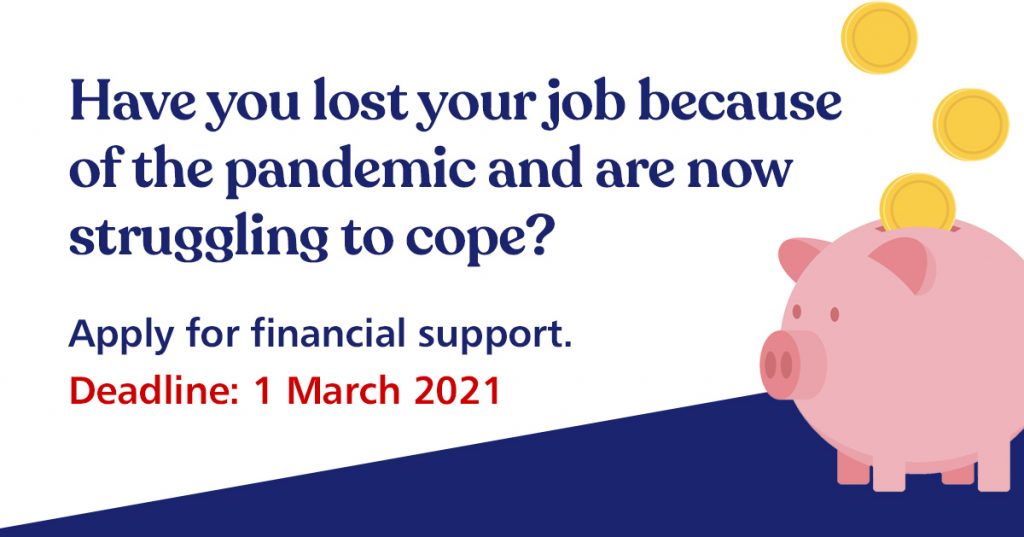 Students that are eligible are:
All levels – from foundation to postgraduate
UK and Overseas students including EU students
What do I do if I think I need some financial support?
It is a simple 3 step process.
Contact the Student Wellbeing Advisers.
You can do this by:

Email studentwellbeing@canterbury.ac.uk
The adviser will go through your situation (this includes questions around your income and expenditure for which you may be requested to provide some evidence and reasons for your hardship).

Complete the application form. Once the Wellbeing Adviser has established if you are eligible for the fund they will send you the relevant link to an application form. You will then be asked to upload any relevant supporting evidence.
Assessment. Your application is then assessed by the Student Financial Support team who will do a calculation and award you the appropriate funds directly to your bank.
Our Student Wellbeing Advisers usually aim to respond to your application enquiries within 5 working days but due to the number of applications this may take a bit longer.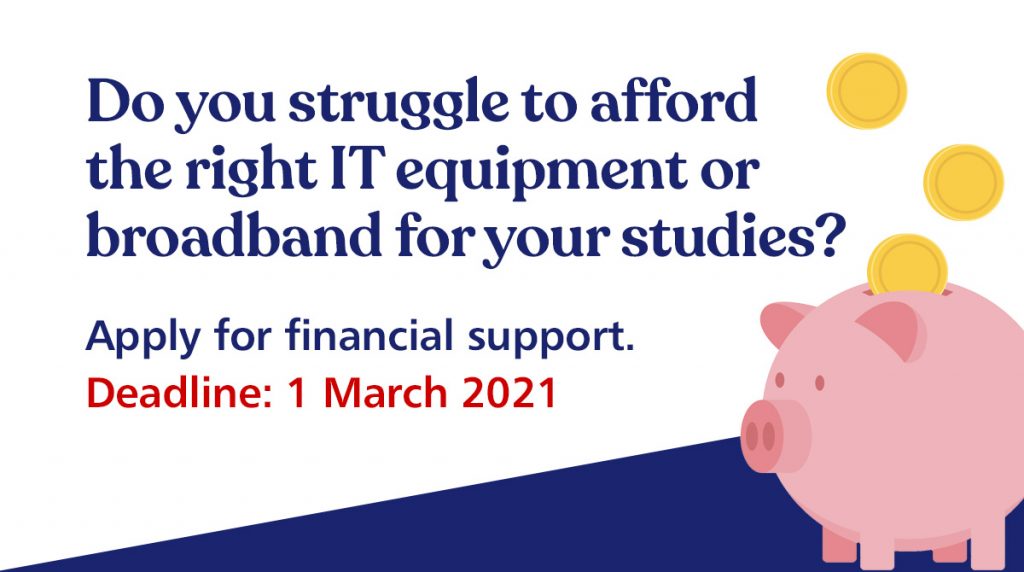 Frequently Asked Questions
What do I need to discuss with the Wellbeing Adviser?
The Wellbeing Adviser is there to make sure you are applying for the correct fund and that you have accessed all the help you are entitled to. The more information you give the easier it is to process your application.
What evidence should I provide?
This is a hardship fund so some evidence of hardship needs to be given. You will be asked to provide three months bank statements and other supporting documents to evidence your income and essential expenditure as appropriate. The more evidence you provide the team the more likely you are to get the appropriate award. (Our team are keen to give you the maximum you are entitled to).
This sounds like hard work – what if it takes ages?
The process is designed to be as accessible as possible which is why you meet with an Adviser who can support you in every stage of your application. All evidence and the application can be done electronically so there is no need to post anything or visit the office.
There are other people that have a greater need than I do so should I apply?
If you feel you have a need then you should apply. The amount that you get reflects your need (based on the information you give us) we are here to help you no matter your situation or background.
What if I am experiencing financial hardship but it is not because of the pandemic?
We have our standard hardship funds in place – please contact the wellbeing advisers as above.
Is there a deadline?
There is a deadline of 1 March for the hardship funding linked to the pandemic.

Our standard hardship funds are available until July or when the funds run out (whichever comes first).
We are receiving lots of applications so please be patient – we will get back to you.
Please note your application is assessed and prioritised based on need and availability of funds.