All of Us coming together for World Mental Health Day 2019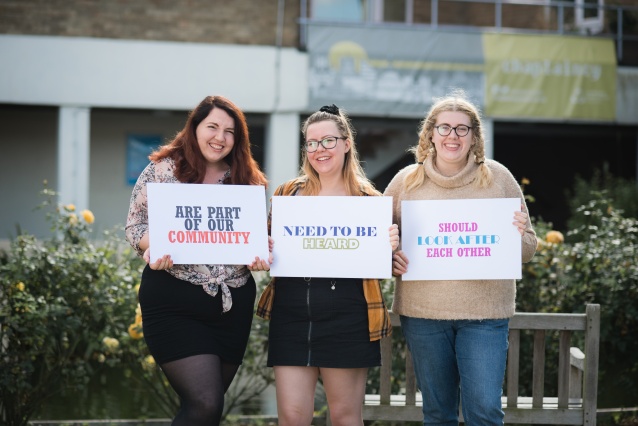 On 10 October we are inviting students and staff across the University to come together for World Mental Health Day and take part in a full programme of events, activities and workshops on the theme of the Five Ways to Wellbeing.
Building on our values, Canterbury Christ Church University and the Christ Church Students' Union have made the mental health of students and staff a priority and have developed an aspirational Mental Health and Wellbeing Framework which aims to enable all students and staff to thrive and realise their potential in a mentally healthy environment.
So on this day please join our Public Health Students, Dance Students, Students' Union, Student Support and Wellbeing Teams, Chaplaincy and many more to help raise awareness of mental health and the support that is available. #CCCUAllofUS #CCCUspreadskindness
Five Ways to Wellbeing
Evidence suggests there are 5 steps we can all take to improve our mental wellbeing, feel happier and get the most out of life. So on 10 October we are giving you an opportunity to give them a try!
Connect
We know that good relationships with your family, friends, colleagues and wider community is important for your mental wellbeing – so here are some great ways to connect with the CCCU Community:
Students' Union Petting Zoo, Chapel, 12noon – 2pm
The power of connecting with pets can be a positive thing so what better way to bond with each other than over some furry friends.
Students' Union Games around the Pond, Anslem, 10am- 2pm
Take this chance to take time out with friends and colleagues and enjoy some outside games.
Students' Union Tea and Cake, SU Lounge, 2-4pm
Meet up with the Sabbs and other students for a chat over free tea and cake – what's not to like…
Biscuit Baking, Chaplaincy, 3pm
There is something very comforting about coming together to bake and the Chaplaincy have some new biscuit cutters they want to try!
Be Active
We think that the mind and body are separate. But what you do with your body can have a powerful effect on your mental wellbeing.
Christ Church Sports' Boot Camp Taster, 1.15pm – Outside Daphne Oram
CCCU Sport offer a wide range of sport and fitness opportunities at affordable prices or even free, available to all members of the University community. Get some trainers and a t-shirt on and come along to this free taster session. The bootcamp is an outdoor workout designed to build strength and fitness through a variety of exercises, and is suitable for all ability levels. Get fit for free!
CCCU Dance Students' Showcase, 7pm, Anselm Studio
Research shows that whether you take part or just enjoy watching dance, it is a great way to feel good. The CCCU Dance students are proud to put on this showcase in aid of Mental Health Awareness Day. The showcase of different dance pieces promises to excite and lift your spirits.
Sustainability Walks
Get some fresh air and stretch your legs with some short self-directed walks around campus. Look out for the postcards and tips on social media throughout the day.
Keep Learning
Learning new skills is a positive thing for our personal development but research shows it can also improve our mental wellbeing. By learning more about mental health it can help us look after ourselves as well as support others.
The Knowledge Zone – Support and Information Fayre, 11am – 2pm, Augustine House
Organised by our CCCU Public Health students – you can find out what support and networks are available both in and outside of the University with a range of information stalls on hand including our own student support as well as organisations such as Samaritans, Rethink, Red Zebra, Livewell Kent and others.
Look out for our Student Support and Wellbeing Team who will be sharing tips on how to eat well for your mental health.
Support and Information Fayre, 11am – 2pm, Rowan Williams and Pilkington Atrium
Meet the Student Support Team at Rowan Williams and take part in paint a pebble for hope initiative. Come along to Pilkington Atrium and meet Medway Talking Therapies and Mind. Lynne from the Chaplaincy will also be there with a 5 Ways to Wellbeing Graffiti Wall.
The Wellbeing Zone, 10am-4pm Laud
Join our CCCU Public Health students for a range of fun activities that will help us understand mental health and wellbeing.
The Creativity Zone with crafting and graffiti wall, 11.30am – 2pm, Daphne Oram
Join CCCU Public Health students and Canterbury Christ Church Creatives for a bead making and craft session. Add your thoughts to the graffiti wall and enjoy the staff feelgood photos on the giant digital screens.
Books for Mental Health
Look out for the books display in the Library and Bookshop for inspirational and thought provoking resources to help you explore the subject of mental health and wellbeing further.
Mental Health in Films, 7pm, Gulbenkian
Join our friends at University of Kent for a showing of 'A Star is Born' followed by a discussion panel afterwards on mental health, fame and addiction.
Give to Others
Small acts of kindness towards other people, or larger ones like volunteering in your local community, can give you a sense of purpose, make you feel happier and more satisfied with life – so why would you not give it a try?
Virtual Pilgrimage, All Week
The Chaplaincy are asking staff and students to try and see if this week together we can walk and cycle the equivalent of the Via Francigena (1242 miles) for charity. There will be a treadmill in the sports centre and exercise bikes across the campus for us all to contribute to this great cause.
Volunteering
Come along to the Careers and Enterprise Hub in Augustine House and have a chat with the team about how volunteering can help your mental health and share some tips on staying well at work.
To find out more about volunteering opportunities available go along to the Information Fayre in Augustine House as the Volunteer Team will have a stall there.
Take Notice
It can be easy to rush through life without stopping to notice much. Taking time out to reflect and notice the world around you can help you become more aware of the present moment and begin to experience afresh things that you may have been taking for granted.
Mindfulness Session, 8 October, 2pm-4pm, Touchdown, Medway
Join the SU in Touchdown for a mindfulness session focused on crafting and play.
Mindfulness Session 11am – 12noon, Governor's House
In this one-hour session, learn about mindfulness and how regular use of the technique can reduce stress and improve your wellbeing, your life, your work and your studies.
The Outdoor Zone – Re-wilding, 12noon -2pm, Johnson Wellbeing Garden (Weather dependent)
Join Sustainability for some easy re-wilding activities to help you connect more fully with nature and your environment.
Evensong, 5.30pm, the Chapel
Join the Chaplaincy for prayer and contemplation.
Also look out for our Therapy Dogs, Oliver and Pixie during the day, who will be there to help you take time out and de-stress. And Medway has their very own Therapy Dogs in Drill Hall on 8 October.
At a Glance
Canterbury Campus
8 October- Chooseday Chill, 5pm-7pm, Augustine House
9 October – Balance Your Wellbeing Workshop , 2-4pm, Augustine House
10 October
Students' Union Games around the Pond, 10am- 2pm, Anslem
Let's Talk About Mental Health, 10am-4pm, Laud
Mindfulness Session 11am -12noon, Governor's House
Support and Information Fayre, 11am – 2pm, Augustine House
Creative Zone with crafting and graffiti wall, 11.30am – 2pm, Daphne Oram
Re-wilding, 12.00-14.00, Johnson Wellbeing Garden
Students' Union Petting Zoo, 12noon – 2pm, Chapel
Christ Church Sports' Boot Camp Taster, 1.15pm – Outside Daphne Oram
Student's Union Tea and Cake, 2-4pm, SU Lounge
Biscuit Baking, 3pm, Chaplaincy
Evensong, 5.30pm, the Chapel
CCCU Dance Students' Showcase, 7pm, Anselm Studio
'A Star is Born' with a discussion panel afterwards, 7pm, Gulbenkian
Virtual Pilgrimage, Chaplaincy, All Week
Medway Campus
8 October – Therapy Dogs, 1pm -3pm, Drill Hall
8 October – SU Mindfulness Session, 2pm-4pm
9 October – GIAG Massage and Nails, 11am – 3pm
10 October – Meet Student Support, 10am – 2pm, Rowan Williams
10 October – Support and Information Fayre, 11am – 2pm, Pilkington Atrium