Alcohol Awareness Week- don't be silent, help get rid of the stigma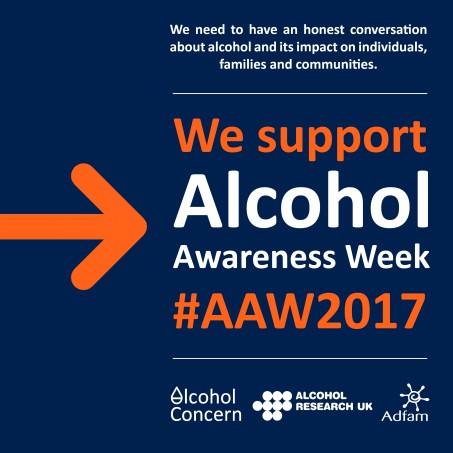 Alcohol Awareness Week is taking place from 13-19 November, and this year Alcohol Awareness Week has partnered up with Adfam. Adfam is a charity that supports families that have been effected by drugs and alcohol. Therefore this year's Alcohol Awareness Week is focusing on starting a conversation around problematic alcohol use and the stigma that is all too often experienced by families.
While at University many of you will have moved away from home and now be living with friends and spending a lot of your time with them, making them feel like a second family. However, it is important to recognise the stigma around those who have family members who drink harmfully, and to show them ways you are there to support any friends who might be going through this.
Stigmatisation of harmful drinking can come from the way it is talked about in the media, by friends, colleagues or even relatives. The stigma attached to those who have family members who harmfully drink can have an impact on individual's day-to-day lives with social invitations drying up, being victims of bullying and people making inappropriate comments. This is on top of possible feelings of guilt and self-blame.
If you or one of your friends is suffering from being stigmatised due to a family members harmful drinking, there are things you can do to help get rid of the stigma. The most obvious and most important thing is to be open and willing to talk about the issues surrounding alcohol. Let your friends know that if any of them ever want to talk about issues around alcohol you are always there for them. Also, learn and then educate other about the harmful nature and consequences of harmful drinking, to try and prevent any further stigmatisation.
If you are struggling with any issues relating to alcohol, it is important for you to know that trained, confidential, impartial and professional Health and Wellbeing advisers are there for you. You can contact them via studentwellbeing@canterbury.ac.uk or call 01227 922675. Don't have a silent conversation when it comes to harmful drinking, talk about it and help get rid of the stigma!

Take part in our online survey about your views on drinking alcohol and be in with a chance of winning a much needed £100 or one of ten £25 runner up prizes! You don't need to drink alcohol to take part – we'd like to hear from everyone. The survey will take about 15 minutes to complete, so click here to take part.