Academic Development Week 23- 27 October – How will you be the best learner you can be?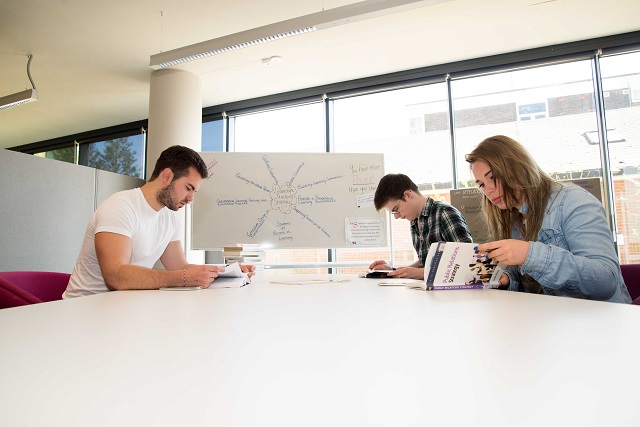 A new Academic Development week is being introduced on 23-27 October for undergraduates who follow the semester academic calendar.
Whether you are a new student just starting at University or a current student moving up to the next level, we know this time can be both exciting and challenging. The Academic Development Week is your opportunity to take stock of your learning and develop your academic skills, so you are prepared to progress and succeed in your studies.
During the week you can catch up with your Personal Academic Tutors, continue your independent study and access additional learning support. Check with your Programme Team and on your Blackboard for planned activities and opportunities.
And don't forget we have a range of professional experts, outside your Programme, available to support and advise you on how to get the most out of your learning – so why not use this week to find out more.
During Academic Development Week on 23 October at 11am and 3pm we are running two Get Started sessions in Augustine Hall. In the one hour session you will get the low down on who all the support services are, how they can help you and how you can contact them:
Get the most out of our library resources and help with finding the right literature for your programme by asking your Learning and Research Librarian on learning.research.support@canterbury.ac.uk. They are also offering daily tours during the week from 10am – 2pm or you can meet up with the Librarians for advice on how to find resources from 12-2pm.
Connect with other students who are happy to share their experiences and insights, help you develop learning strategies or understand specific programme needs through peer mentoring. Email peermentoring@canterbury.ac.uk to find out more.
Whether you're thinking about securing part-time work, a placement or internship or considering future career options, The CORE are here to help. Drop in at Augustine House or find tips and advice at The CORE online (via Blackboard) where you can also book a 1:1 appointment with a Careers Consultant.
Not sure who you need to speak to? Then the friendly i-zone team will be able to help and direct you to the appropriate department – so don't miss this opportunity to access the wide academic support that is available to all.
Personal Development Week  – 22-26 January
Look out in January for the new Personal Development Week where you get another chance to discover all the exciting opportunities that you can get involved in alongside your programme.  From joining clubs and societies to volunteering and improving your employability, this is your opportunity to find out how you can make the most of your time at university.
Not on a Semester Programme?
The central support services are available to all students during Academic Development Week and throughout the year at a time that suits you.
For those students who are not on a semester academic year, due to the professional nature of your course, additional learning support will be provided by your programme in different ways and different times to fit in with your timetable.