Academic Development Week 22-26 October 2018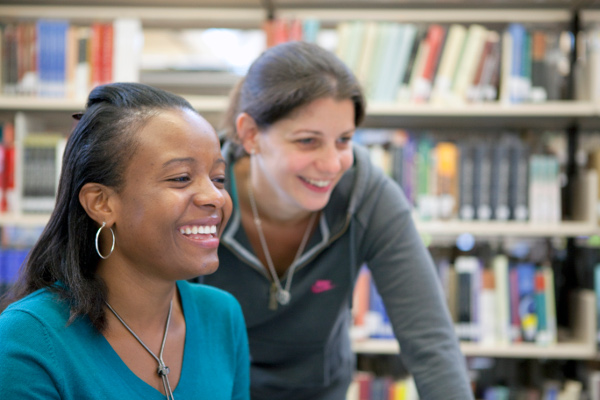 Academic Development week is on 22-26 October for undergraduates who follow the semester academic calendar.
This formal week is dedicated to you advancing your learning through focused activities allowing you time to prepare for assignments and develop your academic skills.  There is also a calendar of events and workshops to support you every step of the way.
The week provides you with an important opportunity to meet with your Personal Academic Tutor, reflect on your academic progress so far and identify the next steps you need to take to achieve your full potential.
During the week you can gain valuable input from your Programmes, continue your independent study and access additional learning support. Check with your Programme Team and on your Blackboard for planned activities and opportunities.
And don't forget we have a range of professional experts, outside your Programme, available to support and advise you on how to get the most out of your learning – so why not use this week to find out more.
Growth Mindsets Workshop
Tuesday 23, Wednesday 24, and Thursday 25 October
We believe that your intelligence is not a fixed characteristic but can be increased through practice and effort.  If you are looking for ways to succeed in your studies and break down barriers to learning come along to one of these workshop to find out how.
Growth Mindsets for Academic Success – 23 October 1.30pm, Nt06; 24 October 2.00pm , Ng09; 25 October, 10.30am, NG09 and 2.00pm, Ef01
Overcoming Barriers for Academic Success – 23 October, 2.30pm, Nt06; 24 October, 3.00pm, Ng09; 25 October, 10.30am, Ng09 and 3.00pm, Ef01
Your Uni
25 October at 10am and 11am in OG46
Come along to these short 30 minute sessions to get a quick overview of all the support that is available to you while at University.  Whether you are a new student or in your final year it is always good to know who is there is support you to get the most out of your time at CCCU.
Library and Learning Resources
Discover your Library tour
Every day in the week 22-26 October at 11:00am and 2:00pm at Augustine House
Get the most out of our library resources, tips on finding the right literature for your programme and information on the services that are available with these Library tours. Tours last approximately 20 minutes. Meet at the Reception Desk, at the entrance of Augustine House.
Techniques to develop your vocabulary for study and social life
Monday 20th 11-12; Tuesday 21 2.30-3.30; Wednesday 22nd 2.30-3.30; Thursday 23rd 2.30-3.30; Friday 24th 11-12 at Lady Wootton's Green
These session aims to increase the number of academic English words you understand in reading and increase your confidence in your speaking and writing. Students will maximise their learning by attending every day.
Discover the steps to academic success
Wednesday 24 October, 11-2 at Laud Touchdown
Academic skills developers and English language tutors, together with students who have benefited from these services, will be present to answer your questions, take tutorial bookings and offer guidance in improving your academic performance and grades.  
Open forum: sharing strategies for effective language learning
Wednesday 24 October, 12-1 pm at Lady Wootton's Green
Your chance to share your language learning strategies and to learn new ones in discussion with fellow students and an Academic English Service language tutor.
Reading skills for writing
Thursday 25 October, 1.30 – 2.30pm at Lady Wootton's Green,
This workshop aims to explore how to identify relevant areas in texts by locating key information; summarising paragraphs & paraphrasing. It will also practice skimming and scanning techniques in reading to enable students to access and record information quickly and efficiently.
Introduction to Academic English Service on-line tools and support
Friday 26 October 4.00-5.00pm at Lady Wootton's Green
Please bring a mobile device for this hands-on guide to helping yourself to better academic English. There will be an Academic English Service language tutor at hand for advice.
Peer Mentors
Facebook Live Q and A
Want to find out more about the Peer Mentoring scheme – whether you are thinking about connecting with another student to gain insight from their experience or volunteering yourself, this Facebook Live is a chance for you to ask questions and find out more.
Meet and Greet Tea and Cake
Friday 26th October 12-2pm AH2:23
A nice informal opportunity to meet with our student Mentors and Mentees plus there will be tea and cake!
Drop Ins
Chooseday Chill, Augustine House Tuesday, 5-7pm
Take time out over some comforting tea and toast; relax with some friends over some board games; catch a film or unwind with some sports activities.
Careers, The Core, Augustine House, Monday to Friday, 1- 5pm
Whether you're thinking about securing part-time work, a placement or internship or considering future career options, The CORE are here to help. Drop in at Augustine House or find tips and advice at The CORE online (via Blackboard) where you can also book a 1:1 appointment with a Careers Consultant.
Student Support, Augustine House, Monday to Friday 10.30am -4.30pm
Have a chat with our Support and Wellbeing Advisersif there is anything about your personal circumstances that you feel may be impacting your studies or you are generally worried about.