As part of our ongoing improvements to IT services and online security, we will be introducing a new and easy way to reset your password or unlock your account.
Before you would have had to use Manage My Account. Now it is all in one place as part of your Microsoft login. Please find attached a step by step user guide that takes you through screen by screen what you need to do for your situation.
If you have already set up your recovery details via an alternative email, telephone or Microsoft Authenticator App the process is very simple.
At the point of entering your password, there is a "Forgot my password" link. You then choose your recovery contact method and a verification code will be sent to either your email, phone or App.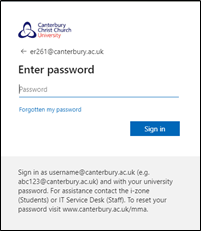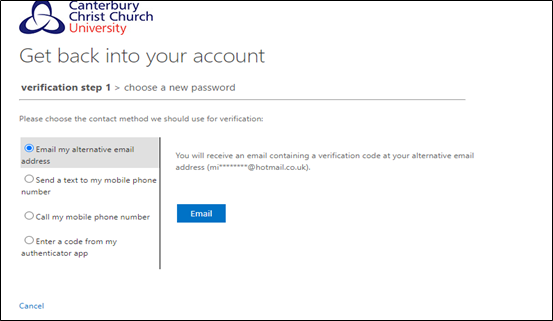 If you have not set up your recovery details and have forgotten your password don't worry. You can contact the i-zone via i-zone@canterbury.ac.uk to reset your password. You will then need to set up your recovery information to ensure in the future you have the ability to do this yourself.
Top Tips on being Password Savvy
Did you know that many of us use passwords that are easy for others to guess – so here are some ways to make it harder and safer. And remember try not to forget your password either!
Never reuse passwords.
Don't give away any clues – passwords and reset password hints often are based on information posted on social media, for example birthdays, children's names, pet's names, school attended etc.
Try using phrases rather than just words – why not form your password out of a sentence that only you will remember.
Try mixing it up – don't always put a capital at the beginning or a special character at the end – everyone does that making it easier to guess your password.