10 Top Beaches To Visit In Kent

Do you know about all the beautiful surrounding areas of Canterbury? In this blog, Katie is sharing her favourite beaches in Kent… To help you make the most of your summer!
When I first moved to Canterbury, I was worried about missing out on my seaside hometown beaches. With Canterbury being a city and all, it seemed that the closest thing I would get to a beach was the rivers…
However, Canterbury is smack bang in the middle of loads of coastal towns, making it an ideal location to pop over to all the different beaches surrounding this city!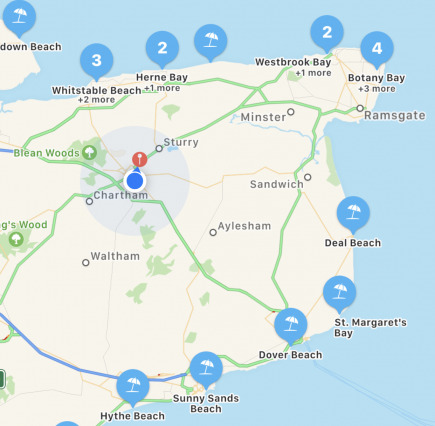 As I am an avid beach goer, I made it my summer city plans to visit different beaches every weekend.
I haven't managed to visit ALL of them yet – there are quite a few to get through!
But here is a rundown of my favourite visits and my yet to complete beaches. Have a look to see how many you have visited or yet to visit too!
1. Herne Bay
When I went to visit Herne Bay, I decided to take a bus ride from Canterbury bus station as it was only a 30-minute ride. You can opt for a train journey, which can take a bit longer with 2 trains from Canterbury East (to Faversham and then to Herne Bay).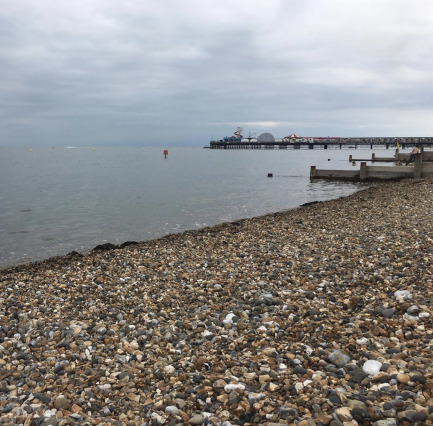 Herne Bay is a smaller coastal town with a parade of shops and a street market – a bit like Canterbury, but smaller!
I couldn't help myself when I walked past a burger stand and grabbed some lunch there before heading onto the beach.
Herne Bay beach is pebbly and faces pubs and shops, with a pier and gift shops along the seafront. It's a really nice day out with friends or family!
2. Whitstable
My trip to Whitstable was a lot more recent than the rest!
I decided to take a LONG walk from Canterbury to Whitstable during lockdown to avoid public transport and to have a short visit at the beach.
The trail to Whitstable is known as the Crab and Winkle Way, a National Trail for cyclists and daring walkers!
It is meant to take approximately 2 hours to walk the trail, although do consider where you are starting from! The entirety of my journey took 6 hours, as walking to the start of the trail took me an extra hour! Ouch…
The beach in Whitstable is also pebbly, with loads of little stores and stalls surrounding the area for a quick bite to eat.
There is also a lot of parking available, with a train station and buses too – saves you walking 7.5 miles!
3. Margate
Margate beach is a popular tourist location during the warmer months! It has a sandy beach with amusements, arcades and shops facing the seafront.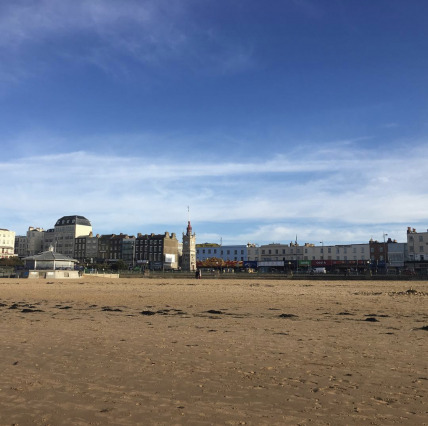 I personally tend to prefer the sandier beaches, like Margate, so it's a good choice for a more comfortable visit.
Margate is only a 35-minute train journey from Canterbury West – super handy for a quick and eventful day out!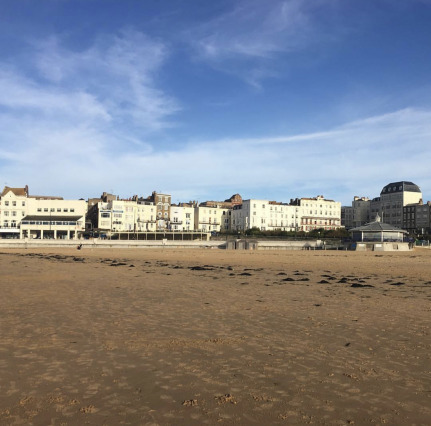 I made this visit to Margate during the Autumn for a walk along the beach, which is why it looks so quiet! But during the Summer months it is PACKED – people from all over the country come to visit Margate as the original seaside trip!
4. Botany Bay
Botany Bay is situated between Margate and Broadstairs. It's a secluded sandy beach, tucked out the way – making it a longer and more adventurous journey to the sea.
This beach is a little harder to get to – but worth the journey with the beautiful soft sand!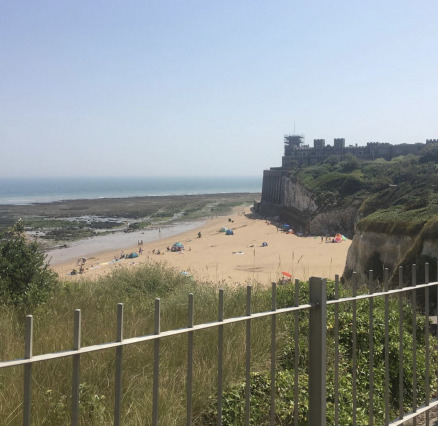 I had to take a bus from Canterbury bus station towards Ramsgate. It takes around 1.5 hours, but it's a great way to explore the coastal areas of Kent and another beach to tick off your (sand) bucket list!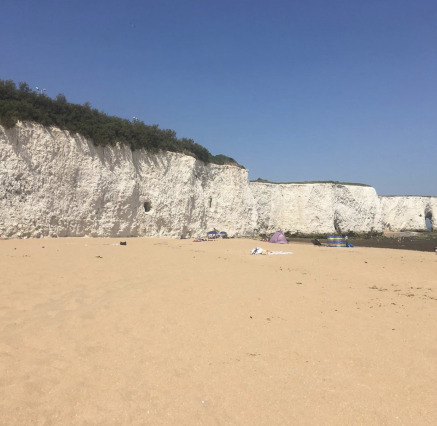 There is some parking available if you prefer to drive, making it around a 40-minute journey. However, parking is limited and expensive, so I would recommend jumping on the bus for this one.
5. Ramsgate
Ramsgate Main Sands is one of my all-time favourite beaches in Kent!
Ramsgate itself is a great seaside town and also has the largest Wetherspoon in the UK, known as the Royal Victoria Pavilion.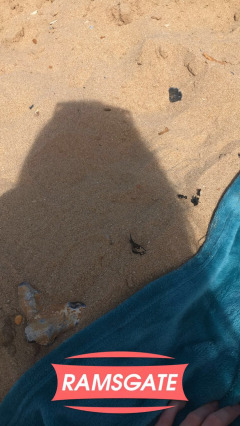 The beach itself is sandy and soft! There is also a marina with LOTS of fancy boats.
There is plenty of parking if you prefer to drive there and of course direct trains and buses available from Canterbury.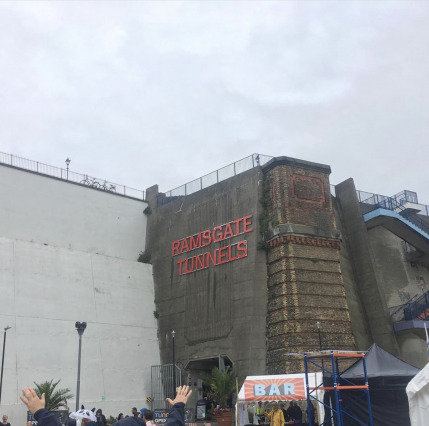 Ramsgate also has the Ramsgate Tunnels, which is an interesting tour through the underground tunnels that were used during World War II. The tour is only £8 for an adult and lasts at least 1.5 hours! You get so much for a little price – check it out if you ever visit Ramsgate.
6. Broadstairs
I have saved the best to last…
Broadstairs is my FAVOURITE beach in Kent and was the first coastal town I visited. You can easily catch a train from Canterbury West, taking only 30-minutes!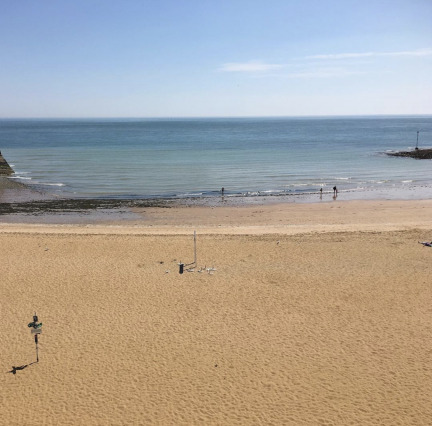 The beach is known as Joss Bay and is a beautiful sandy landscape, surrounded by greenery, restaurants and little seaside shops.
I remember making a whole day trip in Broadstairs. It was a lovely memory from my first summer living in Kent from last year.
I am still yet to visit a lot more beaches in Kent, so here are a few on my list that I recommend you check out too!
Still to personally explore:
7. Sandwich
Sandwich Bay is only a 45-minute bus journey from Canterbury bus station or a 30-minute drive from Canterbury!
If you ever make a day trip there, you should also visit Sandwich Wildlife Park! They offer an experience of 90-minute guided tours around their park to visit the animals and get an insight on their facilities. Tickets are £12 and take place from 1:30PM each day – but book in advance to avoid disappointment as spaces are limited!
8. Deal
Deal's beach is a long stretch of pebbles with a pier as a grand tourist attraction. The beach is surrounded with a variety of independent seaside shops and restaurants.
Deal is about a 40-minute drive from Canterbury or accessible via a bus for a 50-minute journey from Canterbury bus station.
9. Westgate-on-Sea
Westgate-on-Sea is known for two beautiful sandy beaches – West Bay Beach and St. Mildred's. Both surrounded by little cafes and the town with greenery.
Westgate-On-Sea is a located near Margate, so it's only a 30-minute journey by car. You can also catch a bus from Canterbury Bus Station which takes around 50-minutes.
10. Folkestone
Finally – Folkestone beach!
Folkestone's beach is known as Sunny Sands, next to Folkestone harbour, which is a popular sandy beach with close by facilities of cafes, shops and restaurants.
It's around a 30-minute drive from Canterbury to Folkestone. If you're taking public transports – like I do – then you can take a 47-minute bus from Canterbury bus station or 2 trains from Canterbury West to Ashford onto Folkestone.
Get Your Dose of Vitamin-Sea THIS Summer!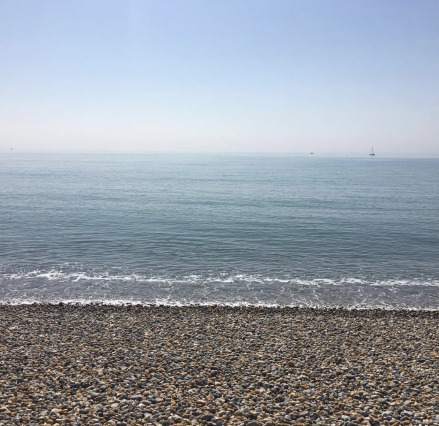 Thank you for reading this blogpost! Why not let us know how many of these beautiful Kent beaches you have visited?
I know I'm definitely off to Sandwich's beaches on my first seaside visit – how about you?
Share with us any of your favourite beaches or ones we've missed to add to the ongoing seaside list!