Work in Progress: Sarah Gail Brand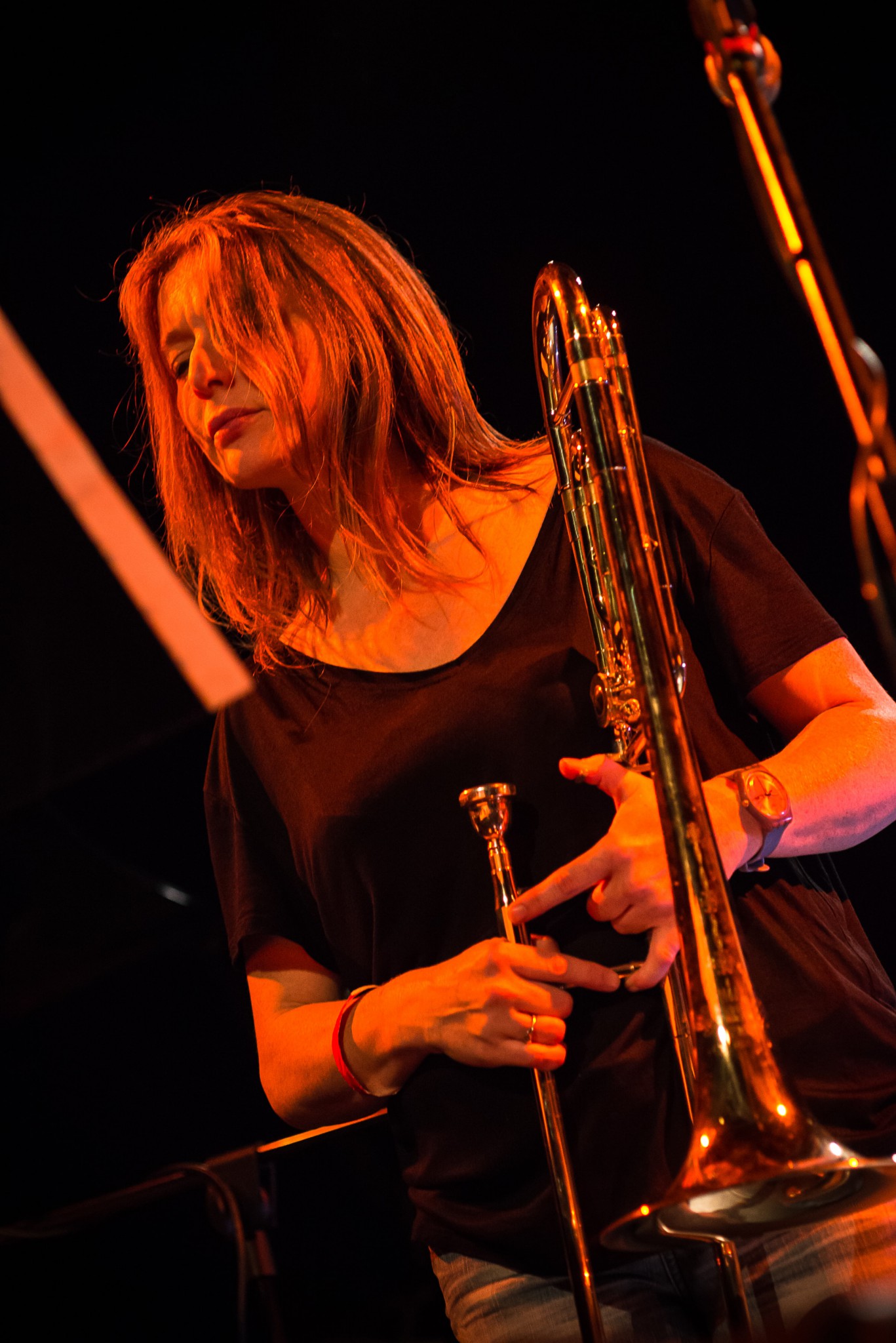 Sarah Gail Brand will be presenting her research in the first work in progress session this term on 30th January at 5-6pm, in MDf08.
The Impact and Affect of Ensemble Interrelationships on Performances of Improvised Music – a Practice Research Study
"As a professional trombonist specialising in Improvised Music (or improvisation without 'stylistic or idiomatic commitment' (Bailey, 1992)), my practice research PhD in Improvised Music and Interrelation examines to what extent my performance practice is influenced by the relationships forged with other improvising collaborators. Improvised Music, although a relatively young genre (Scott, 1980), is inspiring scholarly investigation into its processes and methods. Practitioner-researchers have collectively defined an historical context of this music, observed its protagonists or undertaken practice-led investigations into its praxis and techniques.
Practitioner-authors such as Derek Bailey (1992), David Toop (2016), and Eddie Prevost (1995), offer insights into Improvised Music's political, philosophical and societal significance. There is, however, a dearth of writing considering the impact of performers' relationships on what they improvise. By examining the embodied knowledge of my artistic practice and my tacit knowledge of the subjective, personal-musical relationships in which my artistic practice exists, the research intends to deepen the understanding of the musical and relational processes of improvisation amongst ensemble players.
This presentation will detail the progress made in the first year of a three-year study and also present material that is in preparation for a conference paper to be delivered in February 2018."
Described by The Wire magazine as the most exciting trombone player for years, Sarah Gail Brand has recorded and performed on the international Improvised Music and Jazz scene since the early 1990s with Mark Sanders, John Edwards, Elton Dean, Evan Parker, Phil Minton, Veryan Weston, Lol Coxhill, Maggie Nicols, Wadada Leo Smith, Steve Beresford, Georg Graewe, writer and comedian Stewart Lee and countless others. Sarah fronts her own tunes quartet (Sarah Gail Brand Quartet), has a long standing duo with drummer Mark Sanders, and a trio with John Edwards and Steve Beresford and continues to work as a soloist and in ad hoc ensembles. Sarah has appeared regularly on BBC Radio, including a guest presenter spot on the Jazz on 3 programme (BBC Radio3).
As well as being a composer, Sarah's trombone work ranges from playing Improvised Music and Jazz, studio session work to arranging brass & playing in pop and rock music. Sarah is a qualified music therapist and a professor of Improvisation at the Guildhall School of Music & Drama, London and leads workshops on improvisation around the world. Sarah is currently a PhD candidate at Canterbury Christ Church University, researching Improvised Music and Interrelation. Recordings of Sarah's work can be found on the Emanem and regardless record labels.
sarahgailbrand.net