Work in Progress Report: Sarah Gail Brand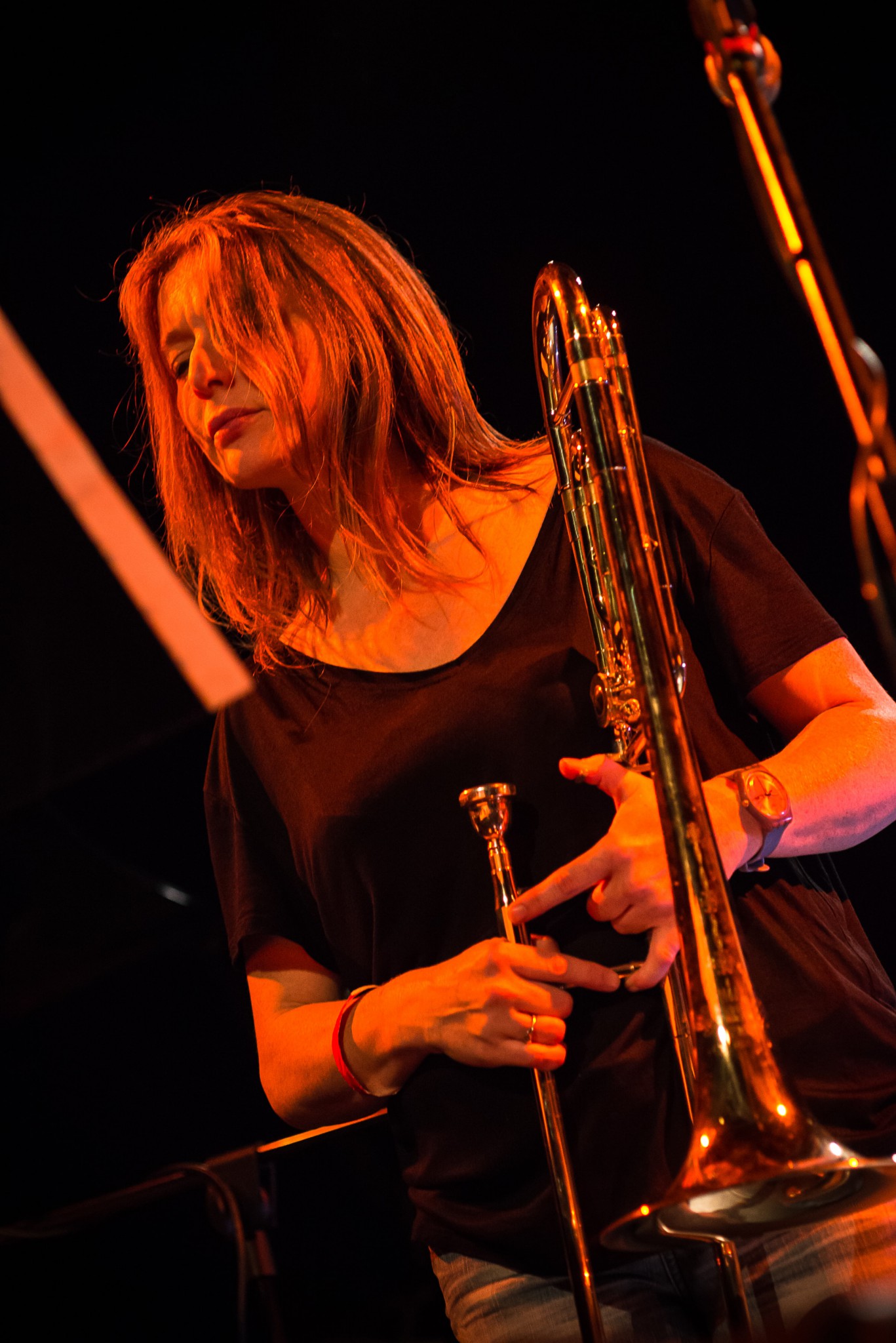 Sarah Gail Brand presented her research in the first work in progress session of 2018 on January 30th.
The Impact of Ensemble Interrelationships on Performances of Improvised Music
Sarah's work in progress session detailed the progress made in her first year of study and included material in preparation for presenting at the British Association for Music Therapy Conference in February 2018. Sarah's research combines her experience as a trombonist, music therapist and lecturer in improvisation. The aims of her research are to investigate the impact the relationships between improvising musicians have on their musical choices and deepen the understanding of the musical and relational processes of improvisation. Her research includes her own playing techniques, processes and motivations as an improvising trombonist in relation to a specific group of musicians, some of which she has performed with for a long time, and she will be looking at the different ensemble situations out of that body of people. Sarah will be using analytical frameworks and theories by UK and European music therapists to analyse the musical materials that she gathers. However, she will not be acting as a therapist to the musicians and will not consider the impact of the venue or audience as this area has already been investigated. Sarah is documenting her research process through video and audio documentation, and she aims to submit her research on a DVD and CD. Her practice research methodology will involve ethnography, auto ethnography and action research. And, her research will include complementary writing as outlined by Robin Nelson in Practice as Research in the Arts: Principles, Protocols, Pedagogies, Resistances (2013).
Before Sarah discussed her research, she gave definitions for 'improvised music', 'interrelation' and 'music therapy'. Improvised music is music without genre, idiom, pre-organised or composed material, it is highly abstract (e.g. gestural, texture, noise/effect), uses formal musical elements (e.g. melody and harmony), and has no stylistic commitment. Interrelation is 'the way in which two or more things or people are connected and affect one another'. And, music therapy is an established psychological clinical intervention. To be a music therapist, you must be registered by the Health and Care Professions Council and must have completed an approved postgraduate course. Music therapy is a largely improvised music focusing on interrelation, and this is why it has parallels with Sarah's research.
For this work in progress session, Sarah discussed an analysis of her own trombone playing, the musical semiotic of playing and the historical context of a lineage of trombonists that she comes from. This lineage includes Paul Rutherford, Alan Tomlinson, Jimmy Knepper, Lawrence Brown, Sam Nanton and Tyree Glenn. Sarah realised that she needed to look at what she was playing in order to do her research. She did this by using a music therapy model to chart the musical material and then created a summary of techniques, which she can then use to describe what she does. Once she has developed this, she can compare this to the material produced by the other member/s of her ensemble. Sarah will analyse the musical material by using interpretive frameworks and music therapy processes, with psychodynamic psychotherapeutic influences and including attachment theory and affect attunement. Sarah is particularly interested in affect attunement which 'is the performance of behaviours that express the quality of feeling of a shared affect state without imitating the exact behavioural expression of the inner state'.
Sarah showed an example of one of her own detailed transcriptions of her ensembles' improvisation. She explained how the numbered musical events, which highlight musical gestures, are simultaneously mutually influencing and responding to the prevailing music.
In the future, Sarah will continue to develop the work she presented within the session and would like to develop an interactive media to demonstrate her analysis using MaxMSP. Sarah presented a paper on 'Music therapy: what is has to offer musicology beyond therapeutic interventions' at the BAMT Conference in February 2018.
Described by The Wire magazine as the most exciting trombone player for years, Sarah Gail Brand has recorded and performed on the international Improvised Music and Jazz scene since the early 1990s with Mark Sanders, John Edwards, Elton Dean, Evan Parker, Phil Minton, Veryan Weston, Lol Coxhill, Maggie Nicols, Wadada Leo Smith, Steve Beresford, Georg Graewe, writer and comedian Stewart Lee and countless others. Sarah fronts her own tunes quartet (Sarah Gail Brand Quartet), has a long standing duo with drummer Mark Sanders, and a trio with John Edwards and Steve Beresford and continues to work as a soloist and in ad hoc ensembles. Sarah has appeared regularly on BBC Radio, including a guest presenter spot on the Jazz on 3 programme (BBC Radio3).
As well as being a composer, Sarah's trombone work ranges from playing Improvised Music and Jazz, studio session work to arranging brass & playing in pop and rock music. Sarah is a qualified music therapist and a professor of Improvisation at the Guildhall School of Music & Drama, London and leads workshops on improvisation around the world. Sarah is currently a PhD candidate at Canterbury Christ Church University, researching Improvised Music and Interrelation. Recordings of Sarah's work can be found on the Emanem and regardless record labels.