Words n Waves: Sidney Cooper Gallery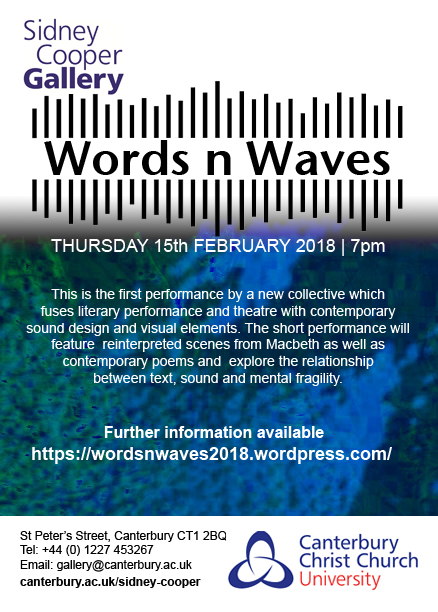 On 15th February at 7pm, there will be the first performance by a new collective which fuses literary performance and theatre with contemporary sound design and visual elements. The short performance at the Sidney Cooper Gallery in Canterbury will feature reinterpreted scenes from Macbeth as well as contemporary poems and explore the relationship between text, sound and mental fragility. This event is free and tickets can be booked here.
Words n Waves is a knowledge exchange project funded by the Faculty of Arts and Humanities at Canterbury Christ Church University. The aim of this project is to establish a creative collaboration and knowledge exchange between experienced practitioners of music technology (Daniel Herbert) and literary performance (Aidan and Miriam Dooley) within the School of Music and Performing Arts. This interdisciplinary collaboration will culminate in a performance and a series of workshops in schools. The project seeks to explore the intersections between text, music, sound, visuals and theatre in live context through the creation and use of bespoke software in response to the spoken word.