WINTERSOUND: Sidney Cooper Gallery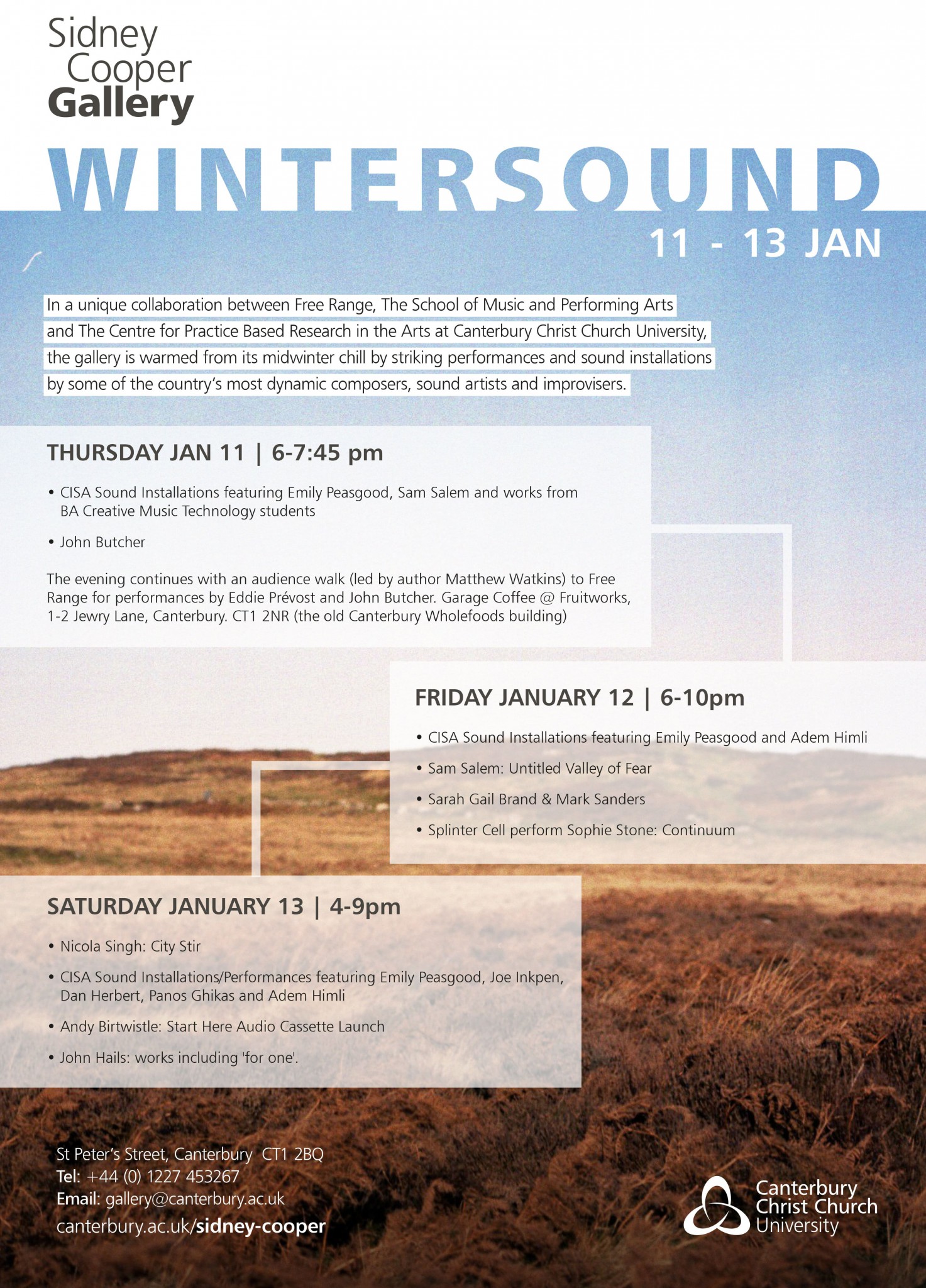 11-13 Jan 2018
In a unique collaboration between Free Range, the School of Music and Performing Arts and the Centre for Practice Based Research in the Arts at Canterbury Christ Church University, the Sidney Cooper Gallery is warmed from its midwinter chill by striking performances and sound installations by some of the country's most dynamic composers, sound artists and improvisers.
These are some of the contributions by practice researchers supported by the centre:
Panos Ghikas, Unreal-time sabre event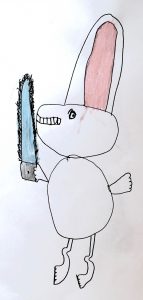 Utilising fencing as a time-based audio-event, Panos Ghikas cuts across gestures, by improvising on a composed audio score.
Panos Ghikas is a composer, improviser and producer. His output encompasses concert music, live improvisation, interdisciplinary collaborations in digital media, film music and pop production. He is a member of surrealist post-pop band The Chap, runs the Migro Records label. Panos performs and releases collaborative multi-channel work with composer/improviser Jennifer Walshe in 'unreal-time' improv duo Ghikas and Walshe and performs violin and viola in free-improvisation groups Friendo and the Bohman Expanded Family. Panos completed his PhD in Composition at Goldsmiths, University of London. Panos Ghikas is a Senior Lecturer at Canterbury Christ Church University.
Sarah Brand is one of the UK's leading improvising trombonists and will be treating us to a set with the outstanding percussionist Mark Sanders.
Joe Inkpen, Translate (2017)
Joe is a current PhD student at Canterbury Christ Church University, with a focus on polytemporal composition; music composed for multiple simultaneous tempi. This work is for solo electric guitar, structured around the concept of polytemporal automation via effects processing; while the live guitar is performed it is being manipulated using MIDI automation, and output in stereo. The left and right channels each work in their own tempo, independent to each other and the live guitar, and explore various means of automation within the effects unit to create and manipulate rhythm and harmony – as the piece progresses, effects such as distortion, delay, modulation and reverb are automated with increasing precision and complexity in order to fully explore their polytemporal possibilities. The sonic result of this is a dynamic, textural piece comprising three simultaneous tempi; while these oppose each other they share temporal relationships, allowing constructed moments of synchronisation and unity, while constantly dependent on the human guitar input.
Andy Birtwistle, Start Here: The art of the audio cassette
A performance lecture by sound artist and writer Andy Birtwistle on the art of art of the audio cassette, starting with the big bang and ending in landfill. Andy will perform live with work from his Start Here cassette tape label and visuals provided by 35mm slide projectors.
Sam Salem, Untitled Valley of Fear

Sam's installation, for object operators and fixed media, won him a nomination for BASCA Sonic Artist of the Year.
Emily Peasgood, Halfway to Heaven (2017)
Emily will premiere a video of visitors interacting with Halfway to Heaven (2017) at Folkestone Triennial 2017. The video was created in collaboration with Clare Unsworth and Daniel Battersby.
Emily Peasgood is an award-winning composer and sound artist. She creates research-led music and sound works for galleries and public spaces, ranging from large-scale community events to intimate sound installations. Her work explores the value and perception of sound and music, connecting people with environments that are forgotten or ignored, and is often rooted in political realities. She views her work as pushing the boundaries of what music and sound is believed to be, from the venue it is experienced in to the people who perform it. Emily's work is multi-disciplinary and she works with writers, visual artists and sign language interpreters to create collaborative and inclusive work that engages people in more ways than through the mediums of sound and music alone.
Sophie Stone, Continuum (2017)
A 90-minute installation for fixed electronics and four live performers; the instrumentation includes clarinet, flute, violin, cello and tam-tam. The audience can be immersed within the 'wintersounds' by experiencing the meditative extended duration work by sitting or laying on the floor.
Sophie Stone is a composer, PhD student and Sessional Lecturer at Canterbury Christ Church University. Her research explores the use of silence, performance situations and compositional strategies surrounding extended duration music within the field of experimental music. Sophie's work includes installations and sound art using experimental notation for instrumentation such as solo organ, spoken voices and electronics.
Adem Himli will present a continuation of his PhD study into software design inspired by the sounds and gestures of analogue radio.
John Hails, for one, for three, and for none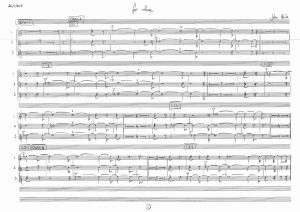 for one, for three, and for none constitute the three parts of a central trilogy of works at the heart of a project based around the figure of Peter Abelard, his relationship with his son Astralabe, and his clashes with church authorities. At Wintersound this year the audience will have a chance to walk around inside the first iteration of the for none installation, Alistair Zaldua will perform for one, and I will present a 'grand plan' of the whole scheme including audio examples of the very specific microtonal sound world I'm playing with in the composition of these works.