The Great War Horse: Conference Report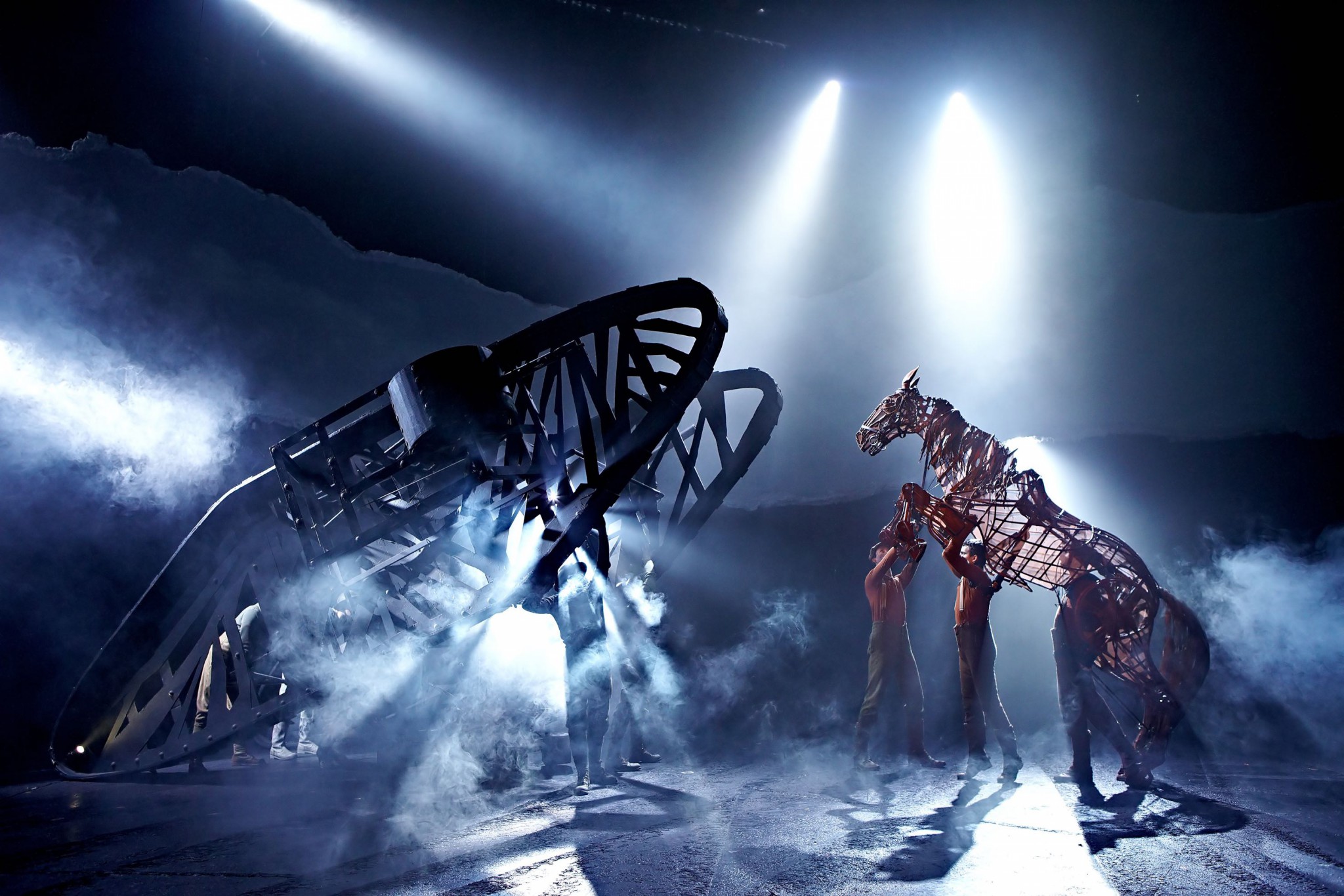 Conference on  15th and 16th September 2017
'The Great War Horse' was a two-day conference hosted by the School of Music and Performing Arts at Canterbury Christ Church University, in collaboration with the Marlowe Theatre and the University of Kent. The event brought together academics and theatre practitioners to discuss the National Theatre and Handspring Puppet Company's War Horse on its tenth anniversary, as well as examining its impact on UK theatre and the puppetry sector.
Puppetry Masterclass
Henry Maynard, Artistic Director of Flabbergast Theatre, held a fantastic puppetry masterclass to develop performance skills exploring three-person puppetry used by Flabbergast Theatre, War Horse and many other productions. Henry's experience includes performances across the globe in War Horse, A Christmas Carol, Faeries and Circus 1903. Most recently, Flabbergast Theatre worked with Plan B on a music video for his new album and supported him during a live performance at Shakespeare's Globe.
The masterclass started with an exercise where one hand of the participants became a fish to discover the full potential of movement. Firstly, each participant discovered the limits of movement when on the spot, pivoting and exploring the whole space. They then explored puppet interaction and group work to create a specific language of silent communication. Henry advised that there should be no leader within the group and the puppets should take the lead. He explained the importance of not being "precious" about one's own impulses as puppetry should never have one leader. Also, during improvisation you must second guess other people's intentions, therefore silent communication is incredibly important. In War Horse, the puppeteers of the horses would often improvise to allow the horse to become alive and more realistic.
The second exercise was the most challenging as the group had to use found objects to create puppets; objects included rope, a bin bag, a faux plant, a telephone and a wooden spoon. Firstly, the participants explored the objects: How does it speak? What is its character? How does it feel, move or smell? Does anything about the object make it human? Like in the previous exercise, the group worked individually, explored the space and interacted with the other puppets. From a group discussion, they found that movable objects are easier to create character from, and breath is most important to create the impression of life, as well as muscularity and weight. The participants changed objects to explore a new character, and then created puppets in groups using multiple found objects, e.g. a faux plant and a spoon, and tinfoil and a percussion mallet.
The final exercise involved Flabbergast Theatre's bunraku puppets Boris and Sergey, the stars of Plan B's 'In the Name of Man' music video. In groups of three, the participants used breath, muscularity and weight to practise waking, standing, walking, pencil jumps, distance jumps, running on the spot and improvisation. In the exercise, the participants took turns to control the different parts of the puppet. During the improvisation, the groups created a character for the puppet and a dialogue with Henry. One of the characters was a kidnapped tax collector called Henry who enjoyed water aerobics, and another was Derek who enjoyed knitting, sewing and making blue cheese! At the end of the masterclass, Henry and two other participants explored the different possible characters of Russel Dean's puppet, Mikey, and how you can transform one character to another through breath and posture.
Perspectives from Practitioners
Russell Dean, director of Strangeface Theatre Company presented a paper that has emerged from a Welcome Trust funded show called Dissonance which explored cognitive dissonance. Strangeface Threatre Company, based in Kent, brings mask and puppet theatre to audiences nationally and internationally. Dissonance is a black comedy for one puppet named Mikey, a hitman with obsessive compulsive disorder. Russell discussed how neuroscience explains how we perceive puppetry and the world, and the techniques that puppeteers use to create the illusion of life by exploiting certain areas of the brain.
Rebecca O'Brien, producer at the Kent based company Knuckle and Joint, presented a paper on teaching puppetry to children and young people, and the demand for adult puppet shows beyond War Horse. Knuckle and Joint promote puppetry to young people and children through educational workshops, which will create a new generation of puppeteers. In schools, Knuckle and Joint create puppets of all sizes with the children, teach them how to give them life, give classes on Bunraku, and use puppetry with literature to gain more knowledge about the stories and the characters.
Craig Leo (associate puppetry director) and Matt Forbes (assistant puppetry director) discussed War Horse, its success and the future with Dr Jeremy Bidgood. They agreed that War Horse is not a finished work as it is a process; they are continually learning new ideas when working with the puppeteers, who they describe as the experts. The show is an ensemble that work together to produce an inspiring story and have a conversation about what it means to be alive. The puppeteers aim to look through the eye of the horse and not the text so that it gives a more realistic performance. Like Henry from Flabbergast Theatre, Craig and Matt emphasised the importance of everyone being an equal and not one part of the puppet leads.
When teaching puppetry for War Horse, Craig and Matt found that people have different rates and processes of learning, strengths and weaknesses, therefore teaching takes patience and support. To produce the most realistic puppetry, the puppeteers interact with real horses to gain knowledge of their size, scale and power. Yoga is also a valuable training tool as it focuses on stamina, strength and breath, which are all particularly important in puppeteering. During puppetry training, they also teach breath, movement and tension through puppets created from found objects and paper. In the training process, the puppeteers play games of trust which is useful for performances as it can be difficult to see when inside the puppets, and they often have to rely on one another.
Film Screening
At the conference, there was a screening of a film by Stanley John Films that documented the 2016 Barrydale Puppet Parade and Performance Olifantland, a visual theatre show featuring life size elephant puppets by Adrian Kohler from Handspring Puppet Company with UKWANDA Puppet and Design Collective. Every year, Handspring Trust and Net Vit Pret with the Centre for Humanities Research, University of Western Cape collaborate to produce a parade in Barrydale in the Klein Karoo. The parade is a site-specific community performance that involves approximately 200 locals, 120 of which are children that make and perform with their own puppets. Olifantland is inspired by Lawrence Anthony's Elephant Whisper (2009), which is a novel about reconnecting with the hugely intelligent wild creatures that live on an African game reserve. Olifantland explores reconciliation, our ancestral connections to elephants, their emotional intelligence, sense of community and family.
Perspectives from Academics
In Laura Vorwerg Marshall's (Royal Holloway, University of London) paper, she discussed embodied knowledge(s) in interdisciplinary performance practice and outlined provisional terminologies for process models: selective skill development, collaborative skill integration and collaborative skill augmentation. Laura explained that collaborative skill augmentation utilises, develops and repurposes existing embodied knowledge(s) in new disciplinary skill development, therefore enabling interdisciplinary collaboration. Collaborative skill augmentation is evident in War Horse and has resulted in a "seamless integration of disciplines", therefore offering a successful model of practice for interdisciplinary collaborations in the future.
Dr Valerie Kaneko-Lucas (Regent's University London), self-confessed War Horse addict, addressed War Horse as a community metaphor. She explained how the show and the production values both embrace a sense of community. War Horse can give a sense of community through the retelling of First World War events when community was especially important, and the performance of recognisable songs that create a sense of community and nostalgia within the theatre when audience members sing along. Community is also shown through the development of puppetry within War Horse: the collaboration between puppeteers, designers and horse behavioural experts in creating the puppets, and the teamwork necessary to operate each puppet which includes four puppeteers.
Dr Jeremy Bidgood (Canterbury Christ Church University) presented a paper on interweaving and finding the weaver in the work of Handspring Puppet Company. He explained that 'interweaving' has become a buzzword and offers an alternative term to 'intercultural'. Jeremy discussed the weaver whilst referencing Erika Fischer-Lichte, Roland Barthes and Peter Brook. He stated that "there are dangers in failing to acknowledge the weaver/s leading to loss of agency for theatre makers". Jeremy described how puppetry is still underfunded and unacknowledged despite the success of productions such as War Horse. He explained that the issue of authorship and recognition is paramount, and that Basil Jones (Handspring Puppet Company) has argued for the recognition of the puppet-maker and puppeteer's authorship in an effort to re-liberate the puppetry community.
Keynote Talk
The keynote was delivered by Basil Jones and Adrian Kohler, the Artistic Directors of Handspring Puppet Company, and they discussed their work prior to War Horse (The Chimp Project and Tall Horse) and the impact that War Horse has had on theatre. They explained that puppeteering an animal requires learning another language, the language of the animal, and this required a lot of research; they had to learn the sound, movement, and interaction each animal had with other animals. This is not only important for performing, but also important in designing the puppet itself.
Like Russell Dean from Strangeface Theatre Company, Basil and Adrian discussed perception and the brain, and how the quality must be as high as possible with the smallest changes of breath and eye movement, for example, as audience members may have extreme perception. They reiterated the importance of breath, defined puppets as objects that represent life, and explained how puppets are four-dimensional. They also described how puppetry works within War Horse to produce sound; within the horse is a choir, as each puppeteer is needed to produce one sound.
Before War Horse, there has rarely been a story with an animal as a central character. Basil and Adrian discussed how playwriting has been positively affected by the use of puppets to represent these animals. However, the world of theatre still sees the use of puppetry as a risk.
Closing Plenary
The closing plenary was a discussion on the future of UK puppetry. The panel included Jeremy Bidgood (chair and British UNIMA representative), Rachel McNally (Puppet Place CEO and chair of Puppeteers UK), Penny Francis who has been interested in and promoted puppetry since the 1960s, Ronnie Le Drew (puppeteer at Little Angel Theatre and Model Theatre Guild) and Joseph Wallace (practitioner, lecturer and curator for puppetry in film and theatre). The panel discussed reclaiming the word 'puppet', appealing to have puppetry as a recognised artform and not a subcategory, and how the puppetry community can work together to positively impact the future of the creative practice.