In July 2016 Bryan Hawkins attended the Conference David Jones Dialogues with the Past at York University as part of their work within the PBRC and The Powell Research Group. The conference celebrated the work of the significant artist and poet David Jones and at the month and year of the 100th Anniversary of the battle of Mametz Wood during the Battle of the Somme of which Jones so movingly wrote in his novel In Parenthesis, and which deeply influenced his visual and literary outputs. Building on previous work a popular screening of Landscape and Vision Powell and Pressburgers A Canterbury tale 1944 – accompanied the paper – David Jones and the Magical Commonwealth. In addition an exhibition Landscape, Sign, Sacrament – An Exhibition as Dialogue linking the text of David Jones' writings with drawings, paintings, sculptures and objects made and collected  by Bryan Hawkins was structured for the duration of the conference. The exhibition was curated by BryanHawkins in conjunction with the conference organisers, The David Jones Society and postgraduate and undergraduate student from York University. The conference has led to further projects and collaboration with the David Jones Society, leading David Jones researchers  and the exploration of future venues and development of the exhibition.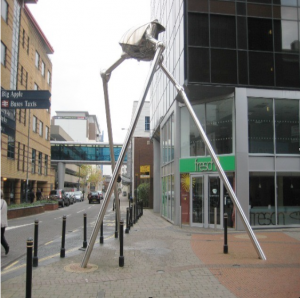 Bryan Hawkins presented a paper: The Microscopic as Space, Place and Metaphor in H.G. .Wells (1898) War of the Worlds and F. W. Murnau's (1922) Nosferatu at the Anticipations H.G. Wells society annual conference in Woking.   
No one would have believed in the last years of the nineteenth century that this world was being watched keenly and closely by intelligences greater than man's and yet as mortal as his own; that as men busied themselves about their various concerns they were scrutinised and studied, perhaps as narrowly as a man with a microscope might scrutinise the transient creatures that swarm and multiply in a drop of water.
H.G. Wells (1898) novel War of the Worlds and F. W. Murnau's (1922) film Nosferatu both assert and challenge an emphasis on the truth-values of sight, science and technology and present the possibilities of the microscopic and the invisible as the imaging and imagining of the mysterious, the threatening and the unknown observed within the natural and nature as a legacy of romanticism and as a particular imagining of unfolding modernist anxieties. The central argument is that Wells and Murnau through the microscopic landscapes they introduce as space, place and metaphor animate a longer history of visual technology and explore a complex dynamic and imaginary beyond the scientific, the optical and the rational.