PGRA Conference 2019: CfP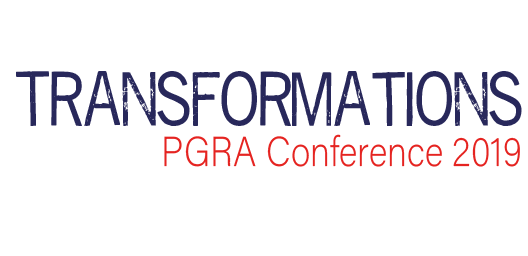 Call for Papers – CCCU PGRA Conference 2019:  "Transformations" (22nd May 2019)
Hosted by Canterbury Christ Church University Postgraduate Research Association
The Conference Committee at Canterbury Christ Church University is delighted to announce its 2019 conference, "Transformations". Building on the success of previous years, the 2019 conference will bring together postgraduate students from across many disciplines. It is the perfect opportunity to present the first stages of research, work in progress, and research which has already been completed (i.e. MA dissertation or completed PhD) as well as offering researchers the chance to transform the idea of a 'traditional' conference paper. Transformations is a topic which covers a wide range of subjects, including music and performing arts, science, psychology, linguistics, media studies, politics, law and history, basically any subject you can think of! Transformations can come in the form of the creation of new knowledge, the adaptation of existing methodologies and frameworks, or a change of form within the research itself.
Possible themes include, but are not limited to:
Metamorphosis

A change of form

Revolution

Changing the way people think

Negative transformations

Transmogrification

A change in practice
Submissions for Papers, c.20 minutes in length, should be in the form of a 250-300 word abstract, to be filled in on the form below. The deadline is March 8th 2019. Applications will no longer be accepted after the deadline.
We welcome new formats of conference presentations, such as performances/installations (e.g. dance, music and drama) as well as photography and other visual arts, and performances followed by a short paper (equal to 20 mins total). Please provide all technical requirements in the submission form. Please note you may need to organise some of the technical arrangements yourself.
This year, the PGRA would also like to invite outlines for poster presentations.
Submission for Posters should be in the form of a 200-300 word outline on form below. For printed posters, the standard poster size of DIN A0 841mm wide x 1189mm high is the minimum size. It is recommended that a printed poster be no larger than 900mm wide and 1900mm high. If you are using photographs, graphics and pieces of text, these should also fit within the area of 900mm wide and 1900mm high.