Jo Samuel: Augmented Reality Sustainability Trail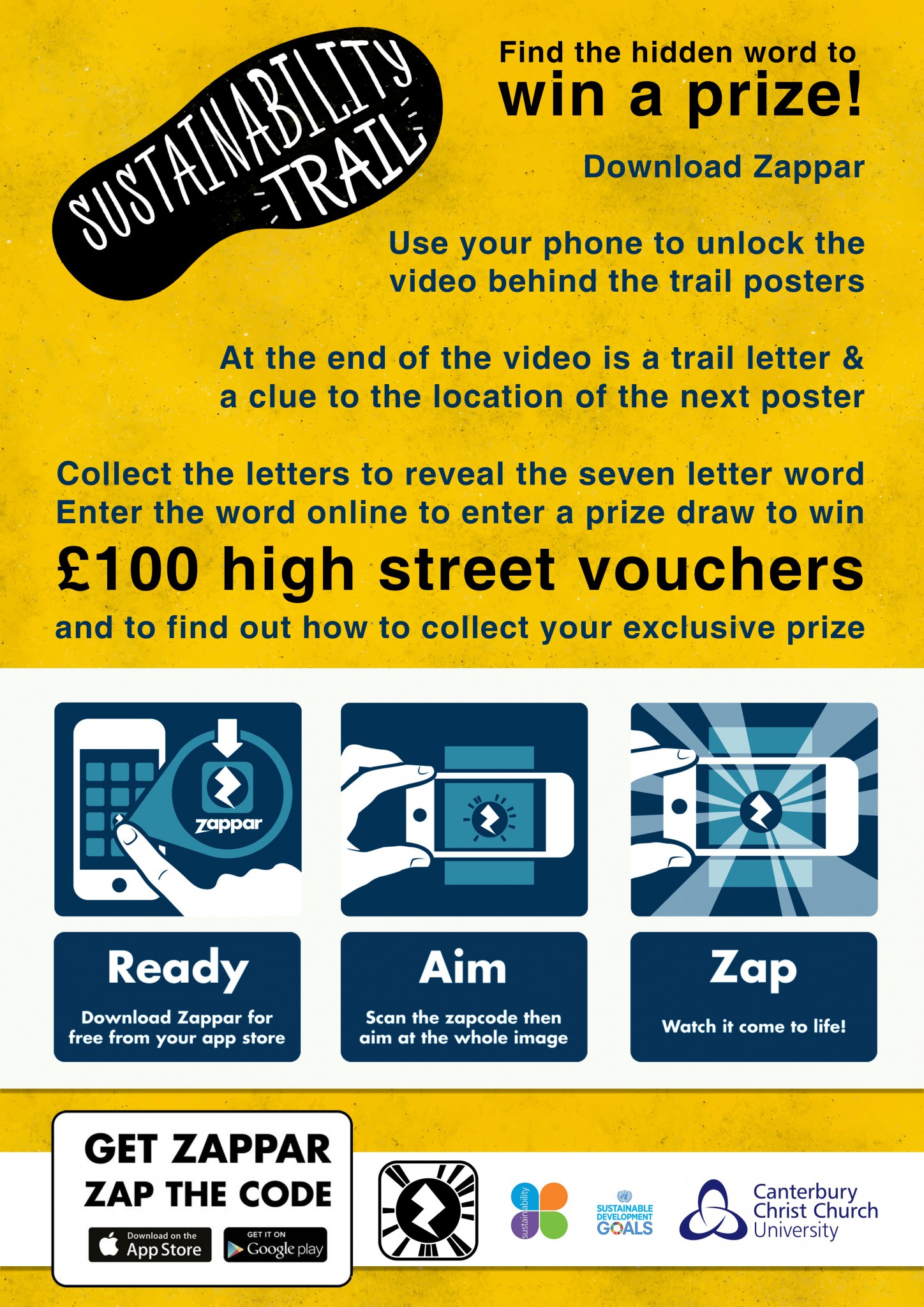 The Augmented Reality Sustainability Trail ends on Wednesnday 7th February 2018
The Augmented Reality Sustainability Trail is a trail around the Canterbury campus using Augmented Reality to highlight different areas of sustainability focusing on sustainable development and air pollution. After downloading a free app called Zappar people can use their mobile device to unlock hidden content on seven posters located around the University. The first poster on the trail will be in Augustine House. The Augmented Reality content found on the poster includes a short animation about environmental sustainability and sustainable development, will give clues to the next poster and a letter will be revealed. For the last part of the trail people are directed to an online short feedback form where they can enter the word formed by the seven letters from the trail. The feedback then allows Jo to see how effective the trail has been. All people who take part in the trail will be put in a prize draw to win £100 High Street Vouchers and the first 50 participants will also receive a Dynamo Torch. The trail was funded by the Futures Initiative Fund.
For Jo's PhD, she is looking at the effectiveness of different forms of interactive animation in raising awareness of sustainability issues or encouraging people to engage with nature. This trail has given her some useful insights in Augmented Reality trails and she will be using this to continue her research into Augmented Reality.
Jo Samuel is a lecturer in Digital Media and Animation. A graduate from the MSc Computer Animation programme at the University of Kent, Jo worked for five years as an animator and video editor at Pixel Circus. She has broad experience working freelance as a video editor and animator. She has created three video installations, Elements of Life (2004); A biography of JMW Turners life told through the use of the elements as a five-screen video installation. Natural Perspectives (2005) A mix of interlinked imagery over three screens which examined different perspectives of nature. Natural Perceptions (2016 – ) is an evolving interactive installation exploring the way we perceive nature through art and animation. This uses motion sensors to trigger animations as the visitor approaches. It has been shown in three different locations so far, in different guises, and will be shown in more locations to help discover how environment and structure changes the way the art is perceived.