Improvising in Space: Workshop and Panel Discussion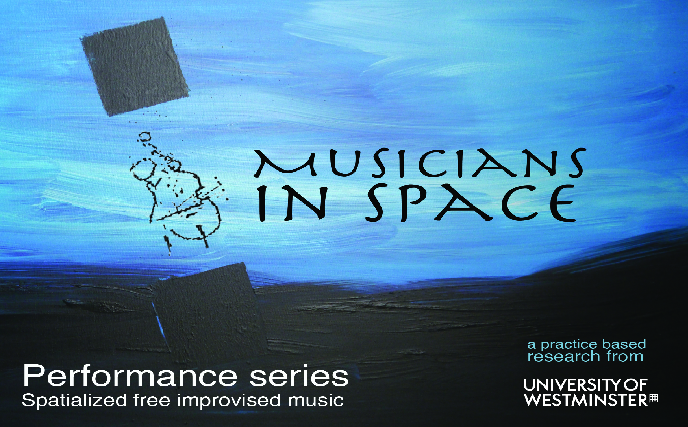 Venue – Sidney Cooper Gallery, Canterbury. Date – Thursday, 11th May 2017 and Friday 12th May
THURSDAY
Workshop – Facilitated by David Leahy
'Improvising in space' is a workshop for researchers and improvising performers of all disciplines, interested in exploring the three inter-related aspects of an improviser's practice; embodiment, listening, and responding.
The workshop will aim to emphasize the intrinsic embodied nature of an improvisatory process, which transcends disciplinary boundaries, investigating how we perceive and describe our relationships to the performance environment and our bodies. Discussions, exchanges and activities will address the varied methods of multi-sensory listening afforded to improvisers in different improvisational settings, and how our past experiences combine with the present moment to inform both our, conscious and pre-conscious, actions and responses.
This practice-based workshop will aim to generate further avenues of questioning, rather than find definitive answers, through the sharing of experiences and the uncovering of tacit understandings.
Panel discussion
Following the afternoon workshop a panel discussion will provide an opportunity to broaden the discussion and hear the thoughts of experienced improvisers, from a range of disciplines, with questions offered by the audience.
Timetable of events
All events are free, although we ask that you reserve your place:
booking for Thursday is available here and booking for the Friday concert is here.
Thursday 11th of May
12:30 – 13.20 – Lunchtime concert
13:30 – Workshop arrival refreshments
14:00 – 17:00 – Workshop
17:00 – break
18:00 – 19:15 – Panel discussion featuring – Philipp Wachsmann (violinist), Matt Wright (sound artist / improviser), Kathy Crick (improvising dancer), Tim Long (visual artist / improviser).
Friday 12th of May
18.00 – Evening Concert
These events are supported by the Centre for Practice-Based Research in the Arts (CPBRA) at Canterbury Christ Church University.
———-
Biographies
Panellists
Kathy Crick – Dance-based improviser. Trinity Laban, London.
Kathy Crick teaches Contact Improvisation, Choreography and Performance at Trinity Laban Conservatoire, London. Her interest is in Improvisation as an integrated technical, compositional and performance practice. As a performer Kathy has worked with Steve Paxton, Laurie Booth, Yolande Snaith and Motionhouse Dance Theatre, Michael Mayhew, Jia-Yu Corti and Florence Peake. Collaborators include Tim Wheeler (Theatre Director), Sarah Goldfarb (Choreographer/Composer), Paul Bartholemew (Musician / Composer) and Tereza Stehlíková (Moving Image Artist). Other influences on practice are studies in education, psychology, shiatsu and an MA in Dance and Somatic Well Being (University of Central Lancashire).
Matt Wright – Improvising turntablist / sampler. Professor of Composition and Sonic Art, CCCU.
Matt Wright works as a composer, improviser and sound artist at the edges of concert and club culture, his output stretching from scores for early music ensembles and contemporary chamber groups to digital improvisation, experimental hip hop and turntablism, website installations, and large events combining DJs, new music performers and digital media.
Philipp Wachsmann – Free improvising violinist.
Philipp Wachsmann came to improvisation through 20th century classical composition, having studied with the legendary French composition teacher Nadia Boulanger, in 1969.
Wachsmann has worked extensively since that time, appearing alongside all the leading exponents on the European free improvisation network.
"Wachsmann's technique and musicality are a perfect fit, giving full reign to his creative imagination in any of the many situations in which he has worked. Constantly inventive and sensitive to his musical  …… what promises to be an aural treat!" [The Vortex London]
Tim Long – Visual artist, instrument maker and improvser. Programme Director for the single and combined honours Digital Media programmes at CCCU.
An artist who trained in Fine Art painting, Tim's work embraces film, hybrid processes that integrate digital media into physical objects. He uses his works in multimedia and collaborative performances at live events, and public gallery settings.
Workshop facilitator and convenor
David Leahy – Improvising double bassist / dancer
Originally from New Zealand, David Leahy has spent the last 18 years living and working in the UK as a double bass player, composer and contact improviser. David's experience across the performing arts spreads across performance, practice, teaching and research. He is currently working on a practice based research PhD investigating aspects of spatialization (performers and audience moving) within an improvised musical performance.