CPBRA: Work in Progress Day 2019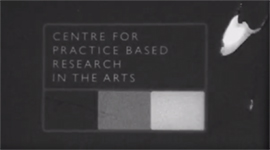 The Centre for Practice Based Research in the Arts is hosting a day of work in progress presentations on Wednesday 29th May 2019 in Pf06.
The day offers staff and postgraduate students an opportunity to seek feedback on developing work in progress. These events use the Critical Response Framework (CRP) developed by Liz Lerman as a way to structure discussion and allow the participants to gain the most from giving and receiving feedback. The aim is to enable the artists involved to produce their best work possible and to share ideas about creating and disseminating artistic practice as part of practice-research methodologies.
Schedule (Pf06):
10.00-10.30: Welcome and tea/coffee (Powell Foyer)
10.30-11.00: Dan Herbert: Navigating sound connections in Live Audiovisual performance
11.00-11.30: Ben Horner: PhD: The podcast!
11.30-12.00: Grant Gover: Making Music out of Architecture by various models—including by new theory: Total Field Theory (TFT).
12.00-12.30: Mo Pietroni-Spenst: Revelations: Exploring concepts of visibility and invisibility in identity and performance
12.30-1.30: Lunch (Powell Foyer)
1.30-2.00: Nour Souleh: Writing the Self and the Other(s): Using Stand-up Comedy Materials in Researching Othering
2.00-2.30: Charles Williams: My Timid Adventure
2.30-3.00: Tim Long: Object, sound, noise: tales of musical improvisation
3.00-3.30: Andy Birtwistle: Material Resistance and the sound of technology
This event is FREE. Please contact tim.long@canterbury.ac.uk for more information.