Cevanne Horrocks-Hopayian: Visiting Independent Composer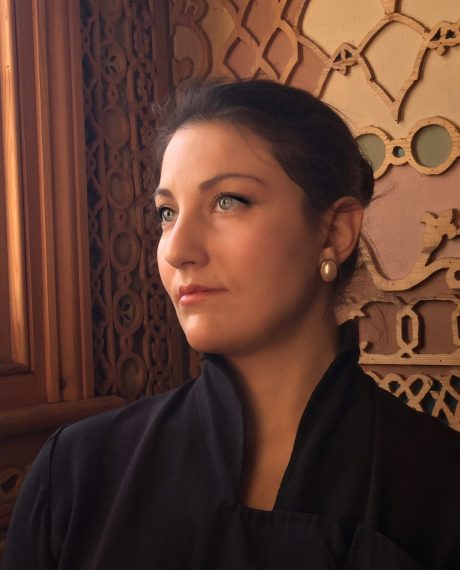 On 1 June, composer Cevanne Horrocks-Hopayian will be visiting CCCU to present at our conference for the training sessions supported by the Royal Musical Association.
Cevanne Horrocks-Hopayian was recently the composer-in-residence with the London Symphony Orchestra at the National Trust property 575 Wandsworth Road (2015 – 2017), generously supported by LSO Patron Susie Thomson. She was previously composer-in-residence at Handel & Hendrix in London (2012 – 2014).
Anglo-Armenian, and born in Suffolk, she grounds her work in the British isles — digging into their rich soil to find artefacts which we would not always imagine to be native.
Cevanne is currently a finalist for two British Composer Awards – the Chamber category (Khadambi's House, written for the LSO), and Jazz (Muted Lines, written for Trish Clowes' My Iris & the Emulsion Sinfonietta). Cevanne has balanced a diverse portfolio, with commissions ranging from the London Jazz Festival, BBC Radio 3, and a bilingual music drama for Swedish National Radio (Prix Marulic finalist 2015). She has recently written for the LSO Strings to accompany a Gamelan at the Barbican concert hall; for the BBC Singers & BASCA; and for Clarence Adoo's latest HighNote technology, thanks to the Helen Hamlyn Trust.
Her own take on the tradition of 'eye-music' has led her to produce tactile scores where visual art structures her music. Consortium 5, Living Room in London, and Handel House have commissioned such works, and earlier this year Cevanne's residency with the LSO produced Inkwells, based on the carved, painted, and collected scenes in Khadambi Asalache's house.
She is currently completing a duo album with Crewdson using found sounds and wearable technology; she is embarking on her first commission for NYC women's choir Melodia; and interpreting Hendrix's wood-chip wallpaper with leading jazz musicians Calum Gourlay and Chris Montague, thanks to the work of artist Maya Ramsay and the PRSF.
Cevanne studied at Cambridge with a scholarship, and gained first class honours, with prizes for research and composition (Turle; Gamble; Rima-Alamuddin; Girton). She also held a scholarship at TrinityLaban. She is grateful for having had guidance from Paul Newland, James Macmillan with the LSO Panufnik scheme, Michel Van der Aa with Aldeburgh Music, and from the Serious Take Five scheme, supported by the Jerwood Fund, PRSF and Help Musicians.
Click here for the schedule for 1 June, and don't forget to register for the conference here.