CCCU Conference Presenters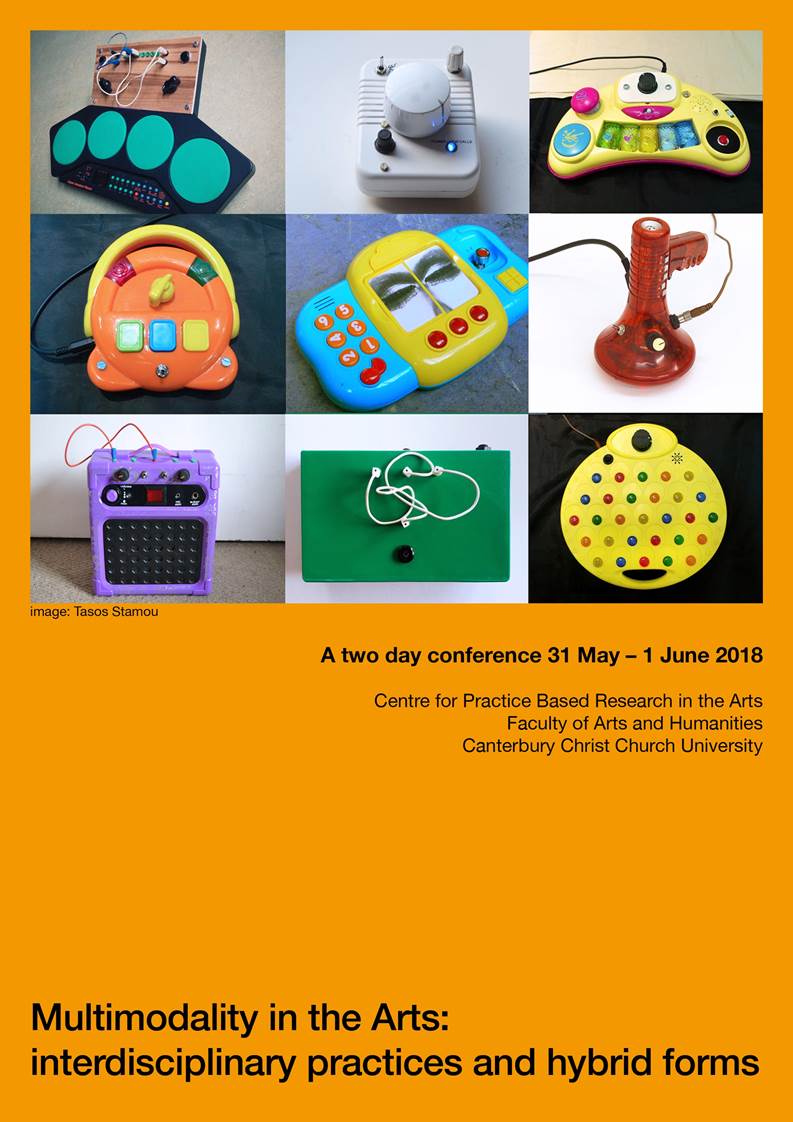 On 31 May and 1 June, students and staff of Music and Performing Arts and Media, Arts and Design will present practice research projects at our annual conference, ''Multimodality in the Arts: interdisciplinary practices and hybrid forms'.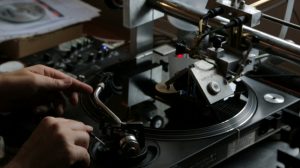 Robert Stillman (MPA, CCCU): Presentation of The Wheel, a sound composition for turntables by Robert Stillman and Matt Wright.
The piece uses a unique set of 5 LP's onto which over 100 fragments of recorded solo improvisations by Stillman have been machine-cut as looping 'locked grooves'. The work highlights a dialogue between the 'fixed' nature of the sound materials (the endless loops on the discs) and the 'free' improvisational process by which the work is given form performance. The use of the locked-groove LP's, which serve as both sound content and score for the piece, places the work upon a material foundation which, in its susceptibility to imperfection, unpredictability, and decay, seeks an alternative to the comparative stability of equivalent contemporary digital sampling technologies.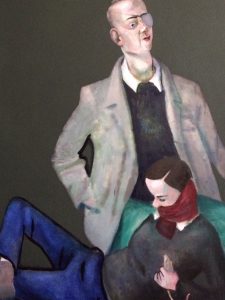 Charles Williams (MAD, CCCU): The Boy With The Mouse
In 1950's communist Great Britain, the most famous poet was the war hero Lt Col VI Evans, whose poem 'Boy With A Mouse' embodied the qualities of character and ideals of the Revolution and the Rational State.
The presentation examines text and image in establishing contexts for making and discussing painting.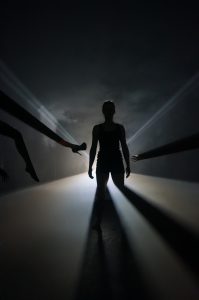 Andy Hurst (MPA, CCCU): The Unbearable Being-ness of Light: The Hybrid Nature of the Dynamic Light Structure
This presentation reflects on the processes, practices and responses that formed part of three research projects that utilised light as an object and a tool for performance making.  At the heart of these projects was the Dynamic Light Structure, a visual presence created by projecting light through theatrical haze and one that could be manipulated in real time, or pre-programmed to create shifting environments and act in performative concert with a live body in a space. The very nature of the Dynamic Light Structure is one of hybridity, existing in the symbiotic coming together of both light and particle system, however the relational nature of environment, light structure and participant body is seen to create further composite objects, happenings and working practices. From light as choreographer and director to the merging of real and virtually perceived space, the research uncovers the hybrid experiences of installation visitors, performers and audience members while engaging with light as a being.

Panos Ghikas (MPA, CCCU): A time-anatomy in real time: the Unreal-time improviser
The Unreal-time improviser invents audio-collages formed of multiple time-resolutions. This out-of-time process creates results that appear beyond the scope of an acoustic improviser's real-time recall of physically-stored mechanical gesture or a composer's invention in suspended time. From a navigational perspective, the performer is simultaneously afforded three different time-resolutions (buffer, segment, micro-division), allowing for 'anatomical' exploration of material within audio-timelines. The Unreal-time improviser learns how to enact these techniques in actual time, by simulating the extratemporal ('out-of-time') process in which a composer interprets material and develops notated gestures through fragmentation, contraction/expansion and reordering. As the Unreal-time concept presents the solo performer with new expressive possibilities, it also points to new potentialities when situated within various modes of interactive improvisation. For this reason, the concept has been explored in a diverse range of collaborative contexts. This performance-presentation will present the documented results of this practice-based project, followed by an "anatomical" time-exploration of improvised and pre-composed material in a short solo performance.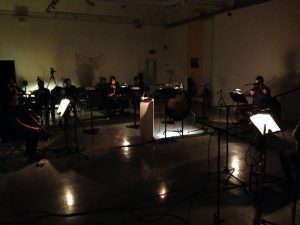 Sophie Stone (MPA, CCCU): Continuum (2017–2018)
Continuum is a 90-minute immersive installation for clarinet, flute, two string instruments, tam-tam and fixed media. The work was performed by Splinter Cell at the Wintersound Festival 2018 with support from the Centre for Practice Based Research in the Arts and the School of Music and Performing Arts at Canterbury Christ Church University. The project is part of Sophie's PhD that aims to gain new perspectives on compositional strategies, performance situations, and the use of silence, in experimental extended duration music.
The score combines traditional, graphic and text notation, and must be completed before each performance using a selection of given instructions for sustained sounds, dynamics and instrumental technique. Each performance is unique due to a differing score and indeterminate performance instructions. The installation is an 8-channel audio installation using recordings from the Wintersound Festival.
Nina Atkinson (MPA, CCCU), Loop Dance Company & Judith Bek (University of Manchester): Hanging Heavy
Five people, each on personal journeys – In a time of running to keep up with life how can we experience the present?
This work is a product of Exploring Somatic Sensation research project. As an audience member, do we 'feel' movement in performance? This project, a collaboration between researchers in dance and cognitive neuroscience, investigated kinaesthetic empathy in audiences attending an immersive performance.
Kinaesthetic empathy involves the internal 'simulation' of observed movement in the brain of the observer; this simulation of others' actions contributes to action understanding and empathy.  For example, when we see someone expressing an emotion, the emotion is embodied through our neural and physiological response.  It is not known whether this response is dependent on sight, or can be experienced in a more direct 'somatic' manner. We aimed to test the impact of an immersive performance on emotion, arousal and spontaneous motor responses, in general audiences and an audience with sensory impairment.
Choreography by Nina Atkinson and the dancers, and sound by Sabio Janiak.
Performers from Loop Dance Company; Aaron Smith, Clarisse Roud, Daisy Farris, Harriet Parker-Joy and Marie Forbes.
Ruth Sanz Sabido, Kasia Lech & Vanessa Hawes (MAD & MPA, CCCU): Multisensory Exhibition
Transnational Childhood project responds to Europe, and the UK, undergoing a crisis of solidarity and commonality (Gielen 2015). Echoing repeated calls by scholars for cultural spaces that offer opportunities for communities to contribute to, interact with, and find points of identification with hybrid identities and cultures (for example, Gielen and Lijster 2015, Braidotti 2015), we aim to create an interactive exhibition of transnational childhood memories. This interdisciplinary exhibition engages with childhood memories of Canterbury residents to allow the audience to experience childhood as a transnational and transgenerational phenomenon. We asked people living locally what story about their childhood they would share with a child they love. The exhibition responds to what they told us.
The project is run by CCCU's Dr Kasia Lech (Theatre), Dr Ruth Sanz Sabido (Media), and Dr Vanessa Hawes (Music) together with Dr Agnieszka Gordon from Polish Educational Club in Kent. The research assistant was BA (Hons) Drama's final year student Lucy Steward.
More information about the conference can be found here.