Art of the Lost Conference – Student Projects and Exhibition – Cathedral Visit, June 11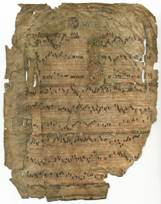 The theme for Canterbury Cathedral's annual conference is 'Art of the Lost' and it will be held from November 26-28, 2019. The conference will explore and appraise current and developing studies of how art changes, is reused or repurposed, disappears or is rediscovered. It will look at how and why art is defaced, destroyed or is lost within architectural settings, with a particular focus on art within the context of cathedrals, churches or other places of worship. Alongside this conference, we hope to develop an exhibition in the Daphne Oram that also broadly examines these themes.
There is an opportunity for staff and students to develop projects based on materials from the Cathedral's archive, such as the fragment of medieval music in the image above. Some areas are already planning projects, but there is still time to get involved. This might be particularly interesting for departments that may not routinely use archival materials and where students may have less familiarity with using these kinds of resources. If you are interested in finding out more and possibly developing a project for your students, please let me know if you can attend the information session on June 11th at 10 AM with the Cathedral team no later than Thursday June 6th.
If you or your students have existing projects that fit in with this theme and may be suitable for an exhibition, get in touch with katie.mcgown@canterbury.ac.uk.