3 Questions for Practice Researchers: Richy Carey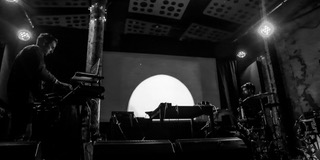 Richy Carey is a sound artist and composer. Broadly speaking, his work looks at the way we listen to film, thinking about what the sound of an object or material is, not the sound it makes. He's currently doing AHRC funded PhD research into the relationship between materiality, language and film sound at Glasgow University.
He won the 2015 Scottish BAFTA New Talent award for his contemporary score for Walther Ruttmann's Lichtspiel: Opus I and in 2018 will be Glasgow's UNESCO City of Music artist-in-residence.
Recent works and collaborations include Sonorous Objects, with Lauren Gault and Mark Bleakley (forthcoming – Project Rooms, 2018), Memo to Spring, for Sarah Rose (Scottish National Gallery of Modern Art, 2017), Special Works School, with Bambitchell (Gallery TPW, Toronto, 2017), Wondering Soul, with Alexander Storey Gordon (Live-to-Air for Radiophreina, Glasgow, 2017), Forms of Action for Asunción Motions Gordo (CCA Glasgow. 2017), "You're saying exactly how I feel" with Tom Walker (TAP Gallery, 2016), There's something happening somewhere, with Carrie Skinner (Tron Theatre, Glasgow, 2016) and INCONGRUOUS DIVA for Cara Tolmie and Will Holder (British Art Show, John Hansard Gallery, Southampton, 2016).
CPBRA: Can you briefly outline your research interests and their context in, or link with, your practice?
RC: My research interests really started from my work as a composer for films. I found the conversations I was having with directors or animators to be a kind of strange negotiation of an audiovisual vocabulary. It's not uncommon to be asked something like "Can you make it sound more yellow?" or "Can it be, kind of, more woolly?". So from this, I began to think about the material qualia of images and sounds, thinking about things like colour, texture and shape within music, sound and images, and also to what effect the words we use to describe these phenomena have on our experience of them.
The "right" sound for an image is at best subjective and at worst arbitrary. My research isn't about saying "this is the sound of that", but based around developing a methodology for sounding images, and imaging sounds, which gives me a consistent platform from which to explore my interests. One that embraces the pluriknowledge of film in both its conception and reception. So my work is, for the most part, collaborative, working with artists and filmmakers both to realise their works and to realise my own, and often with choirs to explore homogenising notions of sound-image relations. Ultimately I think what I do is explore the-sound-of-the-thingness-of-things and the way language can shape that, through the lens of thinkers like Karen Barad, Tim Ingold and Wittgenstein.
CPBRA: How does research inform your practice, and how does your practice inform your research?
RC: My practice is the main tool I use to learn and think through. As I mentioned, one of the writers who helps me consider how sound and image meet with each other is Karen Barad. Specifically, a point she makes that the apparatus we use for knowing has a material effect upon that which is observed (in a quantum sense).
"The point is not merely that knowledge practices have material consequences but that practices of knowing are specific material engagements that participate in (re)configuring the world." (Barad, 2007, p. 91)
So listening to something changes the thing that is listened to, touching it, smelling it, tasting it, observing it, writing about it, has a material consequence not just on the observer but the observed, whether it is aware of its observation or not. I think this is central to practice research. It makes me very careful about how I choose to practice, but also makes me aware of the different knowledges that can be gained from the different apparatus that I use to know. I think this is an important consideration for researching something as multimodal as audiovisuality. I think in order to thoroughly explore sound-image-language relationships one needs to actually use sounds, images and language to do so
CPBRA: What do you think practice, and your discipline in particular, has to offer the research contexts of universities? Do you think that this influences the way that you create or document your work, or decide to create new works?
RC: Essay Films have become much more common in the field of audiovisual research. They use the language of the form to discuss the form, negating the need to translate a coterminous moment of sound and image into paragraphs of text. I think this form of practice has had a huge impact on the way I can illuminate moments of within my own research, and unlike written research has the potential to express complex ideas across different levels of accessibility at the same time.
I don't think the essay film as a vehicle for knowledge dissemination changes the works I make, but it has had a huge effect on the way I think about documenting my practice. I now try to creatively document the devising of my works and generate short, sometimes abstract, essay films that are about the process of the creation of the works. These short films allow me to sketch my thoughts through practice in the way that serves to document process as well as offer access points to the complexity of the final work in a way that isn't as reductive as explicative writing can be.
An example: Film Score, a moving image score made with and for the Rhubaba Gallery Choir.
Read more about Karen Barad, Film Sound and the Essay Film here.