3 questions for Practice Researchers: Dr Kasia Lech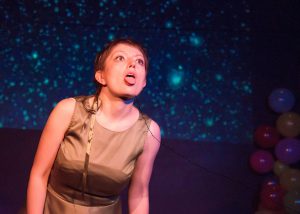 Dr Kasia Lech from the school of Music and Performing Arts speaks to us about her research.
CPBRA: Can you briefly outline your research interests and their context in, or link with, your practice? 
KL: The two key areas of my research interest are verse in theatre and translation in theatre. I explore them through a regular research (studying texts, performance analysis, and so on) and research through practice. I think about the two as different methodologies that complement each other. My current project focuses on translation. I am working on my one woman show Bubble Revolution. The play was written by Julia Holewińska and is a monologue of Wiktoria who tells her own story of growing up in 1980s and 1990s Poland. It is very strongly rooted in Polish history and experience and larded with cultural references. As a case in a point, when an Irish director John Currivan and I started working on it, I needed to create a document that translated all the references that was nearly as long as the play! So what I am exploring is what tools, other than words, I can use in my performance and beyond it to translate the play, so it can resonate with both Polish and non-Polish audiences. What other elements of performance experience can be used to transfer a theatrical text from one linguistic and cultural context to another without stripping it out of its identity? How can I incorporate this process into my own creative process as the actor… And, can I, by doing so, challenge some misconceptions about Poland and Polishness…
CPBRA: How does research inform your practice, and how does your practice inform your research? 
KL: They interact with each other, they translate into each other (yes, I intended that!), they open new possibilities to each other… As a practitioner, after leaving Poland eleven years ago, I needed to negotiate my artistic identity in responses to what was left behind and I was I was experiencing. My interest in translation grew out of that and of my research in verse that as a form is constructed out of words and out of an artificial structure that shapes them. The idea of something beyond the words is central for my practice and research (in all the forms it takes). My practice also helps me to link my research with real world and take it this 'real world' back to the library or a studio.
CPBRA: What do you think practice, and your discipline in particular, has to offer the research contexts of universities? Do you think that this influences the way that you create or document your work, or decide to create new works? 
KL: I think that political and social potential of theatrical aesthetics and theatre translation is often underappreciated outside of our discipline. Lawrence Venuti, a key translation scholar, once said that 'Translation wields an enormous power in constructing representations of foreign cultures'… Well so does theatre… Theatrical translation offers enormous potential in terms of negotiating our relationship with the idea of 'foreign'… And in current socio-political climate, that seems pretty important to me…
Bubble Revolution trailer: https://www.youtube.com/watch?v=rXr2Qt2sQbAFacebook: https://www.facebook.com/polishtheatreireland/
Twitter: @Bubble_Rev
Bubble Revolution audience: https://www.youtube.com/watch?v=tLFkBsRrJ9I
Website: www.bubblerevolution.com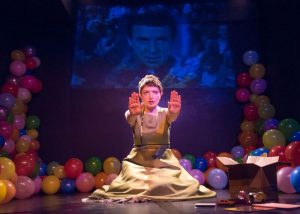 Kasia Lech (kasia.lech@canterbury.ac.uk) is a Senior Lecturer in the School of Music and Performing Arts at Canterbury Christ Church University. Prior to her arrival at CCCU in 2013, Kasia worked as a guest Lecturer in Drama at University College Dublin in Ireland and as an Assistant Lecturer in Verse Speaking at the Ludwik Solski State Drama School in Wrocław, in Poland. Kasia trained as an actor in puppetry and has performed in numerous productions in Poland and Ireland, including starring as the Grey Cat, a puppet that co-hosted the awarded live TV show for children CyberMysz on Polish national television. Kasia is a co-founder and the Artistic Liaison of Polish Theatre Ireland – a multicultural theatre company based in Dublin. She holds a PhD from University College Dublin; her research was supported by the Irish Research Council. She has published on verse and verse drama in contemporary performance, Spanish, Polish, and Irish theatres, translation, theatre and animal rights, and puppetry. Her research interests also include actor training and performance of poetry and her translation of Kate O'Shea's poems has been published by Translation Ireland.