3 questions for practice-researchers: Andy Hurst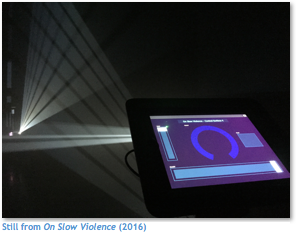 Andy Hurst, Senior Lecturer in Performing Arts, is the first member of the centre to take up the challenge to respond to our interview about Practice-Research. See what he had to say, below:
CPBRA: Can you briefly outline your research interests and their context in, or link with, your practice?
AH: I'm currently undertaking a practice based PhD and its focus is the way in which light can be explored as a physical object for live performance and installation work. By light as a physical object, I mean light projected through fine haze particles suspended in the air, thereby creating form within a space as the travel of light illuminates the particles in its path. I have a performance lighting and sound background and much of what I do tries to subvert the tacit body of knowledge that I have built up through generic lighting and sound support for performance over the years. I have a feeling that using well established techniques with familiar hardware and methods of control can lead to stagnation in  the look and feel of performance visuals and so I shy away from these. I'm finding ways to use data projectors as a light source and I'm using iPads as control surfaces to manipulate graphical information that is projected through haze. In this way, I can create dynamic light structures within a space that can be controlled in real time and respond to the movement of live bodies.
CPBRA: How does research inform your practice, and how does your practice inform your research?
AH: Ever since I became aware of the power of theatrical haze to condition a performance space, I've been fascinated by the way light interacts with it. Be it a laser tracing an incredibly focused beam through a rock gig auditorium, or a flood light fixture creating a bloom effect as it colours the haze lazily hanging above the stage in piece of Chekhov, I find the effect of what is perceived as visible light mesmerising and ethereal. My research tries to define what the parameters of that aesthetic are. It will be different for each individual of course, but I want to try and identify how people perceive this solid light effect and observe how they interact with solid light structures given the chance. This means I have to produce work that people can watch and play with! Over the past couple of years I have produced a piece of physical theatre called Etched and a light installation piece called On Slow Violence,  each of which use a bespoke method of graphical projection and manipulation. Responses from both of these pieces are informing my research about the perception of, and the interaction with, solid light objects.
CPRBA: What do you think practice, and your discipline in particular, has to offer the research contexts of universities? Do you think that this influences the way that you create or document your work, or decide to create new works?
AH: As mentioned previously, I'm quite interested in subverting existing norms. The technology that I work with is not overly complicated and it seems to be able to be used by non technically minded people to create interesting visual results. I recently handed my installation piece over to a group of undergraduate dancers and they were able to start choreographing a new piece within an hour of being exposed to the technology – without any introduction or explanation of the system itself. If I can help to develop new ways of working with technology that allow performers, who have no prior experience of technical systems, to  use it as a performance making tool in a transparent and fluid way, then I'll be very happy.
Check out Andy's work:
Etched  on Vimeo
Video piece about On Slow Violence
After graduating in 1992 Andy Hurst went on to work within the sound and lighting department at Canterbury's Marlowe Theatre, gaining experience as a front of house live sound engineer and lighting technician in a variety of contexts from orchestral performances through to large scale rock shows and musicals.
From 1997, Andy worked as a freelance writer for radio and television, quickly resulting in his first comedy series broadcast on BBC Radio Four, Grievous Bodily Radio, which he created with his writing partner, Jon Holmes. In 1999 he accepted the position of department Script Editor with BBC Light Entertainment. During this time, Andy made up part of the writing team of four that devised the successful impressionist comedy show Dead Ringers, working on the original radio version with Alistair McGowan, Kate Robbins and JohnCulshaw.
As a radio presenter and producer, Andy has recorded and edited spoken word and music based packages for a wide range of commercial radio groups (Capital Radio Group, Virgin Radio, LBC and Radio One) and won a Sony Radio Academy Gold Award for Best Entertainment Show in 2000.
Andy has also worked as a freelance composer producing music for both radio and television (Channel Four – Harry Hill's Fruit Corner, Channel Five – Jim Tavare in Cabaret, BBC2, and BBC Radio Four).
Andy's current PhD research centres on  the use of emerging innovative control systems for live performance technologies. His practice based research sees him create realtime dynamic light projections as scenography which act as manipulable spaces within the performance environment. These can be seen as performative structures in their own right, but are best positioned within contemporary dance performance.
Using new media control surfaces such as iPads and iPhones, the research seeks to explore ways in which the typically closed world of performance technology can be re-positioned in a way that empowers the performance observer.
Andy currently oversees the Technical Theatre modules together with Production Techniques. He also supervises final year students through their Individual Studies dissertations and leads the Multimedia Performance Environments module.