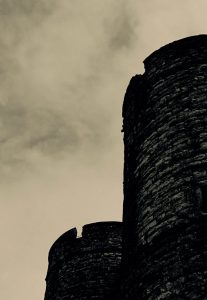 Discovering Post-Apocalyptic Landscapes in Andreas and Riddley Walker
a project by Mike Bintley and Sonia Overall – supported by Being Human 2017
'O what we ben!' aims to uncover the lost post-apocalyptic landscapes of Canterbury through the narratives of Russell Hoban's Riddley Walker, set in a futuristic East Kent following nuclear devastation, and the Anglo-Saxon Andreas, set in the ruins of a Roman city peopled by devil-worshipping cannibals.
Both texts are concerned with rediscovering lost truth in ruinous urban landscapes, and with the process of finding and constructing meaning in the world around us. Over a thousand years separate the writing of these works of literature, but together they have much to tell us about the enduring power of these landscapes on the popular imagination.
The project offers a walking trail through the city of Canterbury guided by the narratives of Riddley Walker and Andreas, punctuated by places in the cityscape that connect with both works. This is the first time that a city walk has brought together early medieval and modern texts to demonstrate their connection to the surviving fabric of an ancient city, in the case of Andreas, and one that has yet to be reduced to rubble, in the case of Riddley Walker. By walking this way, or making a virtual visit, you can encounter the texts through elements of the city's landscape from prehistory to the present day.
To find out more, visit the project blog.