You Said, We Did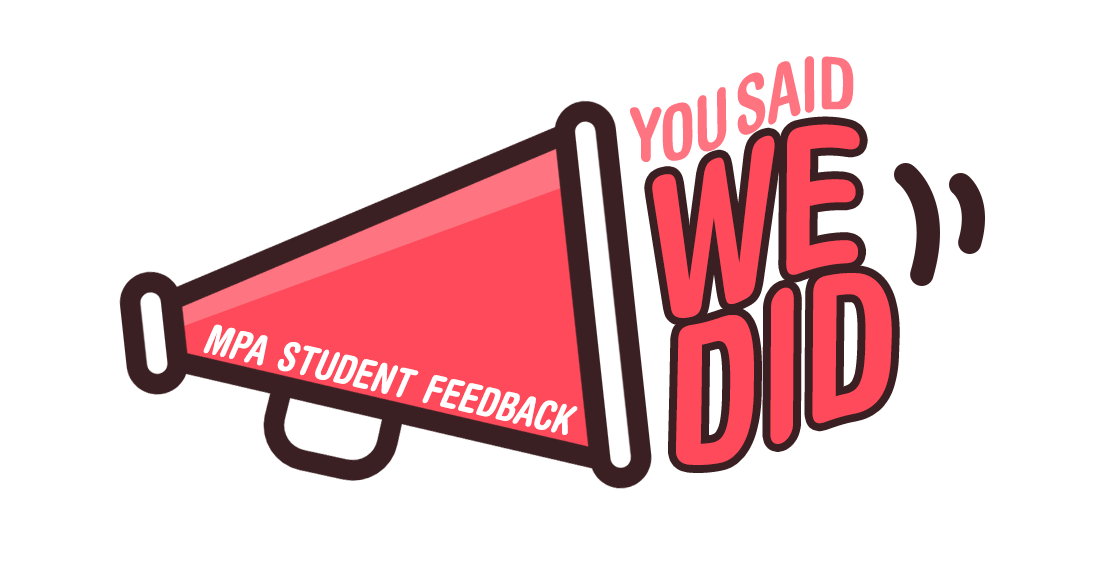 MPA Student Feedback
On Wednesday 31st January we held a level six student forum, to show our students the changes we're making in their programmes and experiences at our School in response to their feedback in six key areas – Student Voice, Learning and Teaching, Assessment Methods, Organisation and Management, Academic Support and Careers, the results of which are detailed below.
We also celebrated the aspects of their courses that they felt were particularly good in the last year, which included: learning new and interesting cultural styles in Dance; Workshops in Drama that had a global context; Placements and performance opportunities in Music.
It was positive to hear that our students feel the ability to shape and tailor the degree through module choices to improve their chosen portfolio is a real plus point. In addition, being taught by staff with industry level experience and varied backgrounds improved their experience. Furthermore, our students felt that the courses developed them as people with lectures and assessments that helped them become confident and well-rounded in preparation for leaving the University environment.
"I've never had a lecturer turn me away, they've allowed me 1-1time when i needed it and always respond to my emails" – Jade Moss (Performing Arts)
"The level of support that i have received here is the highest i've ever witnessed. The lecturers don't talk down to you and treat you like an equal, with respect" – Jason Hodgson (Music)
---
Student Voice
You Said:
You wanted more opportunities to feed back about your course and for your opinions to be valued.
We Did:
Ensured every year group have a student representative who speaks on your behalf to raise questions or have concerns answered at staff-student liaison sessions.
Created thorough End of Module evaluations. Anonymous and available on your phone to give feedback at a modular level.
Invited all students to join focus groups to help develop ideas to improve areas of your course.
---
Assessment Methods
You Said:
You wanted a variety of methods that required in-depth understanding of the course content.
We Did:
Ensured modules are reviewed yearly to keep up with the current landscape of higher education.
Created a variety of technique, performance, written and oral presentation methods, such as PebblePad portfolios in Stage Management building digital literacy; 'stream of consciousness' in Dance in Society building reflective skills, and greater opportunities to build performance skills that integrate theory in Post-Dramatic Devising.
---
Learning and Teaching
You Said:
You wanted fair, inclusive, engaging and supportive learning opportunities, environments and relationships created between staff and students.
We Did:
Greater use of module leaders, liaising and communicating to ensure consistency; clearer guidelines for organising and assessing group performances; marks collaboration meetings to ensure all staff are marking on the same level.
Staff are attending development activities with the Higher Education Academy and Student Support to improve the services we offer.
---
Academic Support
 You Said:
You wanted to be able to contact staff when you needed to.
We Did:
Organised an easier way to see staff during office hours, with sign up sheets and email appointments.
Tutorials with module tutors built into modules.
Ensured all students have a Personal Academic Tutor that they can see regularly as part of a group and/or as an individual, which focus on: orientation at level 4; building resilience and learning responsibility at level 5 and employability and independence at level 6.
---
Organisation and Management
You Said:
You wanted greater and effective communication.
We Did:
Employed the Individual Student Timetable initiative to ensure any changes are communicated quickly.
Working with the Learning Technologist to increase the effectiveness of Blackboard.
Regular use of our social media platforms @CCCUMPA to promote and document performances, events and workshops. We also encourage student participation and reflection by writing and submitting articles for our blog.
---
Careers
You Said:
More opportunities to experience what is expected in the music and performing arts industry and for your courses to emphasise employability.
We Did:
During Academic Development Week we provided a variety of focussed workshops tailored to courses.
During Personal Development Week we provided a marketplace event allowing opportunities for networking with industry professionals.
We ensure opportunities for placements within modules and/or participation in projects, events and performances that have a public audience.
---