The Performing Indeterminacy Conference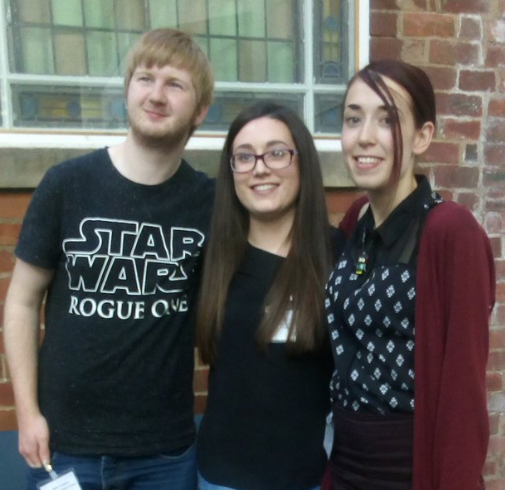 Canterbury Music Students in Leeds
Three of our excellent music students, from across various levels – Sophie Stone (PhD), Jason Hodgson (MMus) and Hannah Firmin (BMus graduate this year) – all attended the Performing Indeterminacy Conference held at the University of Leeds over the weekend of the 1st and 2nd of July 2017.
"The conference addresses the performance of indeterminate and experimental musics as its central theme, and is intended as a forum for the exchange of perspectives from musicologists, performers, composers, and a wider audience. By fostering dialogue and debate about the performance of indeterminate music in its many manifestations, through papers, practice-based contributions, and musical performances, we hope over the next several days to contribute to broadening understandings of a music which remains at the margins of performance studies, and to ask challenging questions about where the limits of performance and composition lie."  – From the conference programme. 
In addition to attending the conference lectures, Sophie's piece As Sure as Time was performed on the Saturday afternoon with the assistance of both Jason and Hannah who lent their voices and movement. The work is an ongoing series of performances in which the same score is performed every time. It is a work for spoken voices performed by multiple vocalists. Each performance is a culmination of different structural elements, sound/vocal techniques and movements. The words are a quote from Harper Lee's Go Set a Watchman: "As sure as time, history is repeating itself, and as sure as man is man, history is the last place he'll look for his lesson". The work allows for performer interpretation with each vocalist performing a compositional process, therefore several compositional processes occur simultaneously. Each performance will differ due to the environment, the type of performance (e.g. installation) and the indeterminac. When observing the series in its entirety it presents a new sense of extended duration with silences (no performative sound) separating the performances and the totality being the performance of the work itself. The work highlights the numerous interpretations of silence as silences are used within the performances and between each performance; the interpretation of silence is questioned as silence never truly exists.
Our students also took part in a performance of James Saunders Sometimes we do what you say, but occasionally we don't, with whom they prepared for this event with sessional lecturer in Music at Canterbury Christ Church University, Alistair Zaldua, who directs the Contemporary Music Ensemble within the School of Music and Performing Arts and also took part on the day. The performance can be watched again on the University of Leeds' live stream.
Another representative for Canterbury Christ Church University at the conference was Senior Lecturer Dr Lauren Redhead, who presented two pieces of work. She was an invited speaker on both the Saturday and the Sunday, first discussing 'Iterative processes: Composing and performing as journey forms' and latterly chairing a session on openness.
We were very pleased to hear that students from across our School attended and actively took part in an international conference together – our students aim and achieve highly not only inside of our University but externally as well – and many thanks to our fantastic lecturers for capturing their presence there.