The ADDAMS FAMILY Musical: Blog Series
Final Post: The Producers Reflect
Now that the emotional and physical rollercoaster that is the annual musical is over, there is so much to reflect on! It is truly amazing how much can be achieved in such a short space of time! But don't let the length of time fool you, those three short weeks were made up of very long days, blood sweat and tears and the work of 64 individuals. It just goes to show what can be done when you have people willing to give their all to make something jump off the page and light up the stage!
Some highlights that come to mind when we think back over this experience…
Our trip to CSRfm – the student radio station! We took a variety of people from different departments involved in the musical live on air to talk about the work going on behind the scenes. Tim Whorlow, our student Assistant Musical Director, represented the band and talked about the live music being played during every show. He shed light on the technical set up that allows the band to play live in the studio next door and how video projection assists the band and performers. Jack Galpin who played Gomez Addams shared why he chose to be a part of this production and had us all in stitches listening to him introduce the next song in his Gomez-esque way! Jessica Ratcliffe, involved in the design team and as a member of the ensemble, talked all things design and what inspired the choices in set, costume and makeup. She celebrated the influences of Charles Addams original drawings and the fantastic team of designers helping to bring everything together. Dominika Novysedlak shared with us what goes on behind the scenes for the Stage Management team and what her role of Deputy Stage Manager involves. Hopefully our visit inspired those listening, highlighting just how many departments and roles are involved on and off the stage.
Our Friday matinee performance welcomed local students from visiting schools to enjoy the dark comedy that is 'The Addams Family'. Following this we invited the students to a post-show Q&A session which allowed them to ask questions to any member of the Company. Thank you to the Outreach team for arranging this visit and we hope the students left feeling inspired.
We couldn't write this post without mentioning some of the challenges faced during show week. With the magic of live theatre comes the unavoidable hiccups, whether it be a technical hitch, problematic scene changes or unwell cast members. Theatre is unpredictable and that is why it is special. Whatever was thrown at our team it was dealt with and they used the lessons learned to inform each and every show and because of that it just got better and better. Well done to everyone who went above and beyond!
Finally, there are so many thank yous and not enough space on this post. But a huge thank you to everyone involved: you are nothing short of brilliant. To anyone who supported us, whether it was through lending us props/costumes, buying a ticket, retweeting our posts, promoting the show, celebrating what we were doing and joining us for the end result, thank you! To family and friends who kept our team motivated and loved us through the stresses and struggles, thank you! To the School of Music and Performing Arts who gave such a wonderful team of students the confidence and responsibility to lead this musical through to show week, thank you! To the staff who have worked alongside all the cast, crew and band, thank you providing us with such a fantastic opportunity. To everyone who has sent us feedback, praise and even constructive criticism, the fact our show compelled you to tweet us, email us and post about the show makes all the hard work worthwhile, thank you! If you haven't yet, we'd still love to hear from you: just email cccuaddamsfamily@gmail.com.
As final year students, who had the privilege of spending their last few weeks at University with such a talented, caring and all-round wonderful team, thank you! Keep making theatre, keep pursuing what you love and remember, "It's family first and family last…".
Lucy and Ania
The Producers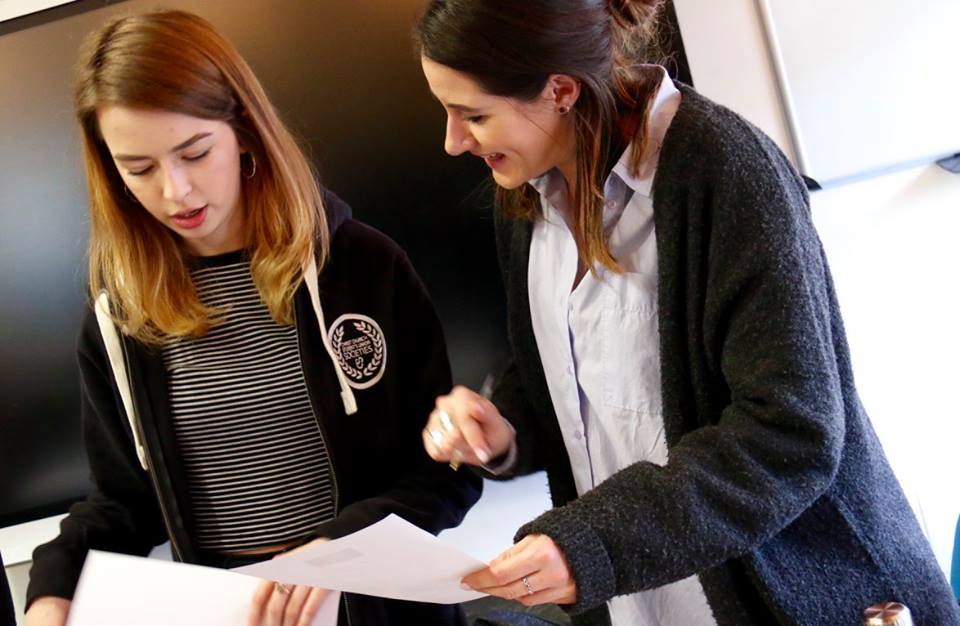 ---