Studying Music at Canterbury Christ Church University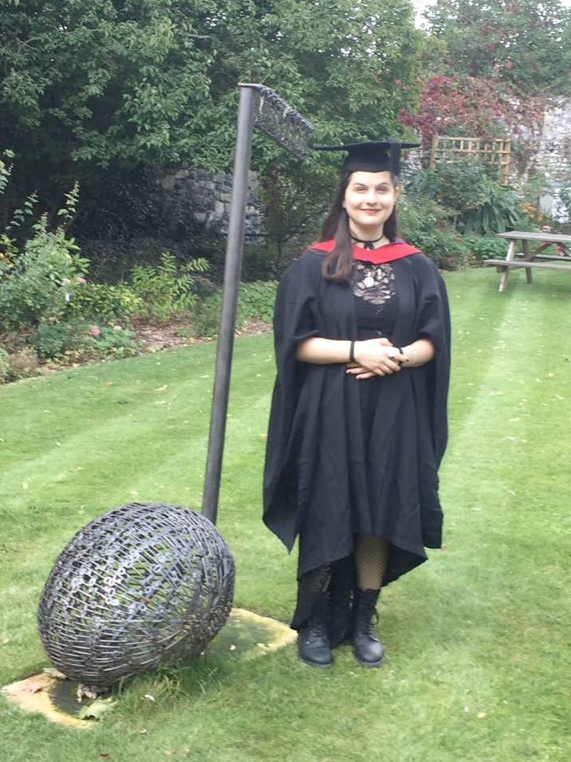 Written by Abigail Schultz (2014-2017 cohort)
Considering studying Music with us? Here's a testimonial from Abigail, who achieved an Upper Second Class BA Hons in Music with Sociology, to tell you why you should consider CCCU and the School of Music and Performing Arts.
Why did you choose Christ Church to do your course(s)?
It seemed like a friendly campus with a wide-range of modules, particularly in Music (which I was initially going to do as a single-honours degree). I had a warm welcome within both the Music and Sociology departments from day one, and it was not long before I became fascinated to learn further in both subjects. The A-level grade boundaries were also not too high, yet the course still looked (and was!) high quality.
How did you find the course and the balance of theory and practice? What did you particularly like/find beneficial?
I really liked how I could study health modules within both of my subjects: health is a big area of interest because my career goal is to train as a music therapist. Within the Applied Music, Health and Wellbeing module, we were able to plan and carry out our own music sessions for participants with terminal illnesses at Pilgrims Hospice, which was very fulfilling. Some modules were more theory based, whilst others were more practical: Applied Music, Health and Wellbeing was a nice mixture of both.
How would you rate the physical facilities at the University?
The teaching facilities were all on one campus and easy to find. If you were not sure where to go, you could go to the i-zone desks or ask someone around as people were always very helpful. There were plenty of practice rooms in the music department, which you could book for private or ensemble practice. Moreover, there were study spaces and computers to complete written work on campus as well as the library, of course. The library was a fantastic resource.
What is it like to study in a city like Canterbury?
Canterbury is a beautiful city as there was always something new to see when you need a break from study, like the walk along the River Stour to Chartham, which I was pleasantly surprised to discover on a walk one day. Canterbury city centre is also only a walking distance away from the CCCU campus and library, which is handy and gives plenty of opportunity to absorb the city's culture. As a music student, I had the opportunity to perform in the cathedral and CCCU's very own Sidney Cooper Gallery (in the city centre), which were both amazing.
Are you currently working and what are your ambitions for the future?
I am currently working but seeking another role that more fully reflects my career aspirations: currently volunteering, playing in an orchestra and working as a carer for elderly residents before I begin my masters in Music Therapy.
Are there other ways in which your studies at Christ Church have helped you?
My degree has enabled me to consider current debates, issues and personal experiences more critically and reflectively. Furthermore, I have developed highly as an individual (compared to when I began the course), which has provided me with more confidence in terms of my application for post-university jobs and trying new things.
Is there anything else you want to say about studying at Christ Church?
I could not have completed my degree without the wonderful, supportive staff, and my amazing mental health mentor.
---
A big thank you to Abigail – the School of Music and Performing Arts wish her every success.