Sam Corkin's new album due for release at the end of the month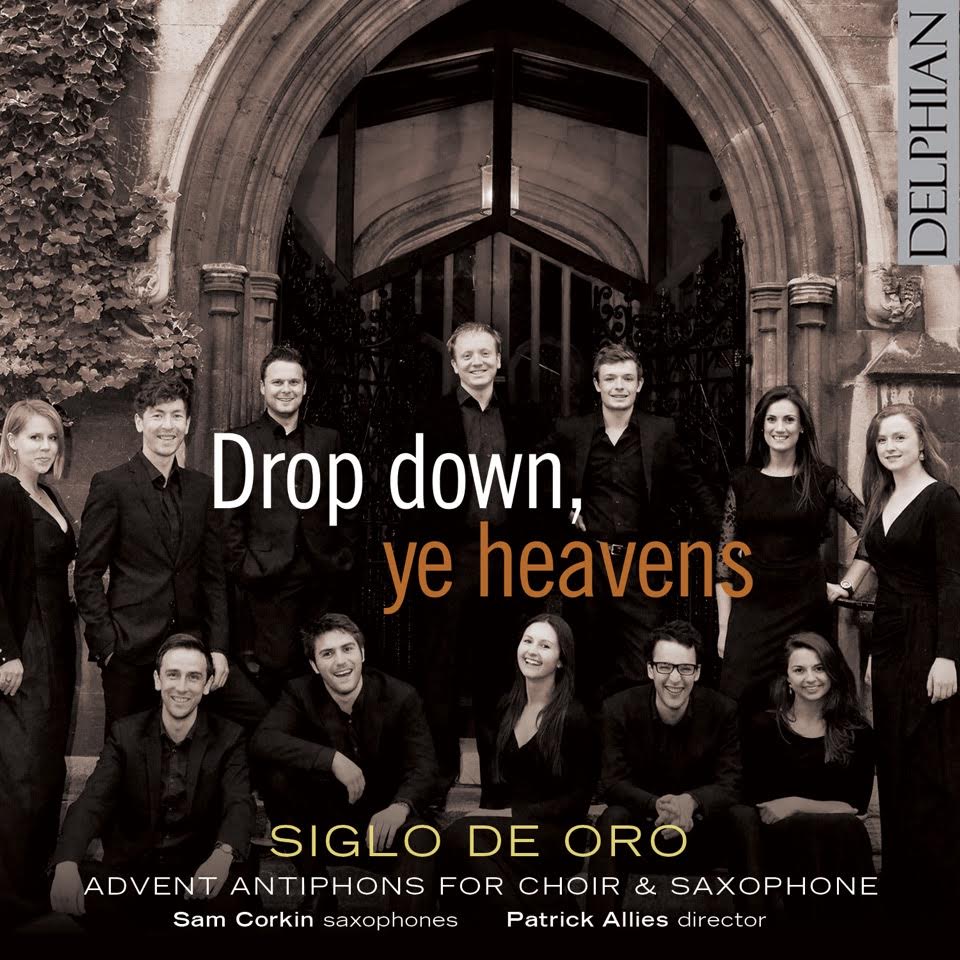 Drop Down, Ye Heavens: Advent Antiphons for Choir & Saxophone available from 28

th

October.
Sam Corkin, instrumental teacher at Canterbury Christ Church, School of Music and Performing Arts, and accomplished saxophonist, works with composers from across the country. His interest in promoting new music has led him to premier several works for piano and saxophone. Additionally, his recent collaboration with Siglo de Oro has so far resulted in fifteen new commissions for a-cappella choir with solo saxophone. These have recently been recorded, in January of this year, by Delphian Records as the album Drop Down, Ye Heavens. They represent a considerable expansion of the existing repertoire for choir and saxophone. The fusion of saxophone and choir also reflects Sam's secondary work as a vocalist.
The information below, discussing this work, is taken gratefully from the album's CD sleeve © 2016 Michael Emery.
To discover more about Sam and his work, visit his website. To purchase the album, Drop Down, Ye Heavens, from this Friday, click here. Alternatively visit this pre-release link to pay to download or to listen to preview some of the tracks in the meantime.
It is a contemporary cliché to bewail the modern commercialisation of Christmas and the Christmas season – when even the more restrained department stores have noisily installed Santa's grotto by late October. But, properly, the season of Advent – that period of penitence and reflection by which the Church prepares to mark the birth of Christ – is a gentle and thoughtful time, quietly guiding the faithful, during the month before Christmas Day itself, to the ancient Biblical prophecies which herald the coming of the Saviour.

Advent is a period with its own distinctive patterns of words and music, its own characteristic liturgical acts, and even its own colour – purple – used for vestments and altar cloths in penitential seasons of the church year. And, for nearly a thousand years in the Roman Catholic Church, during the final seven days, as the celebration of Christ's incarnation at last draws near, there has grown up a distinctive liturgical custom: the singing of Latin antiphons, short plainsong hymns of praise, each day between December 17 and December 23 (at least, until the mediaeval English Church added an eighth, about which more below). Originally these antiphons were sung at the early-evening service of Vespers, before and after the Magnificat – the hymn formed from the words of the Virgin Mary when she learns that she is to bear the Son of God. But these Advent antiphons, if modest in length, are subtle and powerful, with a concentrated musical and literary structure: heard evening by evening, as Christmas draws near, they create an almost incantatory mood of expectation that seems to conjure the light of the Incarnation from the darkness of nights at the coldest time of the year. And (since each of them opens with the interjection 'O') they have come to be known as the 'Great O Antiphons'.

The provenance of these antiphons – let alone their author(s) or exact origin – is now impossible to know, and church historians disagree about the details. But it seems clear that by the eighth century they had become part of Advent liturgies in monasteries, and that, from there, they were gradually taken up by the wider church, even, eventually, the Protestant one. Nowadays they have a well-established place in the repertoire of Advent music, and are performed everywhere from the humblest parish to the grandest cathedral, whether sung to their ancient plainchant melodies, or as newly minted pieces set to specially written music. They are even sung congregationally: the hymn 'O come, O come, Emmanuel' is in fact a paraphrase of them, set to a later tune.

The fact that each antiphon starts with the same word is just one of their structural subtleties. Each 'O' is addressed, in fact, to Christ himself, using a name or attribute by which the Messiah is described in the prophecies of the Old Testament: O Sapientia (O Wisdom), O Adonai (O Leader of the house of Israel), O Radix Jesse (O Root of Jesse), and so on. But in the original plainsong versions, the music for each antiphon begins identically too, each then unfolding as a free variation on the music of the last and becoming gradually more elaborate as they proceed. The effect is of a slow musical flowering, and it's hard not to hear those opening phrases – traditionally sung by a lone singer – like a voice 'crying in the wilderness', as the prophet Isaiah has it, calling upon the Children of Israel to ready themselves for the coming of the Lord.

After these opening words of prophecy and description, the second part of each antiphon is an imploration: a plea to Christ to appear and save fallen humanity: veni ad docendum nos ('Come and teach us …'), veni ad redimendum nos ('Come and deliver us …'). And in a final, highly symbolic detail (even if it's one which some scholars think completely coincidental), the opening letters of the titles by which Christ is addressed across the seven antiphons (Sapientia, Adonai, Radix, Clavis, Oriens, Rex, Emmanuel), if taken in reverse order, make an acrostic forming the phrase Ero cras – Latin for 'Tomorrow, I will be [here].' In the mediaeval English church, it became customary to begin the sequence a day earlier in order to add a final, eighth, antiphon (O Virgo virginum), in honour of the Virgin Mary and turning the acrostic into Vero cras – 'Tomorrow, in truth.'

With such rich symbolism, such poetic words and a place at the heart of one of the church's great seasons, it might be expected that many composers would have set these texts to their own music. But even in that golden age of Renaissance polyphony, the 16th century – when sacred music was elaborate and comprehensive – such settings are rare. In our own day, however, composers have turned more often to these haunting and beautiful words, whether for seasonal services or for sacred concerts. And the present disc is structured around eight newly commissioned settings of the Advent Antiphons, framed with other, a cappella, music for the Advent season. Following an earlier collaboration between the present performers – Patrick Allies, Siglo de Oro and Sam Corkin – it was decided that these new pieces should be sung in English and scored for the combination of choir and a single wind instrument: the saxophone. Although often associated with jazz and dance-band music, the saxophone has a thorough pedigree in the 'classical' field, its range, almost human timbre, and plangent sound making it a natural partner for voices; Siglo de Oro and Sam Corkin are not the first musicians to have found creative possibilities in this combination. And the commissions bring a variety of compositional responses to these texts – sometimes alight with excitement, sometimes hushed and mysterious – through music which sometimes draws, more or less directly, on the traditional plainsong tunes for the words, and sometimes moves in more independent musical directions. But the sequence of pieces on this recording begins not with an antiphon but with another, important, piece of music for the season: the Advent Prose. This plainsong hymn, with its refrain Drop down, ye heavens, from above, takes its text from the words of the Old Testament prophet Isaiah. Judith Weir's setting, using only the first of the prose's four verses, clothes the original plainsong melody in simple, austere, harmonies.

The first of the new antiphon settings, Will Todd's O Wisdom, is launched by an athletic and vigorous saxophone solo: the voices answer with a choral fanfare, jubilant at the glory of the Incarnation. Following it, we hear the next antiphon, O Adonai, in a rare and dark-hued 16th-century setting by Pierre Certon, a shadowy figure about whom little is known, though he seems to have spent most of his life as Master of the Choir at the Sainte-Chapelle in Paris. Matthew Kaner, in his setting of the same words (in translation) locates the saxophone mostly within the choral textures, dark and mysterious, soaring above them only in the central section.

Acknowledging the liturgical connection between the Advent Antiphons and the singing of the Magnificat, the sequence next includes a setting of There is no rose, a 15th-century English poem in praise of the Virgin. Bonnie Miksch is a composer whose music has often explored, in experimental ways, the interface between acoustic and electroacoustic sounds, but here she creates a musical language which looks back to late mediaeval textures, in homage to the words.

The third antiphon, O Root of Jesse, describes the Messiah (a descendant of Jesse, father of King David) as so mighty that even kings will be silent in his presence. So a mood of hushed awe, thoughtful and reflective, characterises Samuel Rathbone's setting, in which the lone saxophone emerges from silence at the start of the piece and returns to it at the end. O Clavis David prophesies that the Messiah will be like a key, unlocking unfortunate mankind from the prison of sin and darkness. In his setting the 16th-century Frenchman Antoine de Mornable makes a rich five-part consort of the lower voices, seamlessly interwoven and accompanying a top part loosely fashioned from the antiphon's original plainchant melody. Francis Pott in his English-language version, O Key of David, likewise scores his piece for six-part choir and uses plainsong to generate some of the musical material. But in this setting he turns the saxophone soloist almost into the protagonist of a drama, instructing him to begin the piece – if possible – hidden from sight and to disappear again at the end. The work is thoughtful, free-flowing and rhapsodic, raising its voice only in the central section, a passionate plea to 'bring the prisoner out of the prison-house'.

Richard Allain's O Day-spring also includes a spatial element: the singers are divided into two choirs, standing apart from one another, with the saxophone in between. The choral parts move slowly, their sustained and luminously scored chords forming an arc with its climax in the middle of the piece, while the instrumental part – in which, again, the ancient plainsong can be felt as a ghostly presence – rises ecstatically above.

Another plainchant hymn with an important place in the Advent repertoire is Veni redemptor gentium, by St Ambrose, the fourth-century Archbishop of Milan. Martin Luther thought enough of it to rework it as the chorale Nun komm, der Heiden Heiland; in the current sequence we hear a verse of the original plainsong, Praesepe iam fulget tuum, in a paraphrased version, simply harmonised in four parts, by the great seventeenth-century German organist Michael Praetorius.

In the sixth of the Advent Antiphons, O King of the Nations, the language of the Old Testament prophecies becomes more urgent, and less metaphorical. Gareth Wilson's setting begins quietly but quickly grows in intensity, with repeated cries of 'Come and save mankind' – the saxophone soaring above – until settling onto a final, unresolved chord which closes the piece on a note of quiet expectation.

The final antiphon of the original sevenfold series at last addresses the Messiah by name: O Emmanuel, the ancient Hebrew phrase meaning 'God with us' and the name by which – according to the Gospel of Matthew – Christ shall be known. In Stuart Turnbull's setting, that name is repeated, both ecstatically and tenderly, many times in the opening bars, until, with dream-like vocalisations on the word 'O' at the end of the piece, the music dissolves into silence.

Concluding this Advent sequence, two settings of the eighth antiphon, O Virgo virginum, the mediaeval English act of devotion to the Virgin Mary. The first is by one of the most important musical figures of the early Renaissance, Josquin des Prez, who was employed by noble families in France and Italy and also by the Pope. He who was one of the most influential and widely admired composers of his day and his motet is a typically ingenious piece of musical clockwork in which the lower voices constantly imitate each other while the plainsong melody is sung, unadorned, in long notes in the uppermost part.

The final piece of the recording, and the last of the commissions, is by Ralph Allwood, and its sumptuous harmonies occasionally sound as if they might be paying quiet homage to the musical milieu more often associated with the world of the saxophone: jazz. Alone amongst the antiphon texts, O Virgin of virgins poses gentle rhetorical questions rather than making bold commanding statements. And its final words, set by Allwood in quietly ascending music accompanied by hushed whispers, can be seen as a motto not just for the last day of Advent, with the joy of the Nativity only hours away, but for the whole of the Christian Christmas message: 'the thing that you behold is a divine mystery.'