Production notes from a dark room.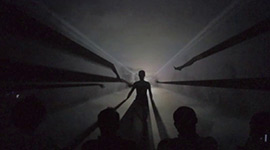 Andy Hurst, One of our senior lecturers who specialises in Technical Theatre and Production Techniques has shared with us his Production notes from his latest works.
Over the past couple of years I have been grappling with the intangible. My work has focused on the creation of light objects either to be used as a scenic device for live performance or as a physical spatial entity for installation. Much of my time is spent:
in front of a computer screen joining small boxes together with virtual cables as I try to coax the programming environment Isadora into doing what I want it to do, or
in a pitch black room cocooned in a fug of dense theatrical haze trying to coax an array of data projectors into doing what I want them to do.
The results, when I get it right, are simple graphical elements projected through haze, which in turn create visibly tangible light objects within a space. For the most part, this phenomena isn't new; just go to any rock gig, or watch a music performance on TV and you'll instantly be aware of the huge amount of design work that has gone into creating visible lighting beams that frame the performance artists, or underpin the mood of the music. What my research does is examine the way that light objects can be used to interact with a performer, become an object of play within an installation, or act as a production tool to help define the direction of a devised piece of performance work.
In late 2014, I produced an initial piece of performance work with a colleague, Judi Vivas, from the University of Kent. Etched was shown as part of the Sounds New festival here in Canterbury, and since then it has been shown a number of times, most recently as part of UKC's two day symposium Kantorbury Kantorbury, celebrating the life and work of Polish director Tadeusz Kantor. It's due for one more outing next month as part of De Montfort University's 2016 Cultural Exchanges festival in Leicester.
Etched on https://vimeo.com/94639397
More recently my research has turned to installation rather than performance. On Slow Violence uses a number of iPads as control surfaces to create a physical light environment that can be manipulated by visitors to the piece. The phrase 'Slow Violence' was first coined by Rob Nixon (2004) as a way of describing the persistent yet almost imperceptibly destructive nature of large-scale cataclysmic ecological events. He argues that both the physical and the societal impact of events such as deforestation, the accumulation of greenhouse gasses or large scale oil spills can never have the same immediate affecting impact as media friendly, high shock atrocities such as the graphic images of terrorism that seem to form the mainstay of current news broadcasting.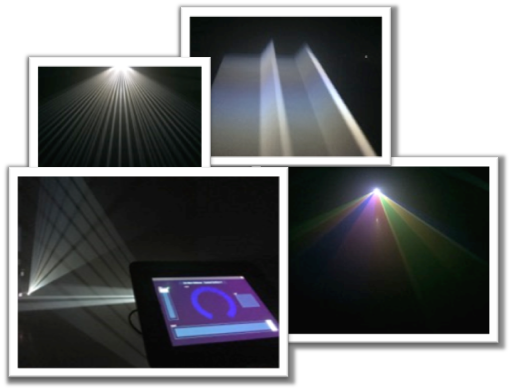 On Slow Violence is an artistic response to that point of view.  The installation gives visitors the opportunity to play with a changeable environment – one that reacts immediately to the touch of a screen. Sounds change and warp to accompany this physical manipulation and create the sense of both natural and unnatural atmospheres. Five people can work together to control the solid light scene, almost as a visual instrument. Alternatively, the space can be explored as an individual, simply observing the landscape. The outcomes of such interactions on the light environment can be at once unpredictable, engaging, destructive, amusing and visually intriguing.
As a piece of installed artwork, it holds no answers of course, but does attempt to give 'symbolic shape and plot to formless threats whose fatal repercussions are dispersed across space and time.'[1]
Etched can be seen on Monday 29th February as part of De Montfort University's Cultural Exchanges festival: http://www.dmu.ac.uk/cultural-exchanges-festival/index.aspx
On Slow Violence can be seen as part of Kent University's International Festival of Projection on the 19th and 20th March 2016:
https://www.kent.ac.uk/beacon/projects/projections.html
[1] Nixon, R. (2006) Slow Violence, Gender, and the Environmentalism of the Poor. Journal of Commonwealth and Postcolonial Studies. Vol. 13.2 -14.1 [online] Available at http://jcpcsonline.com/contents/v13n2.html Accessed 14th Jan 2016