Postgraduate Practice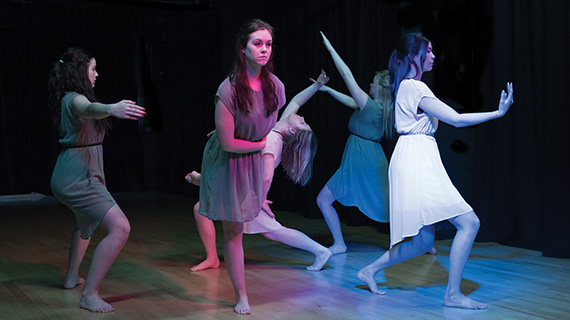 Interviews with a variety of students on our postgraduate programmes
Considering taking on further study with us? Read about the potential options from the experiences of those who know the programmes best – our current crop of excellent postgraduate students!
What is your name, which of our postgraduate courses are you undertaking and what is your specialism?
My name is Talia Chesno and I am currently undertaking a Masters in Arts and Culture Management. I specialise as a Practitioner, Performer and Social Media Marketer for the Arts.
Here is some information from our website about the MA in Arts and Culture:
The programme will develop your conceptual and critical skills, which will allow you to engage with arts and management in an insightful way. The curriculum is designed to allow you to pursue opportunities within specialist fields of study to an advanced level, including undertaking an extensive independent project or dissertation of your choosing.
You will gain understanding of organisations, managerial techniques and arts practices in the current arts and cultural landscape in the UK. You will have a placement that will enable you to develop greater self­ awareness, professionalism and apply practical and organisational project management skills.
Did you study at undergraduate level with us and on which course? If not, where did you study?
Yes, I did, I studied for a BA in Dance Education at the School of Music and Performing Arts at CCCU, which I loved!
Why did you choose CCCU MPA for your postgraduate study?
The reason I choose CCCU is that Canterbury has become my home and I am familiar with both the location and the community following the time spent here for my undergraduate degree. In addition, the University offered me a scholarship in order to study for my MA, which I was very thrilled to receive in order to continue my studies in the Performing Arts department.
What excites you most about your field of study with us?
I am excited by the fact that I am always learning in my field of interest and the opportunities that are given at CCCU and on this course enable you to grow as a person as well as in your specific skills. However, this also depends if you are a proactive student and will take every opportunity that is given to you in your location or your nearest University. I believe it's up to you to grasp your opportunity and make it a goal to be successful what you do.
What do you hope to achieve with regards to a future career following the conclusion of your study?
My eventual career goal is to assume responsibility for the creative and analytical side and implementation of all social media marketing in events management in the Arts and Entertainment sector or in the commercial sector and actively contribute to the overall success of any business I work for after or during my postgraduate study.
What advice would you give to students considering postgraduate study with CCCU MPA?
To be positive and believe in your field of study, always have passion in what you do and never lose faith in your chosen career that CCCU can help you achieve. Success is being confident and loving what you do while being proactive at it.
If you're interested in learning more about the options on our MA course and how to apply, visit our website