Performance Week – R.U.M Band
On our Broadstairs Campus
To finish our performance week in style, our Classical Music and Performance students took a bus trip over to the Broadstairs Campus in Thanet to join their Commercial Music and Creative Music Tech peers in order to enjoy the final event of the exciting yearly programme.
Dwell Bar, with its comfortable sofas and bean bags, made the perfect relaxed location to welcome the R.U.M Band (Rhythm and Ultimate Music). The group are a high spirit band of potent players blending a ballsy bag of blues, rock, soul, funk, reggae, ska, latin, jazz and calypso carnival flavours. The musicians involved hail from all corners of the globe including Trinidad & Tobago, Guyana, Greece, Jamaica, Grenada, Dominica, Nigeria, India, Australia and the UK they make for a tasty concoction of eclectic and infectious musical rhythms.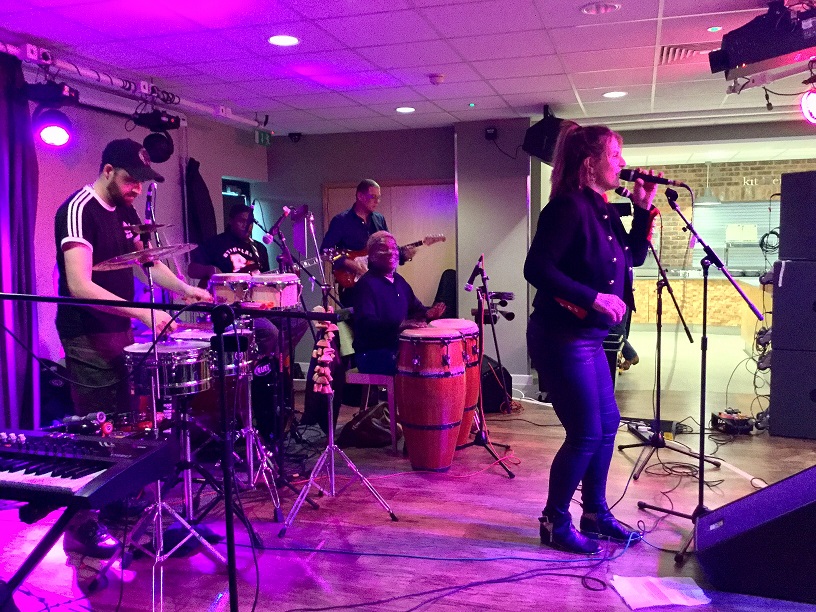 They are players at the top of their game having performed for a who's who list of celebrated artists throughout the world including Johnny Nash, Jimmy Ruffin, Bob Marley, Rita Marley, Gregory Isaac, Eric Clapton, Pete Townsend, Jimmy Page, Chaka Khan, Bee Gees, Jeff Beck, Steve Winwood, Bony M and pop acts as Lionel Richie, Beyonce, Ali Campbell of UB40, Omar, Incognito, John Legend and Joss Stone.
The collective play with anywhere from four players up to ten players, and we were delighted to have eight of the members join us at Canterbury Christ Church University, which boasted two electric guitarists, one bass player, one keyboard player, a singer and three percussionists playing a range of instruments from a full drum kit to bongos and congas, tambourines, cow bells, cabasas and chimes.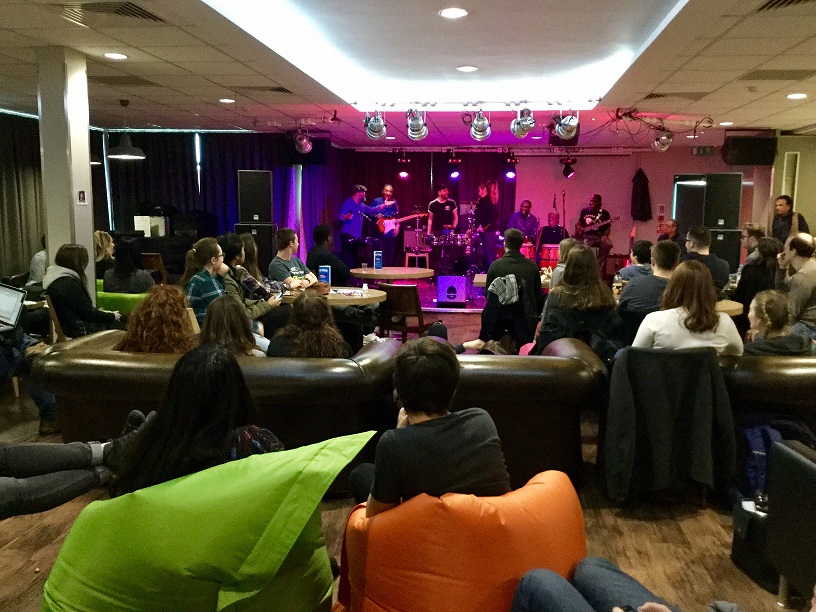 The eight-piece arrived with us on Thursday afternoon (23rd February) and set out their kit to begin a workshop at 4:30pm to a full crowd of students from both campuses. They introduced all band members one by one and spoke about their individual histories and their instruments and the different paths they had taken through music. They were kind enough to answer any and all questions from their audience, interspersed with sudden explosions of sound as they performed various numbers as a sneak peak of music ahead of their concert at 7:30pm that evening. They also gave some fantastic advice on living life as a musician, with the key theme being passion. Their belief is that one should perform as living through the sheer love of music, not with the expectation of money or fame – the enjoyment and vibe of an audience should be enough.  In addition, they encouraged our students to immerse themselves in all genres of music and not to be cloistered to one style, even if it is their chosen style. They maintain that there is a lesson in listening to and embracing types of music that one would not expect as it can improve your own playing style in ways that you cannot quantify. It is part of the reason that there are so many wonderful, diverse musical influences within their own work. Our students were also lucky enough to be given the opportunity to join the performers on stage and to workshop sections of songs on their instruments whilst being tutored and supported by the band members. Their wealth of experience and knowledge was vast and absolutely invaluable to the students learning, particularly due to the cross-genre nature of the music being played and the intrinsic specific rhythms and melodies that entails, which they may not have previously come across. The enthusiasm demonstrated at the workshop and the subsequent concert, which left everyone's toes tapping and heads bobbing, was infectious and full of joy – an amazing experience for our students and a fantastic way to end our wonderful Performance Week 2017.