Oscillate 2018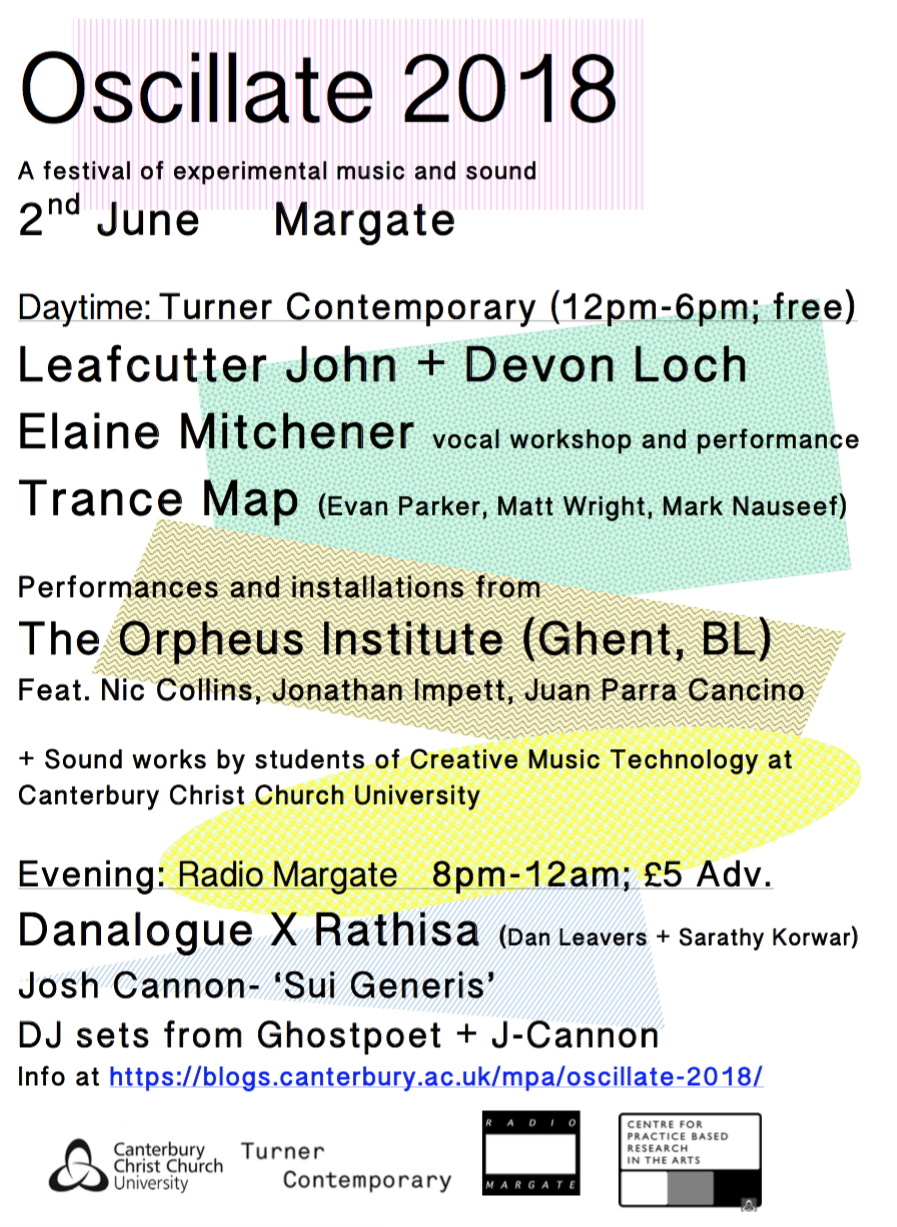 This year's festival at the Turner Contemporary
Date: 2nd June, 2018
Location: Turner Contemporary, Rendezvous, Margate CT9 1HG
Time: 12:00-18:00
Price: Free
All enquiries: robert.stillman@canterbury.ac.uk
Oscillate is a series at Turner Contemporary featuring artists at the cutting edge of contemporary music and sound art.
Past events have included performances, installations, and talks from artists such as Shabaka Hutchings, Evan Parker, Kaffe Matthews, Bex Burch, Mira Calix, and Matthew Herbert.
On June 2nd,  Oscillate will present a day-long programme of music and sound as part of the Turner Contemporary show 'Animals & Us'. Featured artists will include vocalist Elaine Mitchener, Leafcutter John and Devon Loch's electroacoustic duo 'Piano Music', and the improv project Trance Map, comprised of Evan Parker (saxophone), Matt Wright (turntable and electronics), and Mark Nauseef (percussion).
Elaine Mitchener will lead a special introductory workshop called FREE YOUR MIND on the art of vocal improvisation and movement art practice. The event is free for festival attendees (18+) with an interest or experience in singing. Register for the workshop here.
Running alongside the live programme will be a series of performances and presentations by the Orpheus Institute for Artistic Research in Music (Ghent), featuring Jonathan Impett, Juan Parra Cancino, and Nic Collins, as well as work by staff and students at Canterbury Christ Church University.
Oscillate is a collaboration between the Turner Contemporary and the CISA (Composition, Improvisation, and Sonic Art) Research Unit at Canterbury Christ Church University.
Check out the latest promo video on the link below:
---