Mynheer Van Dunk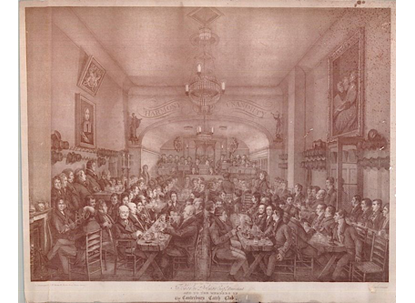 The research of Senior Lecturer in Music: Chris Price
The glee Mynheer Van Dunk,[1] was performed no fewer than six times at the Canterbury Catch Club (a gentlemen's sociable singing club which flourished in the city 1779-1865) in the 1825-6 season, and says much about the essential character of the Catch Club repertoire.
Mynheer Van Dunk is the opening chorus provided by Bishop for George Colman's play The Law of Java. This piece of work did nothing for Colman's career and reputation: a contemporary critic dismissed it as "a thin mixture of maudlin sentiment and melodrama",[2] and subsequent views have tended to agree. A much more recent critic, commenting on Colman's attempt to inject some exotic interest into his formulaic dramas by situating them in foreign lands—such as Java—notes that "Colman's characters remain outstandingly unaffected by their new geography".[3] There is no denying, however, Bishop's understanding of theatrical imperatives: as the Dutch soldiers, dismally consigned to their faraway outpost of colonial rule, thump out their faux-traditional drinking song, the show gets off to a rollicking start.[4] 
With its simple, two-verse, solo-chorus structure, its infuriatingly infectious iambic tetrameters (te-TUM-te-TUM-tiddle-IDdle-iddle-UM), and its lamentable doggerel—not to mention the pandering to the racial stereotype of the drunken Dutchman—this piece was guaranteed to be a sure-fire hit. More to the point, for a Catch Club audience it offered a tremendous opportunity to join in; demanding much enthusiastic participation with little expressive and/or musical sensitivity, its appeal to the drinking classes is clear. It is an example of an inclusive piece, and it exemplifies the expected aesthetic of this convivial music-making very well.
This performance, shown in the video below, by today's Canterbury Cathedral Lay Clerks, directed by Chris Price and accompanied by David Newsholme, Assistant Organist at Canterbury Cathedral, is probably the first outing it has had for over a century.
---
[1] "The fictitious name of a dull Dutch writer", according to George Lord, Editor of Poems on Affairs of State: Augustan Satirical Verse, 1660-1714: Vol. 1; 1660-1678 (Yale University Press, 1963) p. 341, in the footnote to a poem of 1671 by Edmund Ashton: On Mr Edward Howard's "New Utopia", in which this character features: "And who the devil was e'er yet so drunk/To own the volumes of Mynheer Van Dunk?" As the rest of the poem makes clear (it is a contemptuous diatribe against Howard's play) the suggestion that Howard has taken the work of MVD for his inspiration is intended as a gross insult.
[2] "C.P", Letter to the Deputy-Licenser of Plays, in The New Monthly Magazine and Literary Journal, (London, 1824) p. 554.
[3] Thomson, P., The Early Career of George Colman the Younger, in Nineteenth Century British Theatre, ed. Richards, K., and Thomson, P. (Methuen, London 1971) p. 72.
[4] The music is reproduced as Appendix 8; the source is the Catch Club archive copy, in Volume 40, p. 75, but it is easily obtainable at the BL.