CISA Research Unit: Matthew Herbert on Broadstairs Campus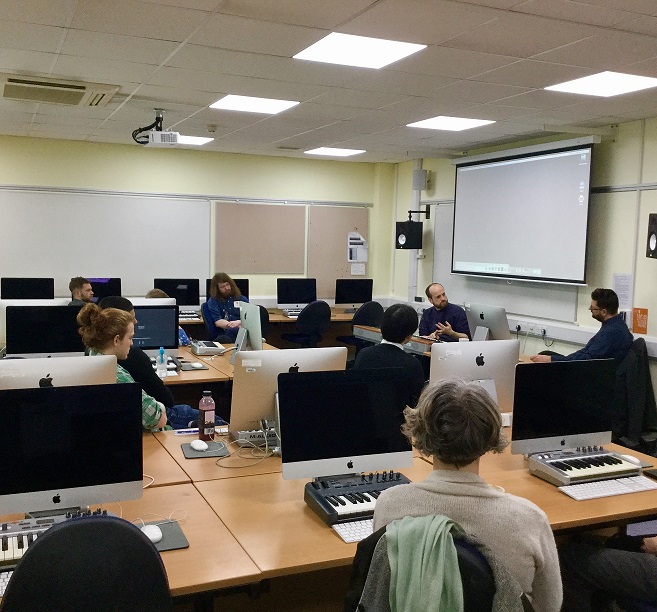 Providing his first workshop in a new staff capacity as Artistic Researcher
Matthew Herbert is one of the UK's most successful electronic artists, having produced remixes for numerous artists including Moloko, Quincy Jones, Bjork, REM and Yoko Ono to name a few. He has performed over 3000 times around the world as a composer and DJ, including famous venues such as the Sydney Opera House and the Hollywood Bowl.
The School of Music and Performing Arts are delighted to have someone of his calibre working on the staff at Canterbury Christ Church University. Although he has visited our campuses before as a guest, performance week in February 2017 was the first time he had joined us as a member of staff.
Matthew began with a casual talk and question and answer session with students on our Commercial Music and Creative Music Technology programmes. He discussed his history with music, from early studies in classical music through to higher education at Exeter University where he in fact studied Drama rather than music. However, it was there, outside the classroom that his original passion of dance music was created, at the same age as many of our students find themselves. Although, in later years, it is Matthew's range of work as a sound innovator in the mediums of film, television ballet, fashion shows and theatre for which he is best known. However, by his own admission he was not always successful and struggled to afford any kind of lifestyle – a feeling which seemed to resonate with some of our students striving to be musicians. He recalled a story from the late 80's, at a time where music and culture seemed intrinsically linked, where, for the sole purpose of hoping to make money, Matthew made a record that he did not believe in or feel proud of. The irony in fact was that the record made no money and Matthew was left with a piece of work that he was embarrassed about and still he could not pay his bills – he still will not name the piece to this day! At that point, he learnt a valuable lesson, not to compromise his creativity in order to, as he puts it, "sell out". It is advice he extends to our students – not to confine their musical success to the pursuit of money. Several years later, Matthew made three records that he believed in wholeheartedly, with his musical ethos behind, and was ultimately successful, leading to a world tour that set him up in the music industry, without the need to sign for a major record label or negotiate upon his musical style – things that many people believe essential for a career in music. He had faith in his own sound, and that paid off. Having that confidence in yourself as a musician is so important, especially understanding that the gap between your intention for a piece and the way in which the piece finally turns out can be vast, but that is alright, it is not a failing, that is the musical process – the act of being creative. He advises that everyone make music for themselves first and not for other people, as this is the wrong path in music and one that will lead to being unsuccessful and unhappy.
Matthew also made a point of counteracting the suggestion that a musician has to be in a main city, such as London, to have any chance of being successful. He believes this is completely untrue, as he has come across multiple examples of where certain musician's passion for their work and for their local area has resulted in the creation of a brand-new musical scene in somewhere unexpected. The most famous example is of course Detroit in the USA, where there is no arts support and no facilities and yet there is a fantastic progressive music movement happening. Closer to home, areas such as Thanet, in which our Broadstairs Campus is situated, and particularly in the nearby town of Ramsgate, are emerging as fast-paced music scenes, growing in popularity and recognition monthly. There is a vibe about East Kent currently and Matthew encouraged our students to be involved in that – if you are building something special musically in your local community, the journalists in London will come to you.
Matthew suggested that now is a great time to be making music, due to the instant availability of the internet, with streaming platforms and the openness of the arts – the opportunity to get involved with other kinds of interdisciplinary projects that relate to music, such as videos or artwork. His next project for example, is in fact a book. He described it as his "love letter to sound", wherein he uses words to describe his music, rather than including any sound at all. It is an exploration of the silence between moments, which Matthew felt was a liberation for him as an artist.
Speaking of his newest work, Matthew led into his workshop activity for the day. This weekend, on the 25th of February, Matthew will be travelling to Germany to the Deutsche Oper Berlin, the city's famous opera house. There, he is involved in a project to celebrate and innovate Benjamin Britten's classic Death in Venice.
The work is Britten's compositional legacy. In this adaptation of Thomas Mann's eponymous novella, the English composer has penned a work comprising an old, wise view of 400 years of operatic history, the score of which is shaped by a serene and stringent reduction to the bare bones of music. Britten's musical language has found a massive concentration in Death in Venice, in which every note is necessary, and not one is superfluous. In this score, Venice is the main character as metaphor for a site of longing and escape, although in a sublimated form far removed from a superficial local character. For Matthew Herbert, this is the starting point for his commentary on the piece: the material is not made up of the sublimated sounds of the lagoon city, filtered by and with the history of opera. Rather it is the sounds of the city as directly and immediately as they are captured by the microphone. Matthew has travelled to Venice in search for sounds, with which he composes his own version – and Britten's masterpiece does not lurk behind trees and barricades, but rather around the next corner of the canal, under a bridge spanning across the brackish, green water of the lagoon.
It is this collection of gathered sound fragments representing Venice, which Matthew brought with him to Broadstairs to present to our students. For his workshop, he encouraged them to work with the audio files, editing them and in some instances adding to them, getting them to interpret their own versions of sections of Britten's work. On completion at the end of the day, Matthew announced that the students work on this project would be included live at the premiere of Death in Venice in Berlin this Saturday!
A brilliant end to a fantastic day with our new Artistic Researcher.