Lunch Time Performance Series – University Big Band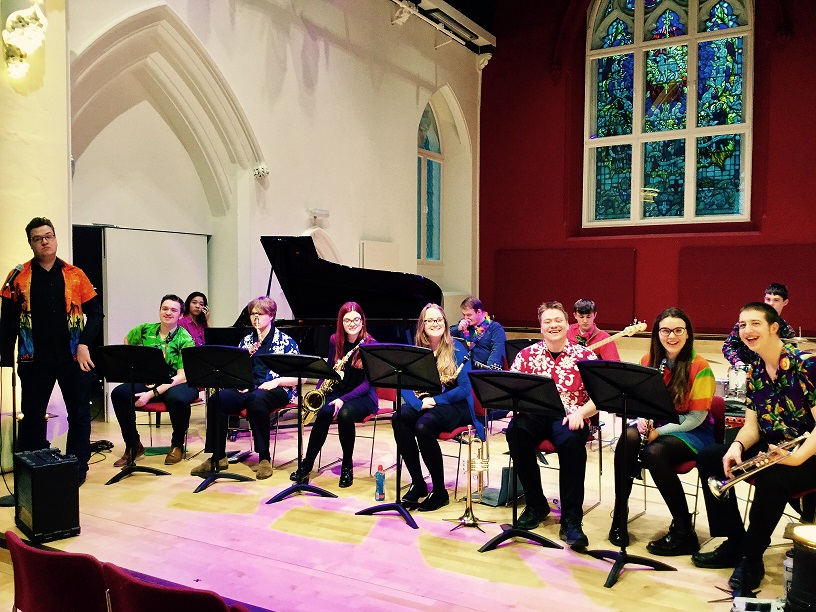 Free for students, staff and the public
For the second time this academic year, but the first appearance of this new term and new year, the University Big Band warmed St Gregory's Centre for Music with swinging classic jazz repertoire on Wednesday 8th February 2017.
The eleven piece, gigging band are conducted by director and top British jazz trumpeter, Steve Waterman. Steve has recorded seven critically-acclaimed CDs under his own name, featuring many original compositions and arrangements. Steve has co-written, with John O'Neil, a much-admired Jazz Trumpet tutor book, The Jazz Method for Trumpet. He is Professor of Jazz Trumpet at Trinity College of Music, London and visiting Jazz Trumpet specialist at The Royal Northern College of Music, Royal Welsh College of Music and The Purcell School. Steve teaches on many summer jazz courses and has conducted numerous Trumpet masterclasses and workshops, ranging in size from small groups to big bands throughout the UK, Spain, Finland, Latvia, Germany, Peru, USA, Russia, South Africa and Cuba.
This year's ensemble features students from across all year groups and from multiple Schools within the University; saxophonists Natasha Conley, Helena Jukes, Otto Buehler and James Lewis, trumpeters Richard Blake and Adam Buddell, pianist Esther Chung, guitarists Josh Smith and Carl Emery, drummer Ronan Murphy, lone vocalist Joseph Whitbread and newest member, clarinettist Abigail Sutton.
The programme consisted of six soulful pieces of music, including one composition written by Steve Waterman himself. The band opened with the minor-mode blues tune, Stolen Moments, composed by Oliver Nelson for the important 1961 jazz album The Blues and the Abstract Truth, featuring trumpeter Freddie Hubbard and pianist Bill Evans. It is a sixteen-bar piece, though the solos are on a conventional minor key 12-bar blues structure. Nelson later went on to become a composer for film and television in Hollywood.
One of the most popular chord sequences on which to improvise in jazz was performed next – Ladybird – written in 1939 by piano player, composer and bandleader Tadd Dameron. The piece has been recorded numerous times by some of the most well-known and important jazz musicians. This arrangement gave a chance for many of the band's wonderful soloists to show what they could do with the challenging chord progression.
Two pieces by composer Henry Mancini followed – A Quiet Gass and Peter Gunn Theme – written for the award-winning private eye television series Peter Gunn, that was broadcast in the late 1950s and early 1960s. Like many of Mancini's film and television compositions, the pieces make a great jazz vehicle, giving plenty of scope for improvisation, particularly the latter which has a rocky beat based on a blues chord progression.
Placed perfectly between the Mancini pieces, the ensemble performed the number God Bless the Child. The music for the piece was composed by pianist Arthur Herzog Jr and the lyrics written and made famous by legendary jazz singer Billie Holiday. The version performed by Big Band featured the beautiful voice of ensemble singer Joseph Whitbread.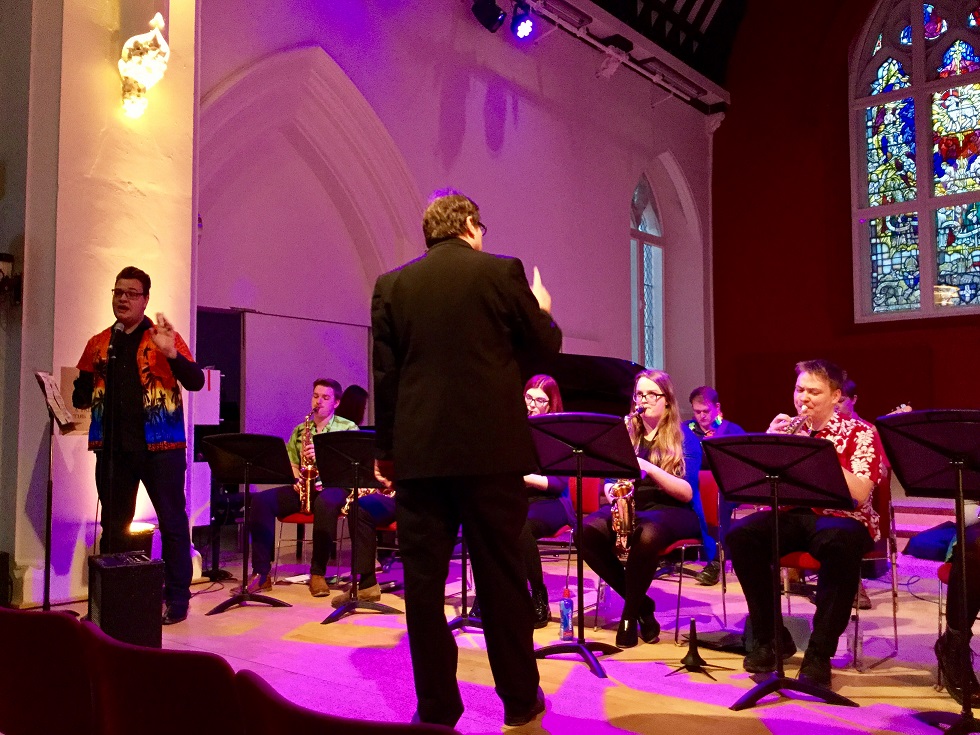 The final piece, Steve Waterman's own composition, Red Vest Man was written for his album Buddy Bolden Blew It. The tune is a tribute to the first-ever jazz cornet player Buddy Bolden, who reportedly always wore a red vest when he performed. This composition takes the form of a New Orleans funeral march, an event that Bolden would have performed at a number of times.
A wonderful performance from start to finish from all involved, with some fantastic solos from members of the ensemble, particularly Natasha (saxophone) and Richard (trumpet) who were exceptional. In addition, the last minute decision for the group to wear colourful Hawaiian shirts for the performance made for a bright, cheerful and relaxed atmosphere on an otherwise grey and chilly February afternoon.