Lunch Time Performance and Masterclass – VOCES8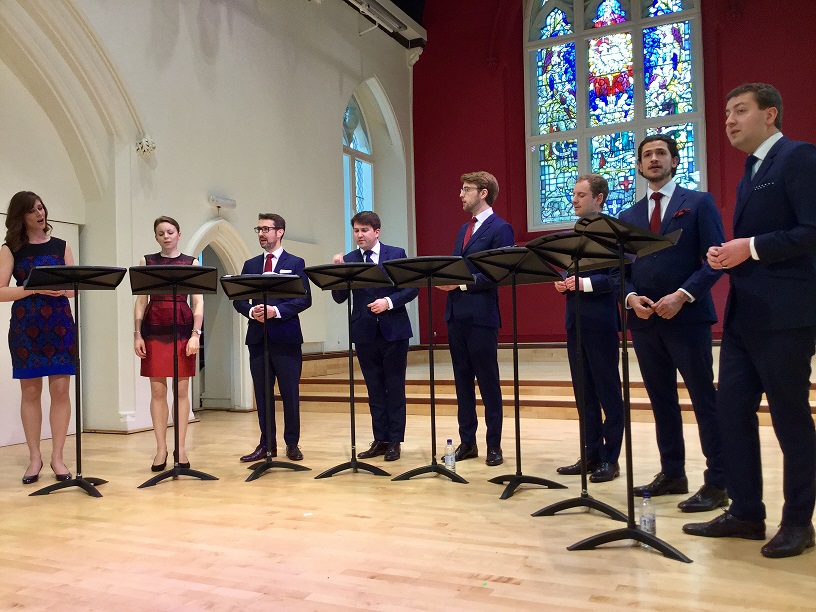 Bringing classical stars to our students and the local community
St Gregory's Centre for Music hosted possibly the stand out event of the year on Friday 28th of April, when VOCES8 returned once again to a crowd of supporters at Canterbury Christ Church University.
The british vocal ensemble is now established as one of the world's most versatile and best-loved singing groups. Touring extensively throughout Europe, North America and Asia, the ensemble performs repertoire from Renaissance polyphony to contemporary commissions and arrangements. The ensemble is heard regularly on international television and radio, including MPR, the BBC and Classic FM. The ensemble's two albums for Decca Classics, Eventide and Lux, both topped the classical charts on release.
Highlights of their 2016–17 season include European performances at the Mito Festival Italy, Thüringer Bachwochen Germany, at the Paris Philharmonie and Brussels Bozar. They will also sing with L'Arpeggiata and Christina Pluhar in performances of Monteverdi's Orfeo. They will tour the USA twice, with concerts and residencies, and will perform for the first time in Boston. The group's major Christmas tour will be to China and Japan (including performances in Oji Hall and Tokyo Opera City). VOCES8 maintains its popularity with UK audiences and will be appearing in London at Kings Place with Hugo Ticciati and Kian Soltani, at St John's Smith Square and at its home, the Gresham Centre.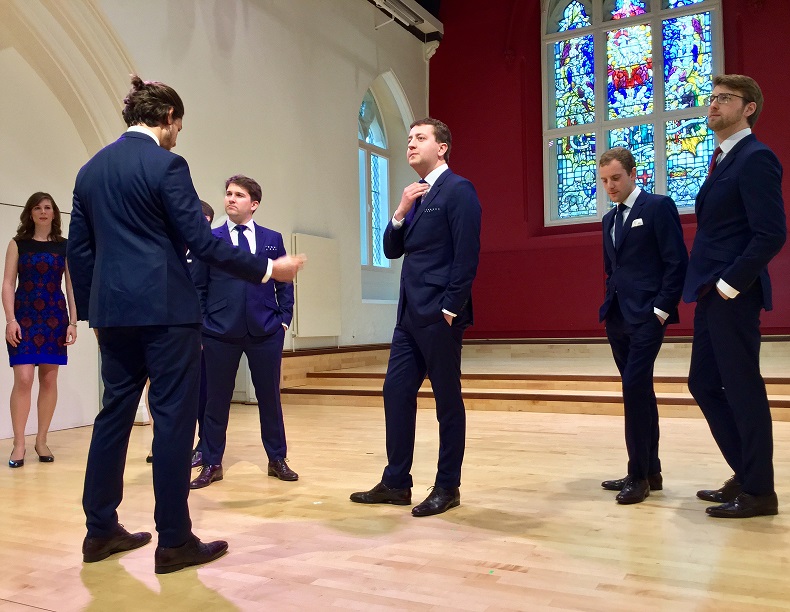 The octet consisting of the six gentlemen, Rob Clark (baritone), Sam Dressel (tenor), Blake Morgan (tenor), Jonathan Pacey (bass), Barnaby Smith (countertenor), Chris Wardle (countertenor) and two ladies Emily Dickens and Andrea Halsey (soprano) performed a varied line-up of classical and contemporary works. The first half of the programme included traditional pieces; Johann Sebastian Bach's Bourée, William Byrd's Laudibus in Sanctis, Choral Dances from the little-known opera Gloriana by Benjamin Britten, madrigals from The Triumphs of Oriana, by John Mundy, George Marson and Thomas Hunt – sycophantic pieces with pastoral imagery dedicated to Elizabeth I.  The second half of the programme transported the audience 350 years into the musical future, with Luis Demetrio and Pablo Beltran Ruiz's familiar rumba rhythm, Sway, Irving Berlin's 'Fred and Ginger' number, Cheek to Cheek and finally Van Morrison's swing classic, Moondance with a fantastically toe-tapping encore of ABBA's Dancing Queen. Each number in the latter part of the performance, in contrast to the first, were presented with entertaining choreography and wonderful expression, ensuring the audience were left wanting to get up and dance alongside them, applauding enthusiastically at the end.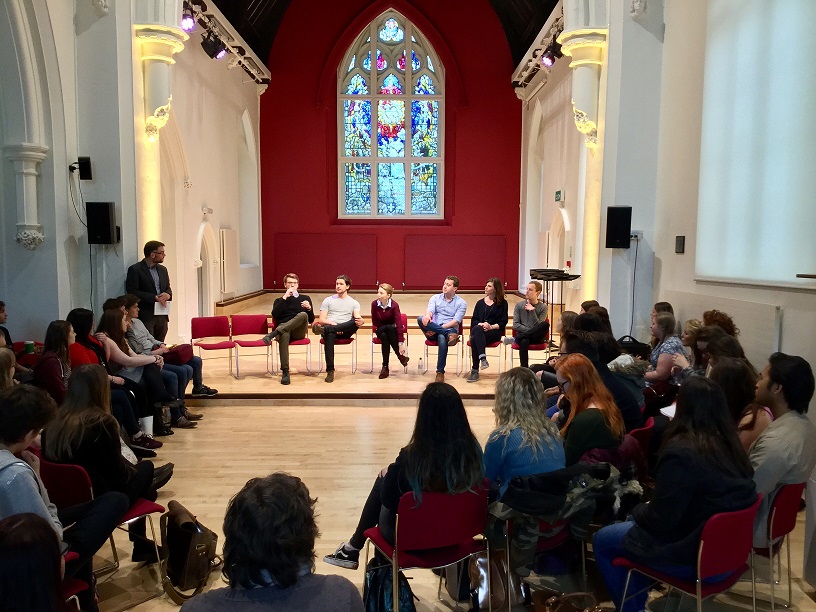 Following their outstanding performance, VOCES8 provided an open workshop and masterclass. The group hosted a joyful ensemble exercise where the public and our students learned contrasting harmony parts to ultimately sing together as a collective ensemble, stomping, clapping and vocalising as one to create a beautiful, booming sound that soared to the rafters of St Gregory's. Three of our fortunate student ensembles then had the opportunity to be coached by VOCES8; Le Voci, The Lucky Lindies and a small collective from Level 5 Performing Arts Vocal Studies course. Instructions to aid their development included tips on how to stand and therefore look like a group when performing, the correct placement and individualising of vocal parts for emphasis, how to soften pronunciation when performing accompaniment rather than as a soloist, learning to breathe as one, how to improve the dynamics of sound in a piece to enhance the whole and how to emphasise humour in a performance where suitable.
In addition, VOCES8 provided a question and answer session during the masterclass, discussing their performance, their history with music and the advice they would give to potential musicians looking to get into the professional industry. Furthermore, a few members of the group (Andrea, Emily and Jonathan) were kind enough to answer a few extra questions from the School on behalf of the students who were unable to attend.
Returning again to St Gregory's Centre for Music, how do you enjoy performing in a space such as this?
It's lovely, it's so nice to have a church that's been converted specifically into an events space. It's a really unusual but very special thing. It's a great atmosphere and really close to the audience. And it's warm! We appreciate warmth – a warm church is very rare! It also has an amazing acoustic.
You are showcasing your work to a new generation of musicians in our students. Is that important to you? And what do you hope they will gain from your performance and masterclass?
It's really important to us. We've worked here now for quite a few years with the students, so we feel like we've seen a lot of them progress and go through their University experience in three years here. We really hope that we inspire them to take their singing and musical work to another level. When we work with the individual ensembles often we can work on some of the really specific techniques that often people don't get taught about or may not be aware of when they are performing acapella on a regular basis. We hope that they'll be able to take something away from that to enhance their rehearsals. In terms of the general workshop, we hope that we will have members of the public who may never have sung before and may get a bit of a confidence boost from us to try out using their voice.
What advice would you give our students considering a career in this field?
Get involved and do as much in music as you can. There are so many options out there in music if you are prepared to look for them. We've all grown up singing, pretty much every day of the week for many years and having that experience of doing music so often means that you learn so much variety, which has led us into different things. It's so important to be proactive and to say yes – to everything, if you can. The more the better.
Was it always your passion to become a professional musician and how difficult and/or rewarding has that journey been?
Some of us have known we wanted to get into professional music from a young age, for others it wasn't as cut and dry. It is a difficult profession to be in. There can be unsociable hours and long days and can be quite personally critical at times, but the flip side of that is we get to see the benefits of the smiles on people's faces and when you're standing on stage giving a performance and making an audience laugh or cry, that's really rewarding. There is the nagging thought that the industry is too difficult to get into and so full of really talented people already, that it can seem like an unrealistic expectation. That can be daunting for the students here too, but if you say yes to enough opportunities and really put yourself out there, these things do come along. Also, you don't always have to take the same route as you may have seen others take, there are so many paths into music. We, as a group, have so many different musical backgrounds – some went through the early choral route and were choristers and others came to singing much later through jazz and classical, in their late teens. Music is such a wide field and we all gain something from each other from those different fields, those backgrounds from which we've come, so there's a lot to be said for taking those alternate routes, adding to and enhancing our work as an ensemble.
What would you say is your proudest musical achievement to date?
We just had a really massive concert – we were recording live for BBC Radio 3 for a whole concert in St John's Smith Square a few weeks ago. It was a big festival, a big venue and on a really important radio station. That is perhaps the biggest concert the group has done at least in the UK. Some of us have been in the group for many years and seeing the comparison with where we were when we started and how far we've come and all the effort that has gone into it to reach points like that concert makes us really proud.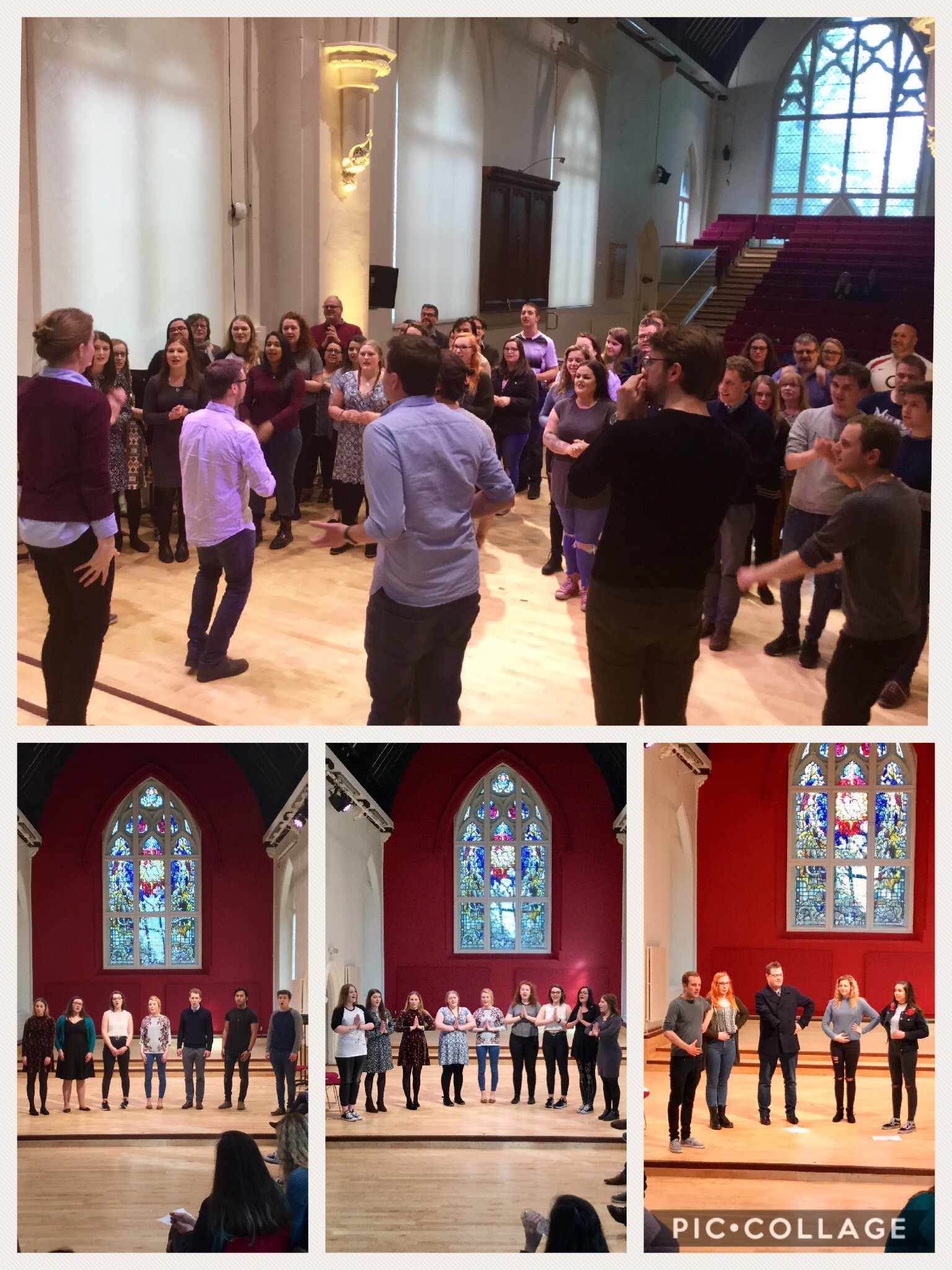 The School of Music and Performing Arts would like to thank VOCES8 for another year's wonderful performance and masterclass and hope to welcome them back again soon!