Lunch Time Concert Series – Contemporary Music Ensemble and Scratch Orchestra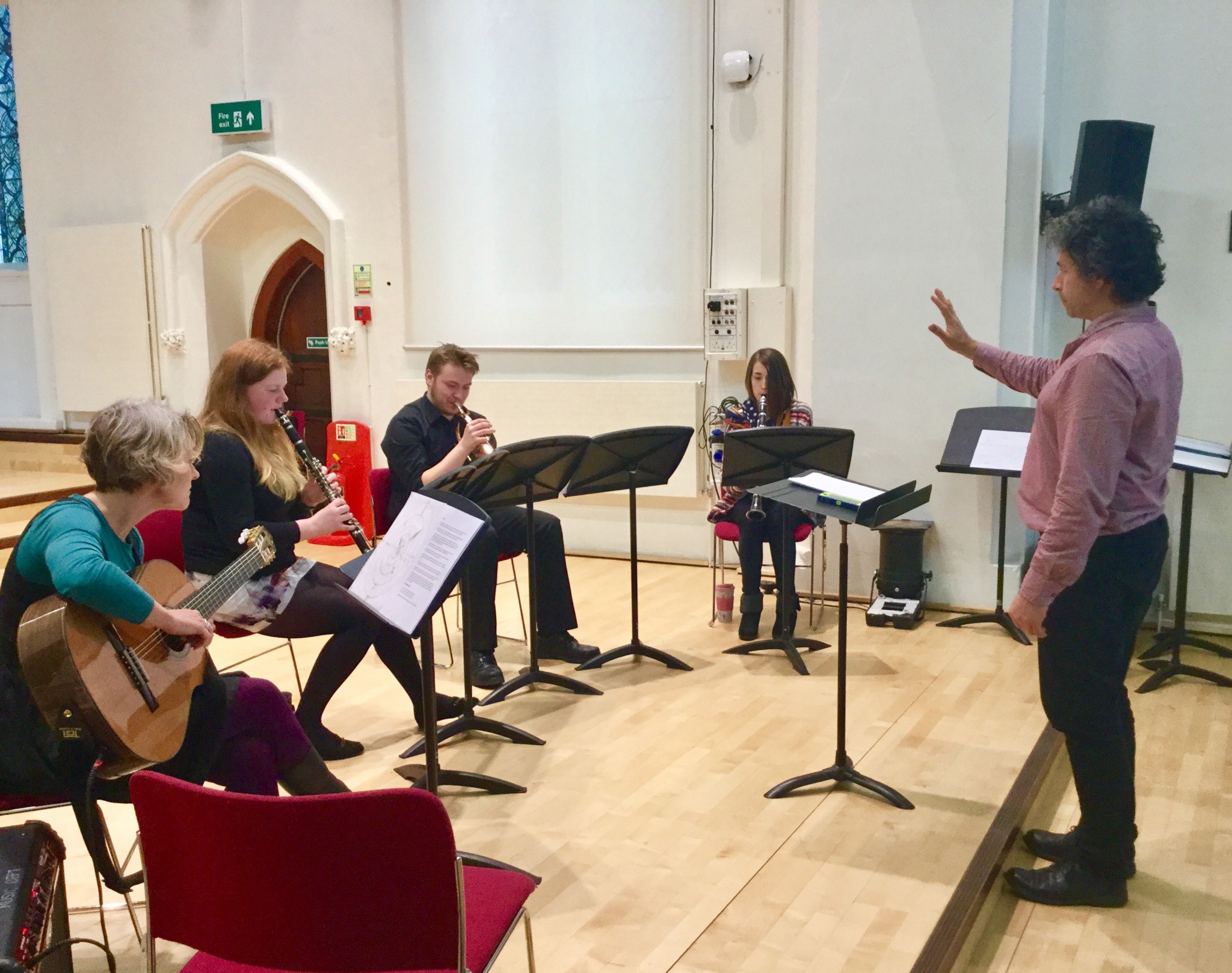 FREE music and performance for students, staff and the public
On Wednesday 23rd of November, St Gregory's Centre for Music hosted two of the university's most adventurous ensembles who combined forces for a programme of new and explorative music.
The Contemporary Music Ensemble was formed by lecturer Dr Lauren Redhead in 2013 when she joined Canterbury Christ Church University. The Ensemble works on a variety of 20th century and 21st century music, from well-known pieces by composers such as Louis Andriessen and Terry Riley to pieces written by composers, staff and students, studying at the University. This academic year the Ensemble is directed by another of the School of Music and Performing Arts talented tutors, Alistair Zaldua, who has led many professional contemporary music ensembles in the UK and Germany. The ensemble members for this concert consisted of Alistair himself, playing violin alongside students from level six, Hannah Firmin and Poppy Stanley-Gilbert playing clarinet and Adam Buddell and Diane Dunn from level five, playing trumpet and guitar respectively, with accompaniment by another of our lecturers, Dr Lauren Redhead on piano.
Joining them in this concert were Scratch Orchestra, an ensemble formed in 2007 by instrumental tutor and lecturer at CCCU, Sam Bailey, and a group of first year Christ Church music students. It was named (by the students) after an experimental performance collective called the Scratch Orchestra that was formed in 1969 by Cornelius Cardew, Howard Skempton and Michael Parsons. The Christ Church Canterbury Scratch Orchestra was set up to explore creative music making. Its members become fluent improvisers and familiarise themselves with a range of workshop techniques, improvisational strategies and attitudes towards music that enrich their future work as musicians, composers, teachers, workshop leaders, community musicians, music therapists and listeners. The ensemble members for this concert consisted of director and pianist Sam Bailey and two postgraduate students playing a variety of instruments – Jason Hodgson (piano, melodica, saw) and Natalie Salerno (guitar, accordion).
Taking to the stage to a round of applause, the two ensembles began their programme with a fusion of two pieces performed at once by Scratch Orchestra. The first is a work by American Jazz improviser, Eric Dolphy, entitled Straight up and Down, which was the last track on his album Out to Lunch! – that features the composer's avant-garde yet highly structured style – and is, in Dolphy's words, 'a tune about a drunkard walking, with the appropriate wobble and weave.'.  The second of the two pieces, contrasting Dolphy's melody with improvisations, is John Stevens' Triangles – an exercise in 'developing your listening skills, whilst at the same time encouraging an unselfconscious attitude towards your own playing'.
Following this combination, the next piece in the programme was a composition by one of our own MPA students and members of the Contemporary Music Ensemble – Hannah Firmin. Hannah is a capable and talented composer, recently winning the Composition Competition in this year's Canterbury Festival. Her piece chosen for the lunch time concert, Interruptions, is an open notation work in two sections, composed for a quartet comprising any mixture of instruments and/or voices with a conductor – Hannah in this case. Using a combination of notational ideas inspired by composers Toshi Ichiyanagi and Nick Williams in their pieces, Sapporo and Sabotage Songs, Interruptions aims to explore a variety of gradual and sudden textures: these include melody with loop accompaniment, unison, polyphony and, at times, silence. Sapporo in fact appears later in the programme. The structure of Interruptions is dependent on Hannah who throughout the work signals the ensemble to switch between the two sections, regularly interrupting the flow of the music.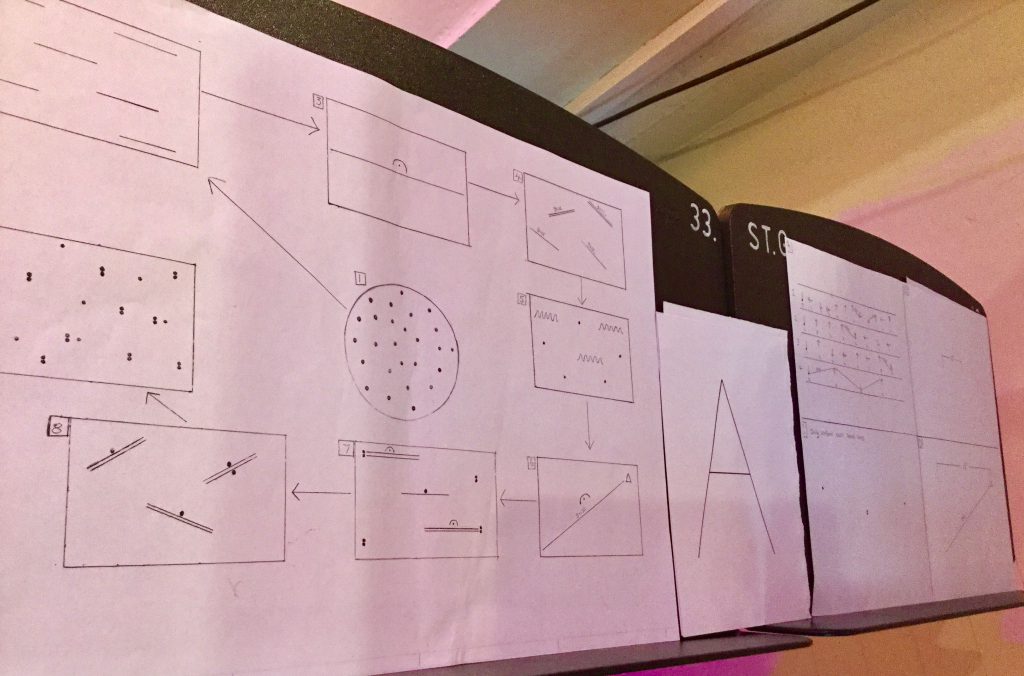 The third piece in the programme was by Naomi Pinnock. A composition scholar, Pinnock puts emphasis in her work on reducing music to its essential elements. Scratch Orchestra tackled her piece entitled Simul – a contemporary piano work for four hands, which Jason and Sam played admirably. It was written as part of a collective work Spectrum for Piano Duet, which represented both established and young composers all contributing pieces on the theme of a Howard Skempton work.
The subsequent piece was an another work by one of our students, a second by a member of the Contemporary Music Ensemble, and another inspired by Toshi Ichiyanagi. The composition, by Poppy Stanley-Gilbert entitled Circles, was written in response to an interest in graphic score notation. Poppy took the notational signs that were used in Ichiyanagi's piece Sapporo as a starting point, creating a score that could change by overlaying tracing paper on top of the initial notation. Each performer navigates their way through the score, always starting in the middle and progressing outwards. When they reach the end the tracing paper is changed and the performer begins again.
The penultimate pieces were the second and third of the three piano duets performed by Jason and Sam of the Scratch Orchestra, upon which the first by Pinnock and the third yet to come was based – Howard Skempton's Primary Colours. Composer, pianist and accordionist, Skempton was a seminal figure in the creation of the first, most famous Scratch Orchestra ensemble in the late 1960's and has ever since been associated with the English school of experimental music. The final piece performed in relation to Skempton's work, commissioned by the Associated Board of the Royal Schools of Music within Spectrum for Piano Duet was a miniature for piano entitled Au-delà du vitrail (Through the Stained Glass Window). The piece was written by French composer, Thomas Oehler who studied most recently with us at Christ Church to complete his doctoral studies, receiving tuition from the late Sir Peter Maxwell Davis among others. His compositions have been played across the world and show exceptional regard for harmony and colour.
Bringing the concert to a close was indeed the piece so repeatedly a source of information in the programme as stimulation for Contemporary Music Ensemble's student pieces. Sapporo was written in 1968 by the leading Japanese composer of avant-garde music Toshi Ichiyanagi. A piece that dictates any sound-generating objects can be used as long as they meet the requirements of the score. The score works with sound reeds, upward and downward glissandi and long pauses. The individual pages of the score are combined ad libitum and distributed to the players.  The hand signals of the conductor can be obeyed or not followed.  The ineffective movements of the movements are thus sometimes made of gestural music. The social aspect is expressed by the fact that the performers are instructed by a particular symbol to listen to a sound from another player or to watch another player with their sound production, even while the sound is being played.  At these moments the player can jump from the point at which he was within his voice to what he has just heard or seen in the other.  If this is not in his voice, he can exchange the voice with any other player. Upon hearing this piece, one can understand and recall the similar effects prevalent in Hannah and Poppy's pieces. Although little known in the USA, Ichiyanagi's influence is reaching at least as far as the UK, inspiring students on our BMus programme to marvellous composition and performance at Canterbury Christ Church University.