Lunch Time Concert – PhD Composer Showcase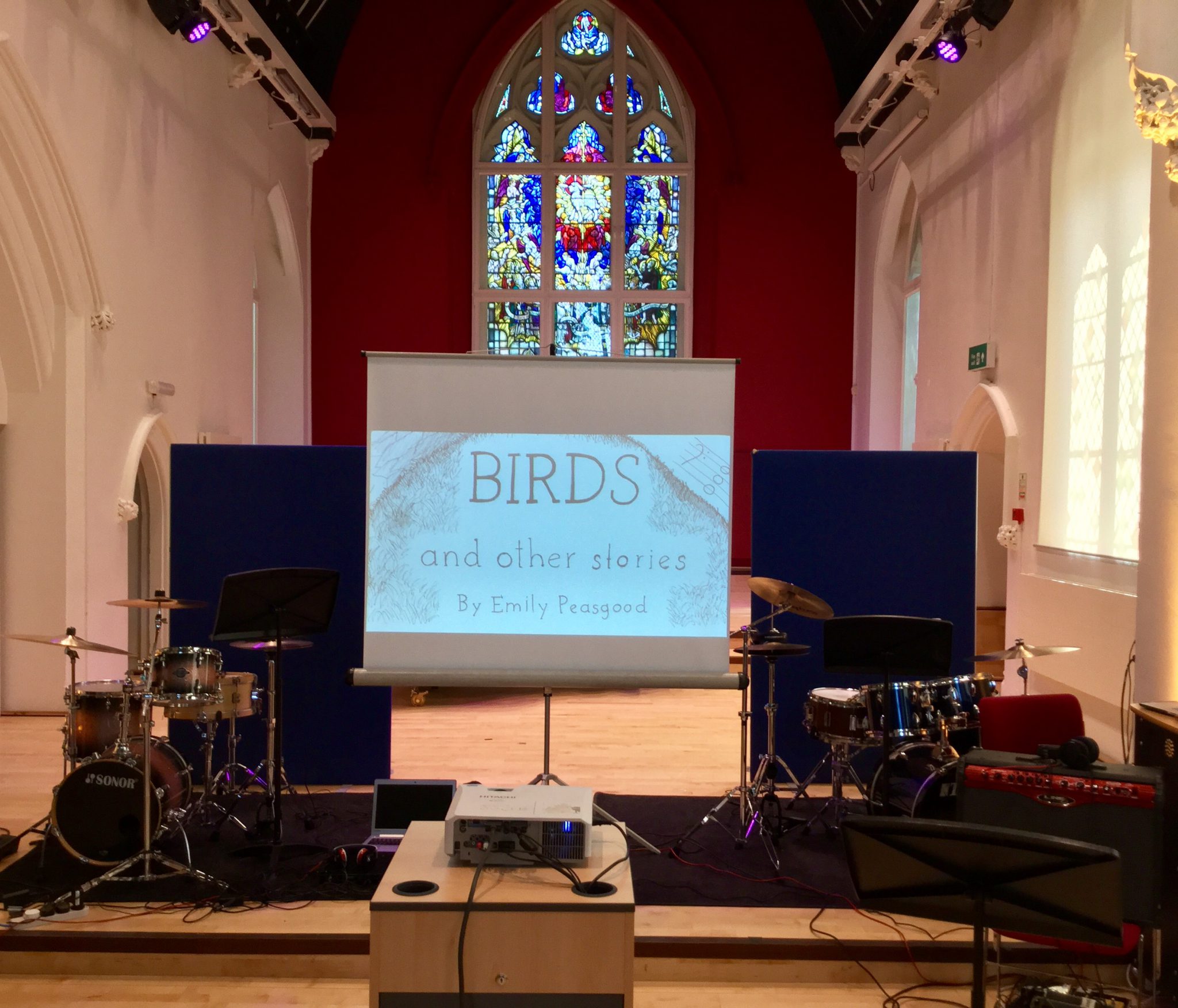 Free for students, staff and the local community
Our final lunch time performance of the academic year took place on the 10th May 2017 in St Gregory's Centre for Music, ahead of a selection of fantastic evening performances including our End of Year Dance and Commercial Music showcases ahead of the Annual Musical, CHESS, in June.
The PhD Composer's concert is a wonderful way to finish off, and provide an opportunity for the audience to experience the work of our current doctoral students at the School of Music and Performing Arts.
The programme presented a selection of four outstanding pieces, including two world premieres, from composers Emily Peasgood, Ruth Duckworth, Sophie Stone and Joe Inkpen, with assistance from their collaborators that included other current undergraduate and postgraduate students.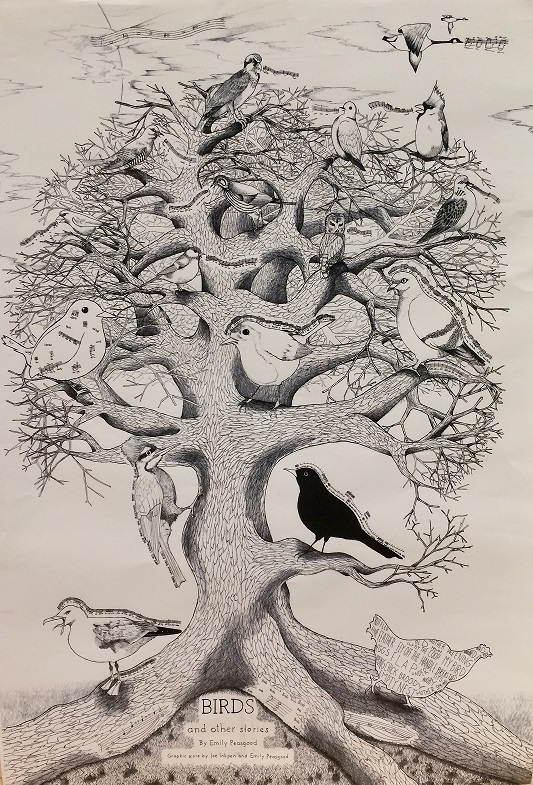 The first to present her work Birds and Other Stories was Emily Peasgood; a composer and sound artist who aims to challenge what music is believed to be, from the venue it is performed in to the people who perform it. Her research-led work is created for galleries and public spaces and ranges from large-scale community-led performance installations to intimate sound art. The piece performed asks "Are birds simply animals? Or are they sophisticated, delicate creatures? Or perhaps they are merely pests that steal dentures and packets of crisps? And what about women? Are they sophisticated and delicate too?" It is feminist work that brings these sentiments to the foreground through a multi-disciplinary event comprising a live performance, an exhibition of stories by people from Kent and beyond, and a graphic score. The piece was commissioned by POW! Thanet and premiered at Turner Contemporary on 11 March 2017, as part of wider celebrations around International Women's Week.
Following Emily, was Ruth Duckworth with her piece Don't Push Me! which featured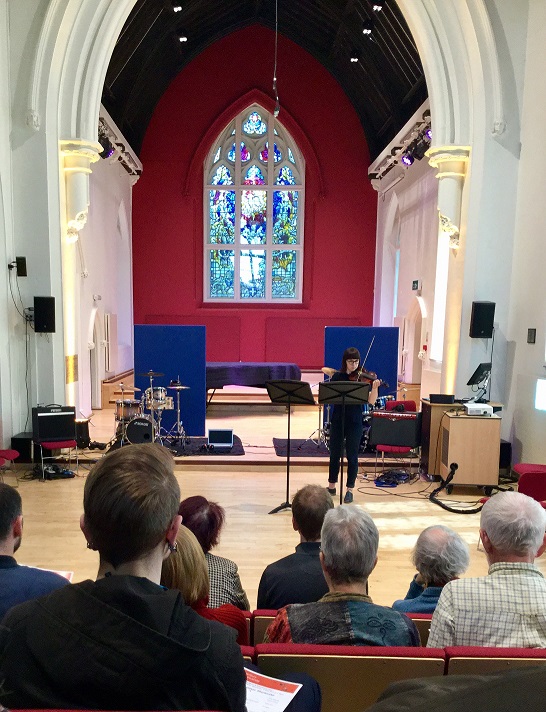 Claire Orme on violin. In her composition work, Ruth had been exploring the system of serialism. She describes, "I chose an 'extreme' tone row, in that I did not try to make the sequence of pitches interesting in any way. My creativity was thus challenged and I was forced to focus on other parameters such as technique, expression, and tempo. Surprisingly, it became a very emotional piece, in spite of the system used to generate the material. The piece is dedicated to Claire Orme, and I would like to thank her for both her enthusiasm and conscientiousness in bring it to fruition."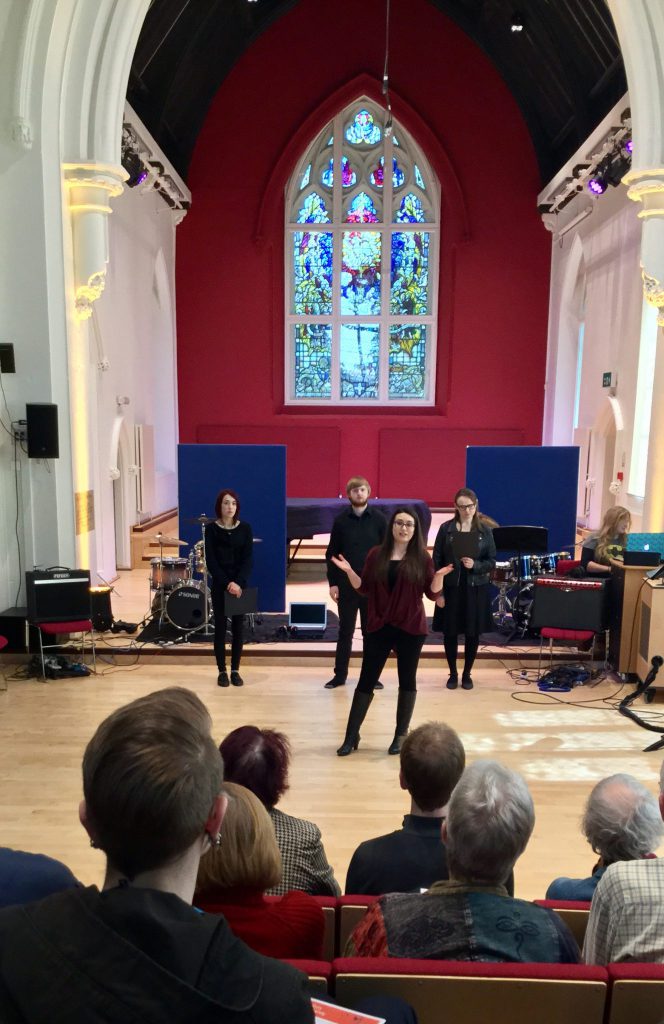 Next to present her work was Sophie Stone, who, like Emily, currently teaches as a sessional lecturer within our School alongside her PhD studies. Her piece, As Sure as Time is the second of an ongoing series of performances in which the same score is performed every time. It is a work for spoken voices and can be performed by two or more vocalists. Each performance is a culmination of different structural elements, sound/vocal techniques and movements. The words are a quote from Harper Lee's Go Set a Watchman: "As sure as time, history is repeating itself, and as sure as man is man, history is the last place he'll look for his lesson". The work allows for performer interpretation with each vocalist performing a compositional process, therefore several compositional processes occur simultaneously. Each performance will differ due to the environment, the type of performance (e.g. installation) and the indeterminac. When observing the series in its entirety it presents a new sense of extended duration with silences (no performative sound) separating the performances and the totality being the performance of the work itself. The work highlights the numerous interpretations of silence as silences are used within the performances and between each performance; the interpretation of silence is questioned as silence never truly exists.
The final piece of the programme was provided by Joe Inkpen, entitled The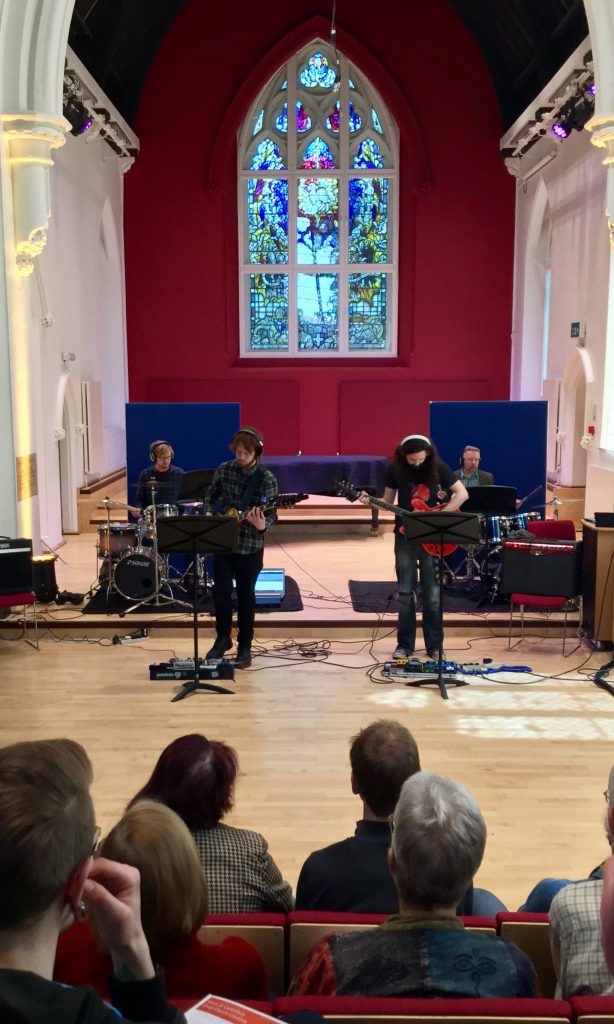 Disconnect. The work is a polytemporal composition for two pairs of performers; each guitar and drum duo features their own independent tempo (positioned at each side of the stage and wearing headphones with click track) executed simultaneously, however these conflicting tempi are calculated in such a way that they provide opportunity for rhythmic unison as well as 'arrhythmic' qualities across the parts. In this way the piece explores the concept of rhythmic consonance and dissonance (a term coined by composer Conlon Nancarrow), achieving this by way of variation in terms of instrumental texture, repetition, improvisation, dynamic and harmonic change as well as rhythmic use of effects pedals. The work is in an ABCDBA form, each distinct section focusing on a different area of compositional exploration. Polytemporal composition forms the main body of Inkpen's research, this work providing both one of his first fully formed pieces as well as an opportunity to gain insight into practical considerations of live performance.
If you'd like to learn more about PhD specialisms in Music and how to apply, visit our website.