Lunch Time Concert – Joglaresa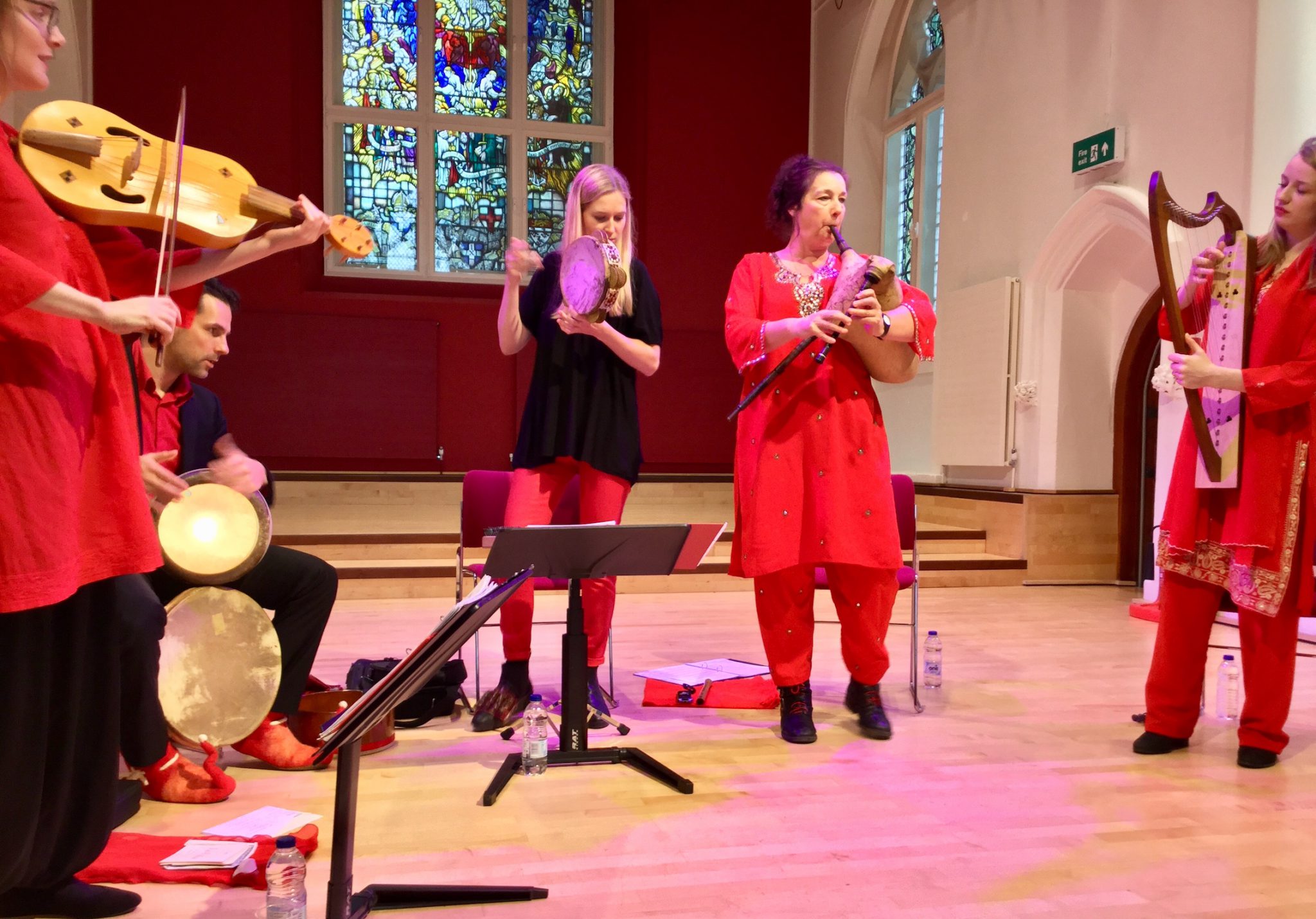 FREE for students, staff and the local community
On the week of the 16th – 20th October, we were treated to not one but two lunch time concerts in St Gregory's Centre for Music. Following classical guitarist Laura Snowden on the Wednesday, we were delighted to have the five-some Joglaresa for both a concert and masterclass on the Friday.
Joglaresa are a London-based medieval/folk ensemble that pushes – and often transcends – the limits of what is thought of as early music, leaders in the improvisational and cross-cultural aspects of their repertoire. The focal point of Joglaresa ́s work is to build a bridge between ancient and still-thriving musical traditions. They perform on instruments from the European Middle Ages and on contemporary folk instruments. The ensemble are directed by Belinda Sykes, who also performs in the group, whose research has taken her from studying the oboe and recorder at the Guildhall School of Music & Drama to European Medieval, Renaissance and Baroque music and the music of the old Arabic and Ottoman Empires. She has studied Arabic language, Arabic vocal and dance styles, and Judeo-Spanish song, and has undertaken extensive fieldwork in Morocco, Spain, Syria, Jordan and Israel. Her masterclass, following the concert, explored vocal artistry, improvisation and stagecraft with our students.
The programme for our Friday concert, was entitled The Enchantress of Seville and included ancient pieces found in manuscripts such as the Cantigas de Santa Maria, the Llibre Vermell de Montserrat (13th Century) and from the Ars Antiqua at the convent of Las Huelgas (14th Century).
The first piece Verbum bonum/Vinum bonum is a contrafactum parody, where the 'good word', originally of God, has somehow over time become 'good wine'. The original text survives in multiple manuscripts and can be interpreted in various different ways and was set to musical tunes well documented and well known in Medieval Europe at the time. 
The second and third, Djirineldo, Djirineldo and Una matika de ruda, flowed seamlessly into one another. Djirineldo, is a piece from the repertoire of the Jews and Muslims who travelled with their music all around the Mediterranean, and depicts the story of a romance between the named – a moorish slave – and a princess, who calls out to her lover to lie with her while her father the King is away. However, as ever these stories go, the King returns sooner than expected and discovers the two and condemns both to death for their actions. In some versions of the story, the two are killed, but in others they survive and Djirineldo is even offered to inherit the kingdom. However, even this does not end happily, as once the slave has slept with the princess, he feels he no longer needs to marry her anyway. Una matika de ruda, also a Judeo-Spanish work, describes a young girl who rushes home happily to her mother to tell her that she has fallen in love. However, her mother, who does not believe in love, tells her she should forget about it and marry a good husband with good prospects as soon as possible. The daughter is defiant though and tells her mother that she wants a lover, not a husband one who is "as fresh as a lemon and as sweet as an apple" as the lyrics say.
The next piece, from the same tradition, was Al pasar por Sevilla (As I was passing by Seville), a medieval ballad. A young man is leading his horse when he comes upon a girl washing her clothes by a fountain. It is love at first sight. The man asks if his horse can drink from the fountain beside the girl before later petitioning her to run away with him. She agrees and they go off on their way. But as they are passing through some mountains, she bursts into tears and she relates the story of her capture by the Moors at a young age. The mountains have brought back a childhood memory, as she recalls her father and brother, from whom she was taken, hunting there. A realisation then falls on the man, that this girl is in fact his long lost sister.
Returning to Christian repertoire, the ensemble performed Sola fusti senlleira, from the Cantigas de Santa Maria, manuscripts which include over four hundred songs dedicated to the Virgin Mary. Some recall stories of redemption and miracles performed by the religious figure, but Joglaresa chose instead one of the many simpler praise songs that exist in the canon, before extending it with a beautiful piece of instrumental work.
Three distinct short pieces followed, blending into one another. The first, Salve virgo Rubens rosa depicts a nun singing about a rose, the next took us to Morocco, describing a beautiful bride sitting beneath a rose tree (La novia entre las flores) and finally a three-part polyphony, which unlike many of the other works that are improvised, has a record of the exact notes Joglaresa play: Salve porta / Salve salus / Salve sancta parens.
Completing the explorative programme, an upbeat piece, Bailava en (Dancing in..) Tetuán, wherein the narrator sees a beautiful Moorish girl dancing and petitions her to dance in his palace forever. An outstanding and informative journey through Medieval music.