Lunch Time Concert – Antara Duo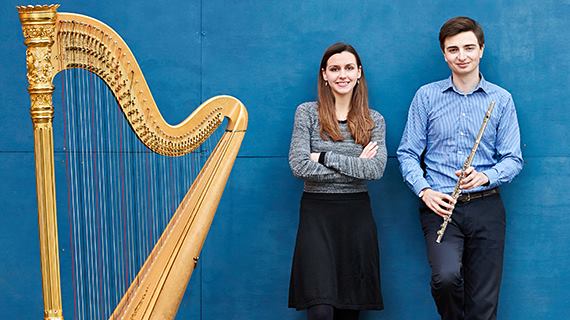 FREE for students, staff and the local community
On Wednesday 4th October, we began the concert series for our new academic year 2017-2018 with the glorious Antara Duo in St Gregory's Centre for Music.
The duo are comprised of flutist, Thomas Hancox, and harpist, Rachel Wick, who started playing together in 2007. They are now much in demand throughout the country, with performances at the Cheltenham and St Davids festivals, and in venues including the Wigmore Hall, Colston Hall, and Kensington Palace. Beyond their recital work, they perform for Live Music Now, a charity that brings live music to those who would otherwise rarely, if ever, experience it, and also give educational performances.
The programme of six pieces of music ranged from graceful classical works through to upbeat contemporary works little known for the two instruments.
The duo opened with Intermezzo, a brief piece by dutch composer Hendrik Andriessen, which combines idiomatic soaring and lyrical flute lines with the rich, sonorous bass register of the harp. For many years Andriessen was the organist at Utrecht Cathedral, and certainly the deeply intense sound-world created in this piece is evocative of the cavernous acoustics in which he would have been used to performing. He was also a master of extemporisation, reflected in the free and improvisatory character of this work. This was followed by a short Andante by Mozart, which Thomas curiously introduced as a piece written for an instrument that the composer notoriously "could not stand". The piece originally formed part of a commission from a wealthy, amateur flautist, Ferdinand Dejean, possibly as an alternative slow movement for the G major concerto, but it was left incomplete following a souring of the relationship between the two. Rachel subsequently introduced the next, rather obscure, piece that admittedly the duo only came upon by chance while  broadening their repertoire.Valse Mélancolique is a charming character work writtne by the largely forgotten female composer Clémence de Grandval. In contrast to the refined sonatas, virtuosic fantasies, and theme and variations that dominated the flute and harp repertoire in the first half of the 19th century, this Valse Mélancolique demonstrates a different style of writing, featuring graceful and expansive melodies for the flute and idiomatic figures for the harp, including cascading arpeggios, glissandi and harmonics. Next the two moved onto an exciting work that had been commissioned and premiered by them personally – King Herla by Robert Saxton – a quasi-tone poem for flute and harp (and a little of the piccolo) which depicts a sorry tale involving a legendary king of the Britons. Before the piece began, Thomas regaled the audience with the sad story, which involves a mystical storyline wherein King Herla loses all that he loves simply for attending a wedding party, being transported through time and space by the mischievous Elf King who he encounters in the forest on the edge of his kingdom amidst a hunting party.  Each distinct section of the piece, listed below, can be clearly understood through the wonderful imagery created by the instruments.
The Wild Hunt
King Herla and his knights rest in a forest glade
The Elf King appears to Herla
Passacaglia of Passing Time
King Herla's Wedding Celebrations
King Herla's love song for his Queen
Passacaglia of Passing Time
King Herla's Lament
The two final pieces were in stark contrast to the dramatic themes of the previous King Herla. First, was Paul Patterson's calm and lyrical Canonic Lullaby, which has the feel of an Italian barcarolle with flowing melodies and gently rocking rhythms that float between the flute and harp. And to end the programme, for another change of pace, the duo performed the fiery Latin-American track, Paquito by Andy Scott. The piece pays homage to the brilliant Cuban composer/saxophonist/clarinettist Paquito D'Rivera. It is a fast salsa, based around a two-three clave pulse, and was originally written as a commission from the British Clarinet Ensemble. However, the Antara Duo's arrangement for flute and harp was undertaken by the composer specifically for Clare Southworth & Lauren Scott (the composer's wife), who gave its première in October 2010.
Following the fantastic concert, the duo were kind enough to answer a few questions concerning their journey into life as professional musicians and the advice they would give to our students hoping to replicate their success.
Although this is not the first time you have visited us – how do you find St Greg's as a performance space?
As a duo, playing in music clubs and churches, we are used to spaces like this – albeit not as nice as this one! – however, of course, we have performed here before and after the renovation. The acoustic now is much more resonant and much clearer as a sound which is nice. It's also lovely to have the raised seating so you can see the audience when you're looking out from the stage.
You are showcasing your work to a new generation of musicians in our students – is that something that is important to you?
We do a lot of education work for all ages, even today before our performance at Christ Church we visited a local primary school. We believe its very important that as many people as possible can enjoy music and get access to music, particularly to live music which can be so impressive. For our programme today, for this audience, we were asked to include a lot of contemporary music, which suites the flute and harp quite well as a fairly modern pairing of instruments, so hopefully we have be able to share some interesting repertoire ideas with the students.
What advice would you give our students considering careers as professional musicians?
Practice. Seriously. While you're studying is the only real time you'll ever get to practice properly in your life so its important to make the most of it. Also get to know as much repertoire as you can and immerse yourself in music by going along to concerts and recitals – take every offer that comes your way.
Was it always your passion to become a professional musician? And how rewarding and/or difficult has this journey been for you?
For me (Rachel) my parents were both musicians so i never really doubted it was what i would do. Coming from a family of freelance musicians that also meant i was aware of the realities of the job and how much hard work it is so it absolutely has to be something you love.  It is rewarding because you have the benefit of getting paid to do something you enjoy.
I agree (David) you definitely don't work as a musician to become rich or to have free time or even a work life balance in some ways. With music its either all on or all off and it is often a seven day a week job but as long as it is your passion it will always be rewarding.
What is your proudest achievement in music to date?
All kinds of things have made us proud in different ways. We've done some very long and rewarding projects in autistic schools for example, which can be an amazing experience in one way, when after a wealth of sessions a child who had barely been able to attend your sessions suddenly finds themselves engaging with the music. However, of course in a more obvious way we have played some fantastic concerts with orchestras in wonderful locations and that makes all the practice feel a worthwhile achievement.