Intern Corner 09 – Music and/as Process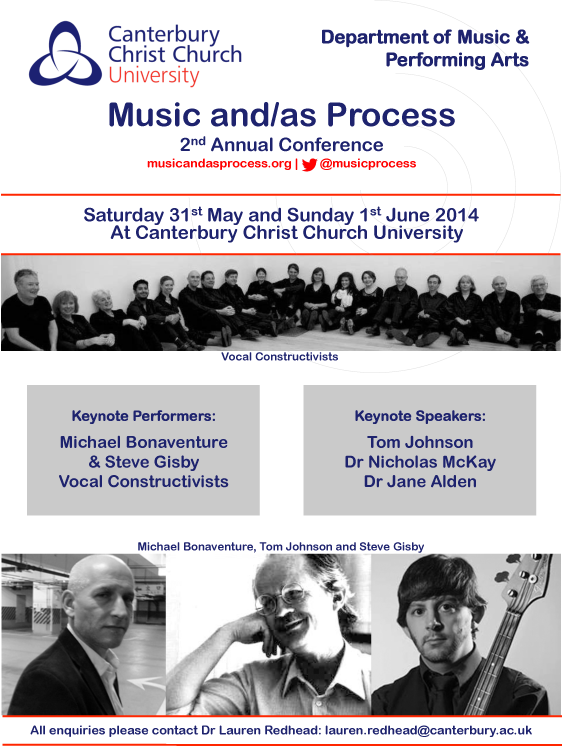 Our internship with Vanessa and Lauren and the Music and/as Process conference has, unfortunately, come to and end! This post summarises the tasks we completed and experience we gained over the five weeks.
Due to the variety of tasks and written pieces to be completed both before and after the conference, Adam and I decided to share them out according to who would be more suited to them. For example, I focussed on writing critical programme notes for Vocal Constructivists as I have a background in vocal and choral music, while Adam focussed on Tom Johnson's instrumental pieces from an analytical viewpoint. We also shared the session review blogs based on who attended them, and who had more of a background in the subject area. Other tasks included writing to delegates and external organisations on behalf of the department and study group, preparing a display board of the department's past and current research, and even preparing cheese and apple juice for an evening reception!
Due to the diverse range of tasks given to us, we were able to develop a number of skills throughout the internship, such as our critical writing skills, proof-reading our own writing, time-management, and working as professionals in an academic environment.  We also extended our knowledge of process in music, as well as other subject areas addressed at the conference, such as ecological perception and musical semiotics – a huge advantage in preparation to study for a research MMus in September.
We were also lucky enough to meet a number of great people and gather new contacts, both of which are assets for our future endeavours in music.
Throughout the experience, we feel that we have proven ourselves in an academic environment, not only to our academic leads but also to ourselves!
The internship has been a fantastic experience and we thank Vanessa and Lauren for the opportunity – we look forward to more opportunities such as this in the future.
Kelly Butler and Adam Byard (Music and/as Process Interns 2014)