Graduate Success Story – Sam Stow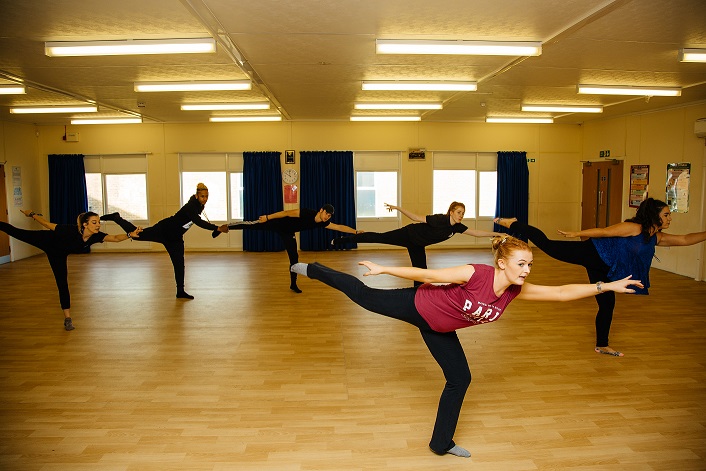 Dance department success!
This week our story of alumni success comes from our Dance department thanks to graduate, Sam Stow, who kindly agreed to an interview regarding her time at Canterbury Christ Church University.
Sam studied with us across multiple campuses, starting at our old Folkestone campus before moving across to our main site in Canterbury in her last year to complete a degree in Dance Education. The culmination of that achievement came upon her graduation in the historic Canterbury Cathedral in 2014.
Studying Dance Education allowed Sam to enter into the career she was prepared and trained for at the School of Music and Performing Arts by taking up a teaching position in her field at Walderslade Girls' School in Chatham.
Here is what Sam had to say about her University experience…
Tell us about your current role – what does it entail?
My role entails planning, managing, delivering and assessing my own timetable, whereas I teach dance, drama and English. I also have a form group who I am with every morning and responsible for managing and delivering a form and curriculum to.
What excites you most about your work?
In a word, achievement! I love to teach and work with young people, but the most thrilling part of my job is watching my students achieve. It could be anything from learning one specific step that they have struggled to pick up or actually gaining the grade they were striving for. Either way, seeing them achieve something is the best part of my job.
Tell us about your journey from graduate to achieving the position you aspired toward. Was it always smooth sailing or did you have to work your way up?
My journey definitely was not smooth sailing although I have been very lucky. In my final year of university, I was encouraged to apply for a Schools Direct or a PGCE place for the coming September in order to gain my teaching qualification. At the time, the idea of beginning a new course of study sounded like hell, considering I would have only just completed a continuous 18 years of it from primary school through to university! Therefore, I decided to take some time to gain some teaching experience first and see where it led. I began just teaching in the evenings at a stage academy as I had been doing throughout my last year and looked out for jobs in schools. My boyfriend's mum then told me of a temporary PE coaching position at her primary school for which I applied and was successful. This job taught me one thing. I did not want to work in a primary school as I craved subject specialist teaching with more grown up children that I could progress with on a level that included a vision for their own careers and future. Therefore, I wrote a letter to the head teacher of my sister's old school where I knew they had a great Performing Arts department and told her of my desire to work there and asking her to let me know if anything came up. In the meantime, a friend sent me a link to a Cover Supervisor position at another secondary school for which I applied and got the job. I started there in May and, within a few weeks, received a call from my sister's old school, to whom I wrote the letter, who informed me of a Cover Supervisor role they would be advertising for shortly. I applied for this role and, once again, got the job. Having resigned from my first Cover Supervisor job at the end of the academic year in which I started, I began my new one that September. Whilst working, I researched training programmes for the following academic year and applied for a few. I also arranged a meeting with the head teacher exclaiming how much I loved the school and wanted to train there. Then my luck hit jackpot as she later came back to me having created a salaried training position for me within the dance department and I honestly thought my dreams had come true. My Cover Supervisor role lasted until December when I was then promoted to an Instructor of English for the rest of the academic year before starting my training. By this point, in just over a year, I had been a PE coach, a Cover Supervisor in 2 schools and an Instructor of English so I felt like I had gained more than enough teaching experience to give my salaried training place my best shot. This brings us to now. I am currently 5 months into the course, had my first outstanding lesson observation and loving every second of this strenuous and stressful year!
What advice would you give students trying to get into your profession?
Persevere! Performing Arts is such a competitive industry and, now that dance is not on the National Curriculum for secondary schools, it is even harder to get into. However, there are still schools out there that deliver it and I have come across schools that do not deliver it but want to. These schools need fresh out of the box teachers with current knowledge and determination to build the subject back up and show the government that it is a worthy qualification for the future generation to gain. So persevere, put yourself out there, make connections and remember, most of the time, it is not what you know but who you know – a saying I believe in so much that I almost had it tattooed on me once!
In what ways did studying at CCCU prepare you for your current role?
The Dance Education course was a great preparation step into teaching as part of our course included learning how to plan lessons and schemes of work and looking in-depth at different teaching and learning styles and strategies. We also had the chance to plan, manage and deliver our own lessons to our peers and external students that came in for workshops. Through research and placements, I also looked into how the education system works at different levels, such as how the BTEC Performing Arts courses are structured and run. The course gave me enough knowledge and experience to feel comfortable enough to enter a school setting straight away and work my way up to teaching my own timetable.
Do you have a favourite memory of your time at CCCU and/or did you gain anything additionally positive from your time with us that you did not expect to?
The wide range of dance styles we were able to study was unexpected, but a welcome surprise. I was expecting to study mostly contemporary and maybe some ballet and jazz, but getting to study African dance and some older styles going back through the years was great fun and a good way to build a bank of experience. My favourite memory is probably that of my 1st and 2nd years spent at the old campus in Folkestone. The campus was small and only housed arts students but everyone was close as friends or at least knew of one another and it felt like such a lovely community. Without a doubt the best 2 years of the course.
A big thank you to Sam for taking the time to answer our questions. The School of Music and Performing Arts wish her the best of luck in her career!