Graduate Success Story – Isaac Ajala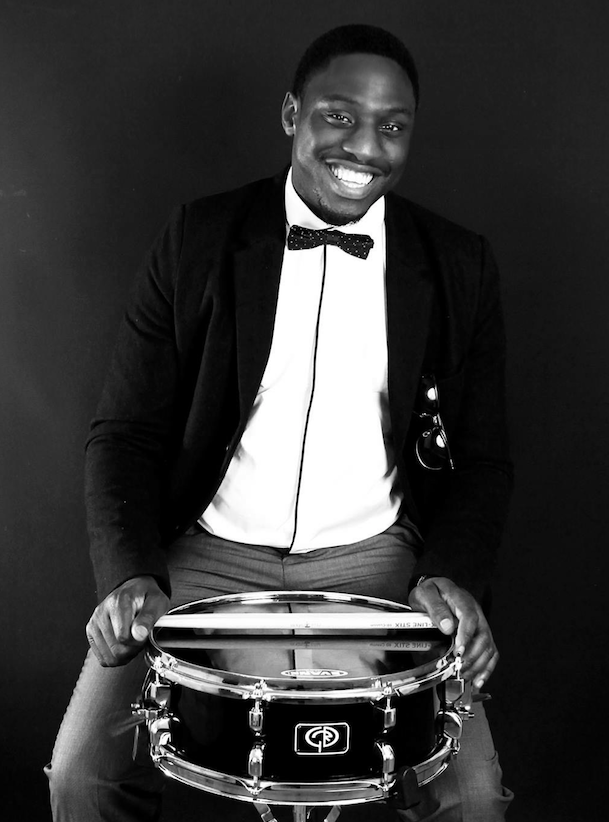 Broadstairs Special Interviews (4)
The new year is upon us, and 2018 brings with it the opening of our exciting new Arts building, which completes construction this summer. Its advent means we will welcome the arrival of our Broadstairs campus colleagues and students, who will be joining us on Canterbury campus permanently this September and take up residence in the building. To commemorate this event through our Graduate Stories feature, we are sharing, in particular, interviews from alumni who studied on the programmes originally housed in Thanet (Commercial Music and Creative Music Technology).
The fourth of these special interviews, for the month of April, comes from Isaac Ajala, who has been kind enough to speak with us. Isaac graduated six years ago in 2012, completing a BA Honours in Commercial Music, which he enjoyed and learnt so much from that he tells us he would do it all over again if he could!
Tell us about your current role(s) – what does it/do they entail?
I have been teaching music as a teacher since 2013. I was teaching Music in London as a Peripatetic Drum Teacher, then I moved to Suffolk and taught Music at a few Primary schools before settling at what was my current job teaching Music at a  R.U School in Ipswich. I am now Self-employed running my own Music and Drum Tuition business under the brand 'ISAAC K.A. Music'. I also continue to do session work for artists and play with various bands and lastly, I have of 2015 been doing Drum Clinics and Workshops in Ipswich and around the UK, trying to inspire people of all ages, young and old who like music and drums. You can pretty much call me a Freelance Musician now.
 What excites you most about your work?
What excites me the most about my job is knowing that I can be my own boss and do things the way I want to do it. Musically I've always wanted to i­nspire people from all walks of life, backgrounds and culture. I am especially passionate about seeing the younger generation fulfilling their potential and never giving up in whatever they do.
Tell us about your journey from graduate to achieving the position you aspired toward. Was it always smooth sailing or did you have to work your way up?
I never thought in a million years since leaving university that i'd achieve the things i've achieved. Teaching was never on the cards for me at first when I left uni until a little later down the line when I tried to apply for a PGCE but, nothing ever materialised. It took me 8 months or so before I got a steady job in retail but, in my heart and mind I just wanted to be a full-time musician doing gigs and touring etc.
One thing in life I learnt at this point is that sometimes, you have do jobs you don't like to get to the one you do like and that's how teaching came about. I was gigging a lot during that time of working retail and doing lot's of session work and had taken a lot of time off  work for my passion which, I'm sure my manager was annoyed about but, I couldn't help it I  just loved music and playing drums too much.
Whilst doing gigs with one of my best friends it just happened that he was a music teacher in a South London school and was looking for a new peripatetic teacher for drums. Now, here is where I say it's not what you know, it's who you know. He suggested me for the job and offered it to me and I of course said yes, as it had name written all over it. It was one day a week at £28 an hour for 7+ hours and i'd make more money in a day than what I was making in retail in a week but, I still kept the retail job for the other days to keep a consistent income. The next two years I was working the two jobs retail and teaching and I really enjoyed it whilst, gigging  but, I wanted to be done with retail and also decided to move away from home in London. I applied for a Music instructor role in a Primary school in Ipswich and got it and moved up but, that didn't last as the money wasn't great, next I did PPA Cover in Music and I loved it there in those schools but, again not great money and it was too far to travel so, I left and then finally settled in Ipswich and got a job as a HLTA and Music Teacher in a PRU and that was really good but, I just was not satisfied the restrictions. I decided one day that I was going to pursue my own path of independence and that's when I started my private drum tutoring and expanded into making it a business brand under the name: ISAAC K.A. Music and it feels great. I tutor when I like, I gig around the country, do session work and more and it's amazing. As you can see my journey was not easy but, to get to where I am now, it was so worth it.
What advice would you give students trying to get into your profession?
For any students trying to get into my profession or any all I have to say it won't be easy at first there will be some difficult roads but, keep striving, keep pushing, keep perfecting your craft and skills. Most importantly, when it comes to your sound whatever it may be, stay unique and stay true, to many musicians sound the same and I try to be set apart.
Also it's essential to know that it's not your talent alone that gets you work and gigs but, it is very much about your character and how you are as a person, that's half the battle won in my opinion. Be real, be honest and definitely don't be rude or arrogant. Be a team player, don't be easily offended, smile in the good and the bad times, believe in yourself and don't ever give up. It's so easy to stay down when you've been knocked over but, always dust yourself off and go again. You can do whatever you want to do if you put your mind to it and  if your heart is in it. I can say all of this because, I've been there and done that and i've learnt so much along the way.
In what ways did studying at CCCU prepare you for your current role?
Studying at CCCU prepared me for my current role in ways which, when I look back I have to say thank you to all the tutors but, in particular two. Thank you to James Dean who was such an awesome lead lecturer and encourager. I remember having my interview to get into CCCU in front of him and he was so so open and honest and encouraging about my playing. I didn't exactly make the grades to get into uni but, again character and then skill are important to have plus, I was willingly to work hard so I could learn and grow, I believe he saw that. Jay McCluskey what an amazing mentor, he helped me immensely with reading drum notation and really fine tuning what I already had, he made me understand what I played practically and showed me in theory and gave me extra tips and music and stuff to take away to read and practice. As a drum tutor myself now I still use what he gave me for personal use and to teach my students now.
So many subjects within the course helped me, Music Business Fundamentals for instance is a big one as I was able to be business savvy enough to gain endorsement deals to support my extensive playing schedule and teaching. I currently endorse Pellwood Drumsticks, GRD Snare Drums (an awesome company in Northampton under BW Drum Shop) and I also have a clothing endorsement with Explore Apparel a company in New York, America. These are just some of the many things i've garnered and it's really just down to commitment, developing and keeping good relationships and again, hard work.
 Do you have a favourite memory of your time at CCCU and/or did you gain anything additionally positive from your time with us that you did not expect to?
Apart, from meeting my wife there which, is my most favourite memory, I have to say winning two percussion scholarships from Nick 'Topper' Headon the drummer from famous Rock band 'The Clash' was my best. I was fortunate enough to have won it twice which, was huge for me and although, it was bitter-sweet winning the second scholarship at first, I eventually made up for it.
I gained a lot of great experience at CCCU that at the times I saw as negatives but, are now positives in regards to playing as a drummer. I learnt how as a musician you should not overplay the music and sit in the mix and behind the singer and that simple playing is sometimes always more effective. It's not until you're given a drum solo or if an artist asks for that kind of playing style that you then you can show off a bit.
I learnt how to be a versatile and sensitive musician because, you just never know when you can get that important call that will change your life to play for an artist of a different genre hence, being taught Rep and Styles by another great lecturer Geoff. For me all I thought was "Gospel Chops!" but, that got boring after a while and now I appreciate all types of music.
Additionally, now that I run my own drum tuition business I learnt how to read better and pass on my knowledge to the next generation which, is so much fun and so great to see them pick it up.
Lastly, being called back to play for two drum night events, one in 2016 and this year 2018 is the a huge deal. It shows that I didn't just learn but, I left a good impression on the people I met there and were taught by and it does not get any sweeter than that. I will always keep doing music and playing drums, it is what I do and it is who I am.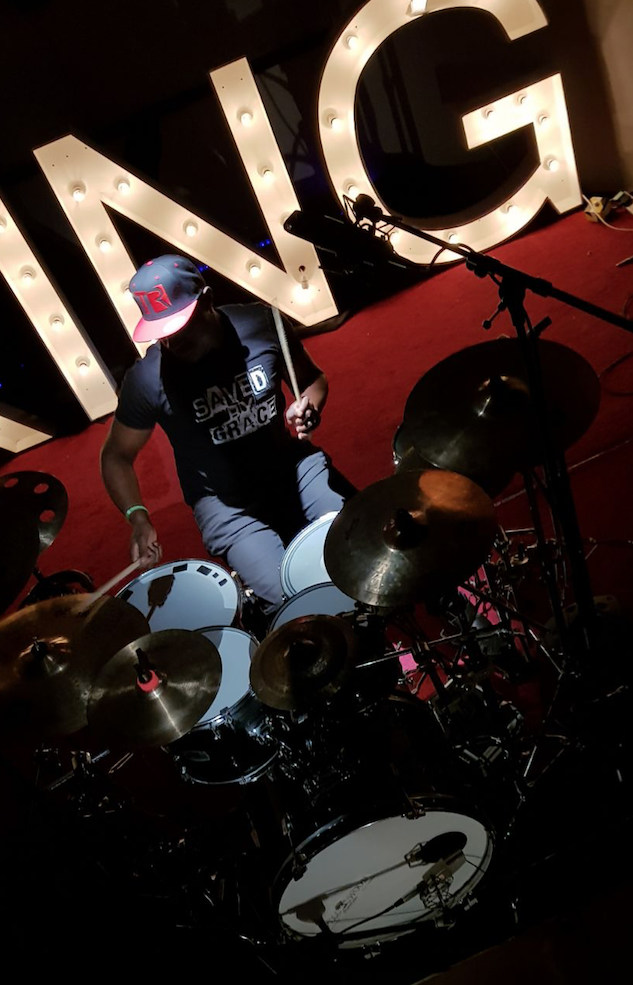 ---
The School of Music and Performing Arts would like to thank Isaac for his time and wish him continued success in his career! 
To learn more about his work and follow him on social media, check out these links:
Facebook: Isaac K Ajala
Instagram: Isaac K.A. Music
YouTube: Just Isaac TV
Soundcloud: Isaac K.A. Music
---